Back to News
Oakley Presents the Sheckler Foundation's 8th Annual Skate for a Cause
April 10, 2017
The Sheckler Foundation and Oakley are proud to announce its 8th Annual Skate For A Cause taking place on Saturday, May 6, 2017 at the etnies Skatepark of Lake Forest. Skate For A Cause is a family-friendly event featuring a world-class skate jam and carnival to help raise funds for the Sheckler Foundation's "Be the Change" initiative to support injured action sports athletes and children in need. This event is open to the public from 10:00 a.m. – 5:00 p.m. and admission is free for families, friends and individuals of all ages. Event-goers can witness their favorite pro skateboarders compete in contests, as well as enjoy food and participate in games like Bull pong, dunk tank, ring toss and more for a chance to win prizes.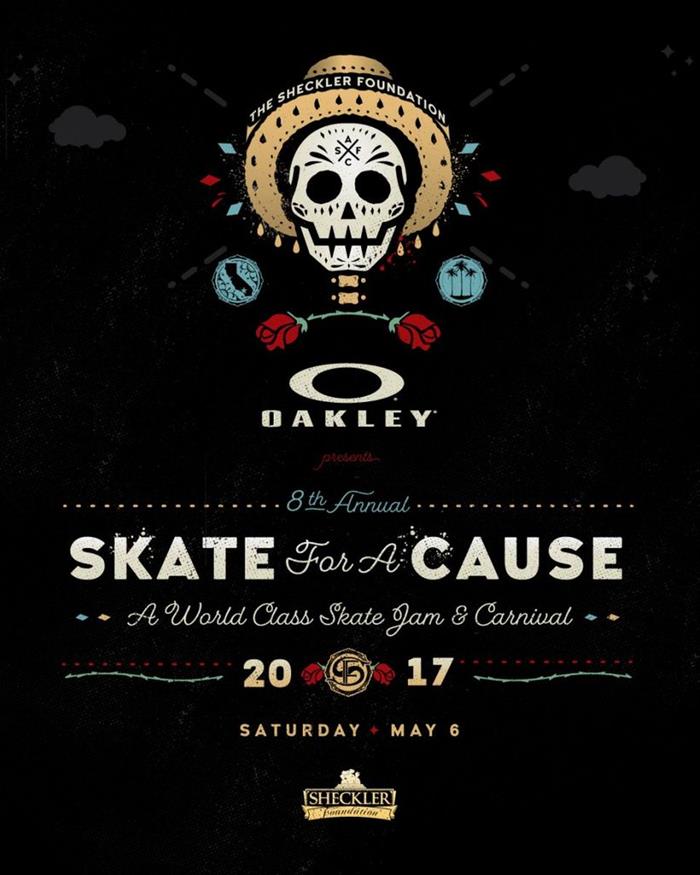 This year, charities and past "Be the Change" recipients will be joining the Sheckler Foundation at Skate For A Cause to spread awareness and educate attendees on initiating change within their communities.
2017 8th Annual Skate For A Cause Schedule:
10:00 a.m. – Gates Open to the Public for the Carnival Village
10:00 a.m. – 12:00 p.m. – Legends Bowl Practice
11:30 a.m. – 11:50 a.m. – Adaptive Skate Kollective & WCMX Demo
12:00 p.m. – 1:15 p.m. – Legends Bowl Contest
1:30 p.m. – 2:30 p.m. – SkaterCross Contest
2:45 p.m. – 3:10 p.m. – Red Bull Tech Center Best Trick Contest
3:15 p.m. – 3:40 p.m. – Oakley Tranny Best Trick Contest
3:45 p.m. – 4:30 p.m. – TILLYS Stairs, Hubbas, Rails Best Trick Contest
4:30 p.m. – Awards
4:45 p.m. – SF Raffle Winners Announced at SF booth
5:00 p.m. – Carnival Ends
VIP tickets are available for a $50 donation on the Sheckler Foundation's website at ShecklerFoundation.org. VIP tickets holders will gain access inside the skatepark to hang out with pro skateboarders and watch as they compete against one another. Make a donation to reserve a spot inside the skatepark; VIP tickets are limited.
For additional info on the Sheckler Foundation and its 8th Annual Skate For A Cause, follow @SheckFoundation on Twitter and stay connected with the foundation on Instagram, Facebook and LinkedIn.
About The Sheckler Foundation:
Founded in 2008, the Sheckler Foundation was created as an avenue for Ryan Sheckler, his family, friends and business associates to give back to the community and industry that they are so grateful for. Fueled by the desire to contribute to the many causes that directly benefit and enrich the lives of children and injured action sports athletes, the Sheckler Foundation will produce fundraising events, passion projects and web-based initiatives to raise capital and awareness. Our ultimate goal is to empower our community to "Be the Change!"
---