Back to News
Sheckler Foundation Reveals Extensive Line-up for 8th Annual Skate for a Cause, Presented by Oakley
May 2, 2017
Today, the Sheckler Foundation announces its complete line-up of pro skateboarders, sponsors and charities for its 8th Annual Skate For A Cause (SFAC), taking place on Saturday, May 6, 2017 at the etnies Skatepark of Lake Forest. Admission is FREE to this family-friendly skate jam and carnival for all ages. Skate For A Cause features games, prizes, food and five skate contests presented by the Sheckler Foundation's generous sponsors.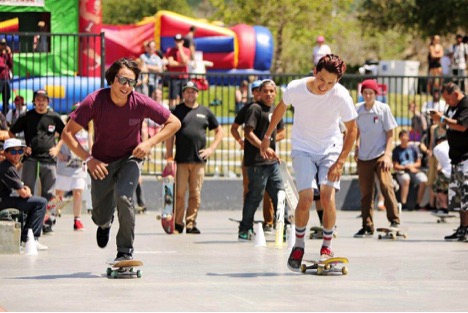 Confirmed pro and AM skateboarders for the 8th Annual Skate For A Cause include:
• Aaron Astorga
• Aidan Campbell
• Alex Midler
• Andy MacDonald
• Asher Bradshaw
• Austen Seaholm
• Barney Page
• Bill Weiss
• Billy Marks
• Boo Johnson
• Chaz Ortiz
• Chris Cole
• Chris Joslin
• Christian Hosoi
• Christian Sereika
• Cody McEntire
• Daniel Vargas
• Danny Way
• Dave Bachinsky
• Dave Duncan
• Dave Hackett
• David Gonzalez
• David Reyes
• Eddie Hadvina
• Eddie Reategui
• Fabrizio Santos
• Felipe Gustavo
• Greg Lutzka
• Jamie Tancowny
• Jim Gray
• Jordan Hoffart
• Kane Sheckler
• Kelvin Hoefler
• Kevin Romar
• Letícia Bufoni
• Lincoln Ueda
• Manny Santiago
• Matt Berger
• Micky Papa
• Neal Mims
• Nick Dompierre
• Pat Channita
• Pat Ngoho
• Ryan Decenzo
• Ryan Sheckler
• Samarria Brevard
• Sasha Steinhorst
• Sean Sheffey
• Sewa Kroetkov
• Shane Sheckler
• Taylor McClung
• Tom Schaar
• Tony Tave
• Torey Pudwill
• Trent McClung
• Trevor McClung
• Trey Wood
• Tyler Hendley
• Yuri Facchini
• Yuto Horigome
Enjoy all the action inside the skatepark and hang out with the invited pros with limited VIP tickets. VIP Tickets are available now for a $50 donation at ShecklerFoundation.org. Donations will help fund the Sheckler Foundation's "Be the Change" initiative, benefiting injured action sports athletes and children in need.
Join the Sheckler Foundation for an action-packed day:
10:00 a.m. – Gates Open to the Public for the Carnival Village
10:00 a.m. – 12:00 p.m. – Legends Bowl Practice
11:30 a.m. – 11:50 a.m. – Adaptive Skate Kollective & WCMX Demo
12:00 p.m. – 1:15 p.m. – BE THE CHANGE Legends Bowl Contest
1:30 p.m. – 2:30 p.m. – Plan B SkaterCross Contest
2:45 p.m. – 3:10 p.m. – Red Bull Tech Center Best Trick Contest
3:15 p.m. – 3:40 p.m. – Oakley Tranny Best Trick Contest
3:45 p.m. – 4:30 p.m. – TILLYS Stairs, Hubbas, Rails Best Trick Contest
4:30 p.m. – Awards
4:45 p.m. – SF Raffle Winners Announced at SF booth
5:00 p.m. – Carnival Ends
Confirmed sponsors for the 8th Annual Skate For A Cause include:
• Chronic Taco
• Ethika
• etnies
• Grizzly
• Just Have Fun
• Melin
• Oakley
• Plan B
• Red Bull
• Roth Capital
• Tech Deck
• TILLYS
• UFC
• Woodward West
Past "Be the Change" recipients, finalists and local charities will join the Sheckler Foundation to spread awareness and educate attendees on initiating change within their communities. Charities include:
• Ashley Wade Foundation
• A Skate
• Nick's Picks
• SC Skatepark Coalition
• TACA
• Tilly's Life Center
• Traveling Stories
Skate for a Cause started in 2010 as a way for the Sheckler Foundation to raise resources and awareness to contribute to the many causes that directly benefit and enrich the lives of children and injured action sports athletes. The Sheckler Foundation's mission is to "Be the Change" and this year's Skate for a Cause is raising resources to empower people to do just that. Through its "Be the Change" program, the Sheckler Foundation will provide several organizations and individuals with financial grants and additional support with the money and resources raised at Skate For A Cause.
For additional info on the Sheckler Foundation and its 8th Annual Skate For A Cause, follow @SheckFoundation on Twitter and stay connected with the foundation on Instagram, Facebook and LinkedIn.
About The Sheckler Foundation:
Founded in 2008, The Sheckler Foundation was created as an avenue for Ryan Sheckler, his family, friends and business associates to give back to the community and industry that they are so grateful for. Fueled by the desire to contribute to the many causes that directly benefit and enrich the lives of children and injured action sports athletes, The Sheckler Foundation will produce fundraising events, passion projects and web-based initiatives to raise capital and awareness. Our ultimate goal is to empower our community to "Be the Change!"
---