Back to News
Focused on the Future – Chris Lindstrom Appointed MAG Off-Road Group President
May 8, 2017
CHANDLER, AZ – May 7, 2017 – The MAG Off-Road Group is excited to announce the appointment of Chris Lindstrom as its new President. The MAG Off- Road Group was formed in early 2016 and is comprised of DragonFire, QuadBoss, Renthal, ProTaper and MSR Hard Parts.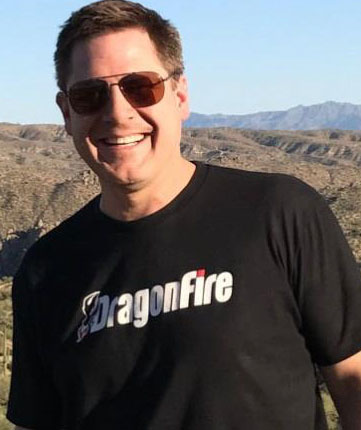 Chris brings over 25 years of powersports experience in sales management and business development with a focus on dealership experience and engagement. Most recently, Chris successfully served as Director of Channel Development with Arctic Cat, leading the development of strategic partnerships, multi-generational product plans, and sales channel strategies largely focused on expanding the company's position in the Side X Side segment. Prior to his 6 years Arctic Cat Chris spent 15 years with Honda Motor Company in powersports leadership roles.
"I am confident that under Chris's leadership the Off-Road Group team will continue to innovate, collaborate and share resources to drive faster growth and exceed dealer expectations" says President and CEO of MAG Andy Graves.
"We are looking forward to Chris's industry insight to elevate our service to dealers and provide additional value to the Off-Road consumer," says Sales & Marketing Manager Megan Dible with DragonFire.
"I am excited to join the MAG Off-Road Team, our industry leading brands, combined with outstanding distribution are uniquely positioned to deliver the ultimate in both dealership and customer experience " says Chris. "This is an exciting time for the Off Road group as the industry is rapidly expanding product platforms. I am looking forward to building on and expanding the success of our brands while always keeping our customers first."
Chris assumed his responsibilities on Monday May 1, 2017 and will be based in Chandler, AZ.
ABOUT MAG Off-Road Group
The Off-Road Group shares your passion for the sport! Whether it is exploring the badlands, racing at the local track, hauling a bale of hay to the north 40 or taking the entire family out for a holiday weekend to make some memories, MAG Off-Road Brands is there! With DragonFire, QuadBoss, Renthal, ProTaper and MSR Hard Parts the Off-Road group will keep you riding on 2 or 4 wheels.


Source: Motorsports Aftermarket Group
---