Back to News
Yamaha Awards $100K in Outdoor Recreation & Agricultural Grants for Q1
June 6, 2017
KENNESAW, GA – Yamaha Motor Corp. USA announced that its Outdoor Access Initiative endowed more than $100,000 in funds and equipment to several grant recipients during first quarter 2017. "This quarter is further highlighted by Yamaha's continued support of the National Future Farmers of America (FFA) Foundation, and Yamaha's Agricultural Communicators of Tomorrow (ACT) grant program," the company said.
The recipients are:
Black Hills Jeeps in South Dakota
Chippewa County Sportsman's Off-Road Vehicle Association in Michigan
Coalition of Recreational Trail Users in Minnesota
Maryland Off-Highway Vehicle Alliance
National Ag Communicators of Tomorrow
National FFA Foundation
Pennsylvania ATV Trail Development Corp.
Responsible Recreation Foundation in Colorado
Tri-County ATV Recreation & Rescue Association Inc. in Pennsylvania
Starting in 2017, Yamaha's Agricultural Communicators of Tomorrow (ACT) grant program falls under the OAI umbrella. Recipients at Oklahoma State University, The University of Florida, Utah State University and the University of Illinois were awarded a combined $8,500 in grants to help finance individuals' attendance at the 2017 Ag Media Summit, July 22-26 in Snowbird, UT.
"While much of the [OAI's] focus goes toward creating and improving conservation and recreational opportunities, the program additionally affords support to those in the agricultural industry – and has for some time now," said Steve Nessl, marketing manager for Yamaha's ATV/SxS group.
For more information about the Yamaha OAI or to submit a grant application, visit www.yamahaoai.com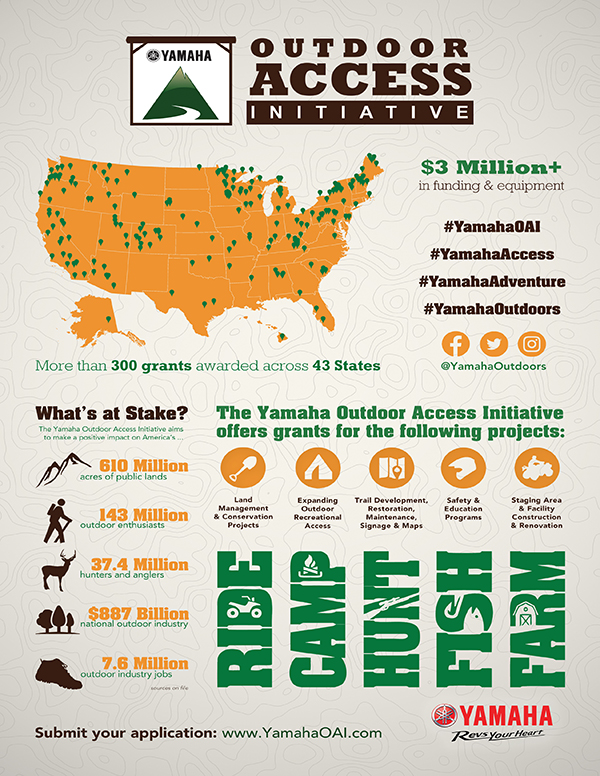 ---