Back to News
AIMExpo Presented by Nationwide Welcomes Harley-Davidson
June 13, 2017
IRVINE, CA – June 13, 2017 – The American International Motorcycle Expo presented by Nationwide (AIMExpo) will welcome Harley-Davidson Motor Company (Harley-Davidson) to the 2017 show floor for its inaugural appearance with its new 2018 models this September 21-24. Interactive demo rides and its JUMPSTART™ Rider Experience will also be available to attendees when the fifth-annual event gets underway from the Greater Columbus Convention Center in Ohio.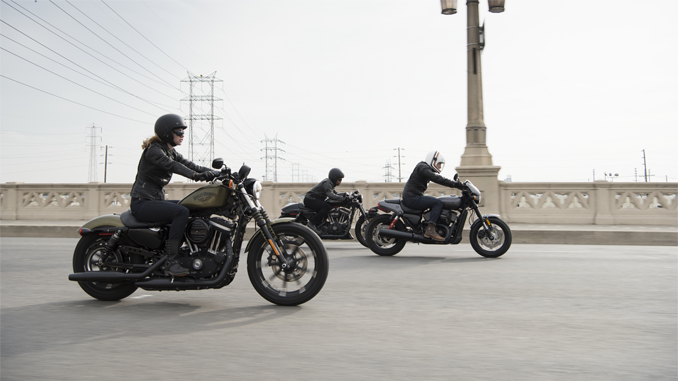 As the annual nexus for the motorcycle and powersports industry in the world's largest recreational market, the Motorcycle Industry Council produced AIMExpo presented by Nationwide provides a key stage for Harley-Davidson to share both its new 2018 models and its vision for creating the next generation of riders. Recently, Harley-Davidson unveiled key long-term objectives that include building two million new riders over the next ten years in the U.S., as well as launching 100 high-impact motorcycles during the same window through 2027.
"AIMExpo offers a unique and timely opportunity for Harley-Davidson to share our new high-impact 2018 models with consumers, media and the broader industry, in one place at one time," said Anoop Prakash, Harley-Davidson U.S. Marketing Director. "We look forward to presenting both new and seasoned riders an opportunity to test ride our exciting 2018 line-up in Columbus, Ohio, as we pursue our objectives to grow ridership across the United States."
As part of its effort to attract new riders to the sport of motorcycling, the Harley-Davidson JUMPSTART Rider Experience combines a Harley-Davidson motorcycle and a specially designed, stationary support stand to welcome first-time riders to the world of motorcycling. Attendees will also have the chance to take a new Harley-Davidson out on the open road with demo rides available at AIMExpo Outdoors!.
"The addition of the iconic American brand Harley-Davidson very much completes the grand stage that AIMExpo presented by Nationwide represents for American industry in a global setting," Mike Webster, Sr VP MIC Events. "The history and innovation of motorcycling in America will be very well represented this September in Columbus with Harley-Davidson, the longest continually manufactured domestic brand, and we're genuinely excited to honor the past while looking to the future as they join the industry on the show floor and at AIMExpo Outdoors!."
Along with the Milwaukee-based manufacturer, 41% of powersports dealers and 50% of the US population reside within 500 miles of AIMExpo presented by Nationwide's new location in the city of Columbus. This central location and ease of access offer all attendees the opportunity to engage with the motorcycle and greater powersports industry like never before.
With hundreds of exhibitors contracted and more than 75% of the show floor now full, companies looking to exhibit are encouraged to contact AIMExpo presented by Nationwide for more information before it's too late.
Stay tuned to the AIMExpoUSA.com website and keep up to date on exciting news as it happens by visiting AIMExpo's social media pages. "Like" American International Motorcycle Expo presented by Nationwide on Facebook, and "Follow" on Twitter or Instagram: @AIMExpo.

About American International Motorcycle Expo presented by Nationwide

The American International Motorcycle Expo presented by Nationwide (www.aimexpousa.com) was created to serve as the catalyst to bring together industry, press, dealers and consumers in a single arena that creates a grand stage for motorcycling and powersports in the U.S. and North America, and delivers an efficient and energetic market-timed expo platform for B2B and B2C in the greater powersports industry. AIMExpo presented by Nationwide is the single most important event of its type in the North American market and has international impact within the motorcycling and powersports community. AIMExpo presented by Nationwide is produced by the Motorcycle Industry Council (www.mic.org).
About the Motorcycle Industry Council
The Motorcycle Industry Council exists to preserve, protect and promote motorcycling through government relations, communications and media relations, statistics and research, aftermarket programs, development of data communications standards, activities surrounding technical and regulatory issues, and the American International Motorcycle Expo presented by Nationwide. As a not-for-profit, national industry association, the MIC seeks to support motorcyclists by representing manufacturers, distributors, dealers and retailers of motorcycles, scooters, ATVs, ROVs, motorcycle/ATV/ROV parts, accessories and related goods and services, and members of allied trades such as insurance, finance and investment companies, media companies and consultants.
The MIC is headquartered in Irvine, California, with a government relations office in metropolitan Washington, D.C. First called the MIC in 1970, the organization has been in operation since 1914. Visit the MIC at www.mic.org.
About Nationwide
Nationwide, a Fortune 100 company based in Columbus, Ohio, is one of the largest and strongest diversified insurance and financial services organizations in the U.S. and is rated A+ by both A.M. Best and Standard & Poor's. The company provides a full range of insurance and financial services, including auto, commercial, homeowners, farm and life insurance; public and private sector retirement plans, annuities and mutual funds; banking and mortgages; excess surplus, specialty and surety; pet, motorcycle and boat insurance. For more information, visit www.nationwide.com.
Nationwide, Nationwide is on your side and the Nationwide N and Eagle are service marks of Nationwide Mutual Insurance Company.
About Harley-Davidson Motor Company
Since 1903, Harley-Davidson Motor Company has fulfilled dreams of personal freedom with cruiser, touring and custom motorcycles, riding experiences and events, and a complete line of Harley-Davidson motorcycle parts, accessories, general merchandise, riding gear and apparel. For more information, visit www.h-d.com.
---