Back to News
Vice President Mike Pence to Speak at AIMExpo / Columbus in September
July 4, 2017
IRVINE, CA - (June 30th, 2017) - There's been some chatter recently that Vice President Mike Pence may be visiting and delivering the keynote address at this year's AIMExpo presented by Nationwide. The Motorcycle Industry Council's MIC Events group been working hard to make this happen and have been given an initial positive response.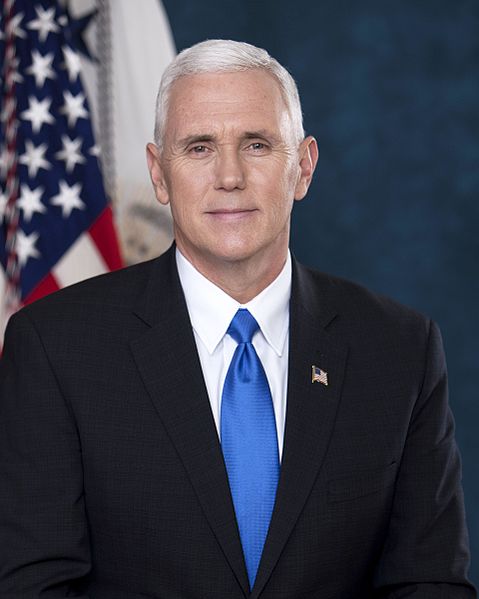 The trade group is looking forward to Vice President Pence joining the event, addressing attendees, and shining a light on the motorcycle and greater powersports industry.
But how did it all happen? Larry Little, Vice President and General Manager of MIC Events shares the latest…
"It started with a call from Bob Althoff, dealer principal at A.D. Farrow Harley-Davidson in Columbus, and a local partner of AIMExpo in our first visit to the region. In addition to his three retail locations, Bob also recently relaunched Dealernews, an industry trade publication with a long history of dealer advocacy. You might say that Bob is a dealer's dealer, caring greatly for the issues impacting retailers, and looking to be part of the solution. This attitude and an unbridled enthusiasm for his hometown turning into Powersports USA for the motorcycle and greater powersports industry during AIMExpo's four days in September has been rather infectious on a number of different levels. So, in many ways, his call back in February was no surprise."
"Hey Larry, let's invite the Vice President to deliver the keynote address at AIMExpo," Bob said casually – as if we were inviting the neighbors over for a barbecue. "Dealer attendees at the show should have the opportunity to hear from a leader who understands the challenges they face as small businesses and who can deliver a meaningful message they can then apply at home, and Mike Pence is that leader!" Ah, sure, why not?? That infectious seed planted, we were off to the races. "
"It helps that VP Pence is an avid motorcyclist who recently has been seen astride his Harley-Davidson. Heck, he even just named his new dog 'Harley'. And it was national news when Harley-Davidson's executive team had been invited to the White House in January, with the Vice President more publicly associated as being a rider. "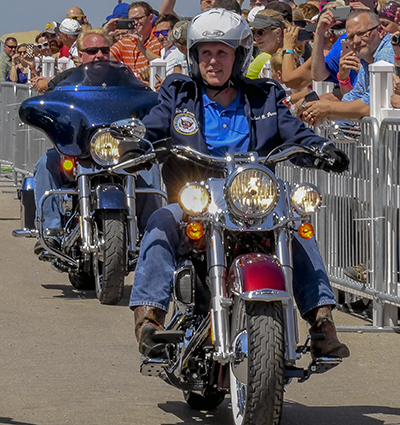 "So, putting on his Dealernews hat representing America's powersports dealers, Bob penned a compelling letter explaining the impact Mr. Pence could have by addressing the nation's retailers at the industry's big trade show, and sent it off to the office of the Vice President. "
"While it might have seemed like a big ask, we were confident with the new administration's focus on jobs, the $40 Billion powersports market's impact on the economy, and the nearly 10,000 powersports retailers that are part of local communities nationwide, it would all be a persuasive argument for attending. There was also that little heartstring we could tug on as fellow motorcyclists! About a month after sending the letter off, Bob heard from the VP's schedulers, who told him that it was being considered, which was a very positive response compared to a 'No'."
"Equally importantly, it turned out U.S. Congressman Jim Renacci from Ohio, also a rider, is a friend of both Bob's and Mr. Pence and was aware of Bob's inquiry to the Vice President to come visit AIMExpo while it was in his home state. The Congressman is also a friend of our industry, recently asking the U.S. Trade Representative during testimony before the House Ways and Means Committee if he would remove the proposed 100% tariff on small displacement motorcycles and scooters that somehow ended up in a beef hormone dispute with the EU. While that issue is still to be worked out, in a different venue he got a chance to ask another key question for the industry. "
"During a meeting Mr. Renacci was in with the Vice President, he inquired of Mr. Pence if he was going to be able to attend AIMExpo. The Vice President's response was to turn to his staff and tell them to 'make it happen'. Soon after, Bob heard from the Congressman and called us to share the exciting news. Big stuff, this could actually happen! "
"There will be plenty of details to work out, but as of this moment, we have a great opportunity to welcome our nation's number one motorcyclist to America's great powersports expo. And while we're aware that his plans could change, we're looking forward to the Vice President addressing the industry this September in Columbus. Our thanks to Bob Althoff, a great friend to dealers and to industry. Keep your fingers crossed!"
---