Back to News
Hippytree Launches #52weeksofnature photo contest
July 10, 2017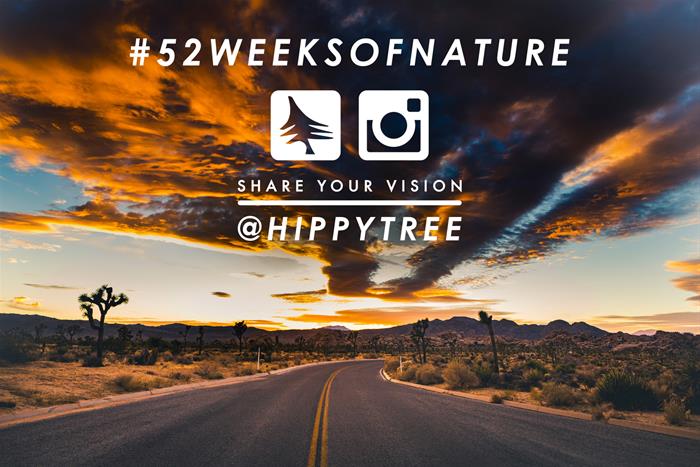 HippyTree is excited to announce its #52weeksofnature photo contest. Born out of a passion for nature and preserving moments in time through photography, HippyTree has created a platform for likeminded individuals to express their enthusiasm for the outdoors and share their nature inspired imagery. In conjunction with the contest, HippyTree has partnered with the Surfrider Foundation and Access Fund and donates $100 weekly on the winner's behalf to his or her choice nonprofit, demonstrating the company's commitment to the preservation of our planet's wild places.
HippyTree was established in 2004 as a creative outlet for founder and CEO Andrew Sarnecki, a published surf photographer with a passion for nature. Over the past decade HippyTree has been privileged to collaborate with a diversity of talented photographers, many who now have worldwide followings. HippyTree is stoked to expand its influence, interact with its followers and provide a platform for today's content creators to share their unique interpretations of nature through its #52weeksofnature Instagram campaign, which has accumulated over 13,000 participants since its January kick-off.
"We're excited to give our supporters the opportunity to share their vision," said Andrew Sarnecki, CEO. Sarnecki continued, "The avenues for aspiring photographers to distribute their work have changed massively in recent years. HippyTree is proud to provide a compelling platform to help bring more exposure to all the gifted content creators out there."
To participate in the contest, photographers post an image to their Instagram account, follow @hippytree and use the #52weeksofnature hashtag. Winners, selected weekly, receive a $100 gift card to HippyTree's online store and are featured on the company's Instagram and website home page. HippyTree will feature the best images on select apparel and accessories in upcoming seasons, and host a photo exhibit showcasing the 52 winning photographs at the end of this year's campaign.
About HippyTree
HippyTree is the original "Surf & Stone" apparel company. Founded in a Hermosa Beach garage in 2004 by a local surfer, climber, and artist, HippyTree is dedicated to designing products and graphics that embody the surf and climbing lifestyle. Marked by the green tree logo, HippyTree is committed to softening its environmental impact by using eco-friendly materials and manufacturing. HippyTree apparel is sold in surf, outdoor and specialty retailers throughout the United States and internationally.
---