Back to News
ElliptiGO Partners with Krave and KT Tape to Offer a VIP Experience to Meb's Last Marathon
July 26, 2017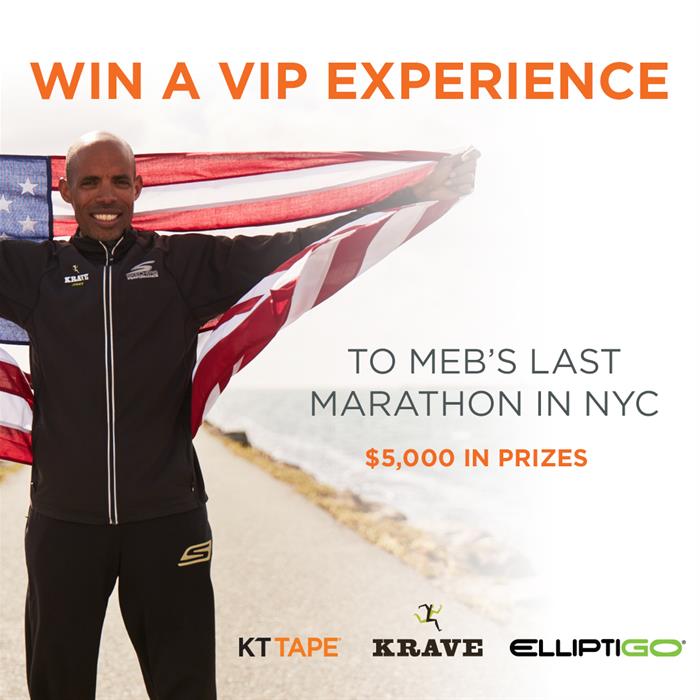 Four-time Olympian Meb Keflezighi is racing his last marathon at the New York City Marathon in November, and ElliptiGO, Krave and KT Tape have teamed up to provide a special VIP experience. The once-in-a-lifetime opportunity will feature airfare and hotel to New York City for two, two VIP bleacher seats at the finish line, two tickets to Meb's post-race celebration, an ElliptiGO bike and prize packs from Krave and KT Tape. The entire package is valued at $5,000. The contest ends Sunday, August 6, 2017. To enter, visit www.elliptigo.com/meb-vip-experience-giveaway
Keflezighi – known to legions of fans familiarly as "Meb" – has inspired generations of runners with his astounding list of accolades and passion for the sport. Keflezighi is the only athlete in history to win the New York Marathon, the Boston Marathon and an Olympic Medal, boasts countless top 10 finishes in World Marathon Majors and is a multiple-time U.S. Champion at various distances ranging from cross country to the marathon. What he is also known for is his support of the everyman runner, and he is often seen standing at the finish line of races, congratulating runners.
Among many things, Keflezighi, age 42, credits his longevity in the sport to cross-training on the ElliptiGO bike. He said, "ElliptiGO bikes are the closest you can get to running. I run in the morning, and now in the afternoon I no longer have to do a 30-minute run like I used to do. Instead, I ElliptiGO for 1.5-2 hours, about five days a week. That enhances my cardiovascular system and gets me fitter and stronger with no impact whatsoever."
To learn more about ElliptiGO, visit www.elliptigo.com, or follow them on Twitter @elliptigo and Facebook at www.facebook.com/elliptigo.
About ElliptiGO
ElliptiGO Inc. created the world's first elliptical bicycle to deliver a fun, comfortable and effective workout experience that inspires people and improves their lives. Combining the best of running, cycling and the elliptical trainer, ElliptiGO bikes deliver a strong cardiovascular workout that eliminates impact on joints and allows people to get out of the gym and enjoy the outdoors. Elliptical cycling is an effective way to build fitness without aggravating injuries, and it is great for everyone from the weekend warrior to the elite athlete. The full line of ElliptiGO bikes is distributed through specialty running, cycling and fitness retailers nationwide and through the ElliptiGO headquarters outside San Diego. www.elliptigo.com
---