Back to News
Sloper Climbing Apps
August 15, 2017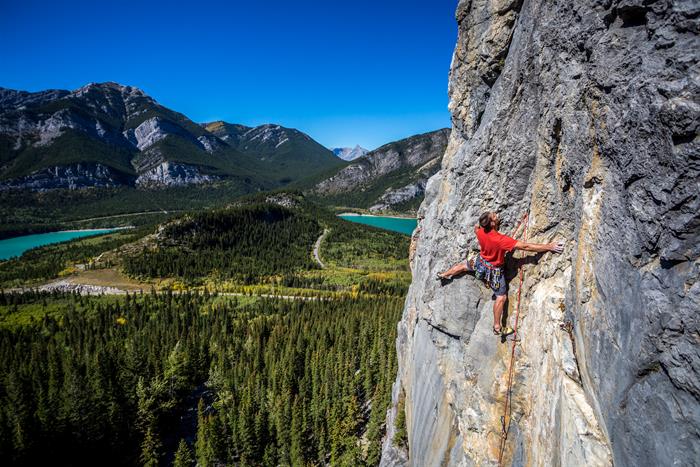 Sloper Climbing is pleased to announce its launch in Western Canada as well as select gyms. Finally climbers have the trusted knowledge of a guide book, live info on new routes, as well as interactive and connective features allowing the climber to tick and rate their climbs, all in the convenience of their phone. Apps available here.
HOW IT WORKS
OUTSIDE. Sloper is an app for iOS and Android with the content provided by the same guide book authors who have lead us to some of our most memorable moments in life. Think, online guide book, but better. Sloper has all the topos for each climbing area in digital form along with updates on the climbs that typically take a long time to make a new edition of a book. Check out our simple video on the app here.
Safety is Sloper's number one concern. That is why only trusted authors set the routes and give the beta for Sloper's climbs. However, Sloper still allows for crowdsourced value add data such as grade consensus, climbing style and holds encountered. Sloper has also 'gamified' users climbing day with interactive features that lets climbers rate climbs, tick them off with date, type of send, style of the climb and share with friends. This allows climbers to analyze their climbing days compared to their personal best days out. How do they rank among their peers, and are they getting stronger over time.
The first outside app features climbs all over Western Canada. Authors include, Chris Perry, Kevin McLane, Evan Hau, Marcus Norman and John Martin to name a few. Link for app here.
ROUTE MAINTENANCE PARTNERSHIP. Sloper and Tabvar (The Association of Bow Valley Rock Climbers) have joined forces to help keep the climbers in the Bow Valley safe and well informed by using the App obtain and distribute hardware safety concerns to the community.
When using the app, climbers will have access to sport and traditional climbs in Bow Valley where they can not only log their ascents but report maintenance issues on the route's bolts and anchors. As fellow climbers use the app they will be notified of an issue as soon as it has been logged as an alert to possibly avoid climbing on that particular route. Tabvar can then take this information, prioritize the issues reported, and focus their volunteer's efforts on the more critical tasks. *please note, as this partnership is relatively new, we can look to see the safety issue logging in place in the app in Fall after the initial release of the app.
INSIDE. Sloper is a tool for gyms. Sloper custom builds each gym their own app, which allows them to stay in touch with their members and visitors with updates on new routes. The app works the same as outside, letting climbers rate and tick their sends indoors, which ultimately helps them to grow and stay engaged with their goals and projects.
Sloper is the 'first' to develop custom apps for gyms allowing them to expand their brand and further their connection to their members. Gyms can also give their members better routes by using the data and feedback to create more intuitive routes for their audience. Stoneage - New Mexico, The Crag, Nashville, TN, Elevation Place Canmore, AB and Grand Valley Gym - Grand Valley CO are the first four gyms to use Sloper with Urban Climb in Australia, Ascend in Pittsburgh, PA, and Movement, Boulder, CO in the final stages, as well as many more gyms in development.
WHY SLOPER?
has someone asked to borrow your guide book at a crag, or you have forgotten your book?
have you clumsily brought print out to a route only to have them fall three pitches below you?
have you wished you could keep track of your sends in the gym?
TECH. First generation Sloper was built in iOS code, natively, then recently rebuilt on both iOS and Android.
ABOUT SLOPER'S FOUNDERS
JEFF MOORE - Moore is a 3rd generation Calgarian, Canadian entrepreneur and climber. Moore grew up climbing in the Bow Valley and has started various businesses, from Rock & Ice Photography to an early start-up that sent traffic updates to mobile phones. Moore currently lives in Canmore and operates a boutique consulting firm in Calgary.
STEVE GOLLEY - Golley has been an avid climber for over 25 years and commercial software developer for the past 20. Combining his passion for climbing and software development he started The Send in the UK, publishing several guidebook apps from small bouldering venues, multi-area traditional guides and large scale sport venues such as Kalymnos, Greece.
For more information, interviews, assets and testing apps please contact Kate Erwin pr@sloperclimbing.com
---