Back to News
Alpenglow Sports Owner Brendan Madigan Launches Afterglow, A New Mountain Storytelling Podcast
November 27, 2017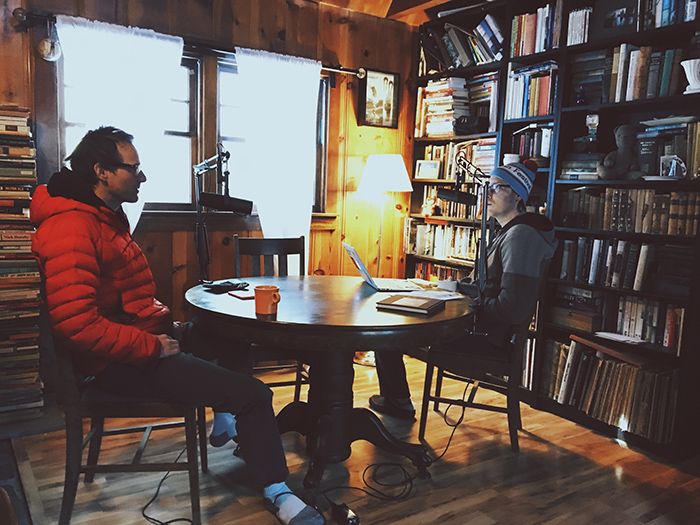 Brendan Madigan, owner of 38-year-old specialty retail shop Alpenglow Sports, has launched a new podcast initiative featuring intimate conversations with iconic mountain personalities.
Afterglow, a Mountain Storytelling Podcast, travels deep into the mind, heart and soul of world-renowned adventure athletes. The first season is a six-part series with weekly episodes that becomes available on Friday, December 1st across multiple podcast platforms.
"Heritage specialty retailers have always been about building something of lasting value in their communities," according to Madigan. "A big part of how Alpenglow Sports does this is through our free Winter Film Series, perhaps the premier athlete speaker series in the country. Five times a winter our mountain tribe comes together and is inspired by someone like Lynn Hill, Tommy Caldwell or Jeremy Jones. However, these aren't just athletes, they are storytellers."
Afterglow is a series of organic, long-form and intimate conversations that reveal the possibilities, motivations and inspirations of iconic mountain athletes. Every conversation digs deep in the attempt to learn universal truths from the experiences of these athletes including who we are, why we are here and how these answers offer a pathway for the sharing of experiences, emotion and vulnerabilities that can potentially spark change and bridge divides.
"For years we've wanted to make the aspirational lessons from these adventurous shows available to a wider audience. Afterglow is our attempt to do this and hopefully make the world a better place by sharing these fantastic tales of personal growth through adventure. It's my sincere hope that both outdoor enthusiasts and everyday people will enjoy these conversations," added Madigan.
Season one of Afterglow includes compelling and revealing conversations on a weekly basis. Guests include Tommy Caldwell, Will Gadd, Dave Nettle, Brendan Leonard, Doug Robinson and Chris Noble. The series kicks-off is a tandem chat with high altitude mountaineers Adrian Ballinger and Cory Richards, climbers of Everest-No-Filter fame.
Afterglow is entirely free and available on iTunes, Soundcloud, Stitcher, Google Play and more. Please subscribe and tell a friend. Questions will be happily answered by the Alpenglow Sports staff (530) 583-6917. Madigan will also answer questions directly at his business email brendan@alpenglowsports.com.
About Brendan Madigan:
Brendan Madigan's life work revolves around cultivating community in North Lake Tahoe, California through a rich and connected retail experience at heritage brand and outdoor specialty retailer Alpenglow Sports, est. 1979. Madigan is a highly experienced creator and founder of a litany of experiential mountain recreation events, including the bi-annual Alpenglow Mountain Festival, the Alpenglow Winter Film Series, the Lake Tahoe Backcountry Demo Event, and the Broken Arrow Skyrace. Madigan's events, which are created, refined and executed alongside Alpenglow staff, have become some of the largest and most progressive outdoor recreation events in the United States.
Madigan's ultimate goal is to continue Alpenglow's heritage of giving back to the community that has supported the North Lake Tahoe mountain shop for nearly 40 years. He lives in Homewood, California with his wife and two cats, George and Phoebe.
About the Alpenglow Sports Winter Film Series:
Established in 2006, the Alpenglow Sports Winter Film Series is a free event designed to motivate, inspire and educate. Held in Squaw Valley, California, the Winter Film Series is a five-part series that showcases one show per month from November through February. Each show packs the house at Squaw Valley's famous Olympic Village Lodge with over 600 attendees. Past speakers include Lynn Hill, Jeremy Jones, Tommy Caldwell, Chris Davenport, Alex Honnold, Emily Harrington, and more. Since it's inception, the Winter Film Series has raised well over $120,000 for various non-profit groups within the Lake Tahoe region. While each show is free, Alpenglow Sports uses product donated by the sponsors of each presenter in order to sell raffle tickets. 100% of proceeds are given to the associated non-profit to utilize in their community endeavors.



---