Back to News
Shaper - Cordell Miller
September 1, 2004
INDUSTRIAL PROFILE
Interview with Cordell Miller
Pick up a Happy Magazine (http://www.happymag.com) to see the Industrial Profile in print.


What came first, the chicken or the egg? We may never know.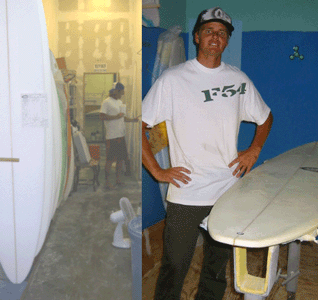 Surfboard or Surfboard Shaper?, That's an easy one!! The Shaper of course. The surf industry wouldn't exist without shapers. Of course Hollister would be able to conjure something up – like an injection-mold android to be a shaper. Aside from that, it's a fairly small group of people who are relied upon to make surfboards.
Without a doubt making a surfboard is an art. Have you ever thought of trying to make a surfboard? Ever considered taking that bedroom door off its hinges and whittling it down to something surfable? Maybe that's too dramatic. But wouldn't it be nice to spend your time transforming a block of foam into something that seems born to ride waves. Would you ever think "I can do this for life?" We tracked someone down to find out what it's like.
Cordell Miller is a shaper who operates Cordell Surfboards out of Newport Beach, CA. This Industrial Profile took place on the tailgate of Cordell's truck in front of his shop on a sunny Friday afternoon. During the interview, a dozen people must have stopped by to say hi to Cordell, pick up a board, or something else. Everyone that passed by reflected Cordell's pleasant, relaxed attitude. There is a good vibe coming out of Cordell's shop, along with great surfboards. It's a clever formula for success.
How long have you been shaping?
14 years now.
How did you get started?
I just loved to surf. At that time I was getting boards from Xanadu. One of the boards worked so well I thought, I'm going to figure this thing out.
What was the experience like shaping your first board?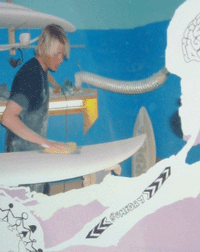 The very first board was fun to shape. But it turned out kind of ugly, and a little off. It wasn't very even – thickness wasn't consistent, but it did work. I didn't give up and they kept getting better. The second one turned out a little better and my friend Donavon Frankenreiter road it, until my friend Adam Cohen broke it. From there I just kept making boards for myself and people I know like Nathan and Christian Fletcher, Todd Miller, Donavon, Matt Patterson. And quite a few more people. I love surfing so I never gave up the art of shaping. If I didn't surf I wouldn't shape. Since starting 14 years ago I've made for myself, alone, over 1000 boards.

What's your favorite part about shaping a board?
Getting to ride it. (This question was a late addition that was added, and answered by Cordell while he was on his way down to Lowers to ride one of those boards)
How'd you start growing the business?
I wasn't making much money from my sponsors and it took too long to get boards, which were also an expense. I had a lot of time on my hands and I had to make money, so it was natural to spend that time shaping boards. Friends didn't want to pay; instead they'd buy me a drink or something. Then there were guys that would pay and I could make 50 or 100 bucks on a board. And the client base grew from there.
I got my own glass shop until 5-6 years into it. It's a lot of fun, but its work too. I couldn't do it without my guys. Chris Culpen, My sander, Greg Walters is on vacation for a while. Matt "Steamer" Stanley one of our glassers. Jimmy, another one of our glassers who loves to skydive. He works all week, and goes to jump on weekends – glass to jump. Lindsey and Keefer a.k.a. Magnum. They are all over and awesome.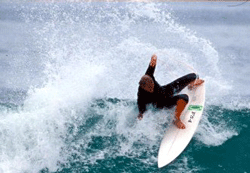 Does surfing at a professional level help with shaping?
Trying to profess anything you gotta try master it. If you're a mechanic you understand your car, or if you're a sailor you understand your boat. And it's kind of the same being a surfer and understanding your board. You have to know your equipment and how to make something that will work.
It does give me a real understanding of what the surfers try to communicate. Any surfer will tell you how important his board is. A friend once told me, "You're only as good as your board". Granted there are people like Curren who can go out and rip on anything.
Speaking of Curren, you recently had an opportunity to compete against him in the Body Glove Surf Bout at Lowers. How was that?
It was like a dream come true. He started in the first round, and was right there in my heat. We had four heats together and one of the heats Curren and I split a peak, he had priority and gave me the better ½ of the wave. (Cordell won the heat)
What are the similarities and differences in building a career as a professional surfer vs. a professional shaper?
Well, I've made more of a career out of shaping. There are a handful of shapers that make a good living and a handful of surfers that make a good living. You can also be amongst the surviving from pay check to pay check and live a great life.
What's the daily routine?
A lot of my life revolves around surfing. I can get a lot of surfing in. Go to the shop, check the day's schedule, and check the waves. Usually get in the water at Lowers, 56th or 28th street in Newport during the morning. Then head over to the shop to shape, make sure boards are getting glassed, things are getting done right.
What's been goin' on lately?
Entry curve and tail rocker. I've been really getting in tune making boards. Just over the last few years my shaping is coming in to what I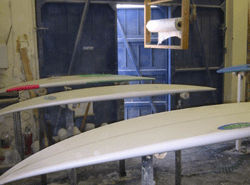 want it to be, and every day it gets better – more in tune.
I've always worked on making boards easy to turn by putting a lot of rocker in them, but I know you've gotta have a fast, fast board. I've balanced my rockers out a lot and I've seemed to find what really works great in the future turns of surfing.

Aside from shaping, I'm working with my good friend Todd Miller on building F54, it's a clothing brand we're building.
Do you ever think about making Cordell Surfboards into one of the biggest?
There are a lot of really good shapers out right now. You haven't even heard of them and they're getting good. Until some of the top guys stop shaping it's going to be really hard for anyone to make that move. Australian shapers are doing really well too, I think that's why some of the Aussies are dominating the tour right now, they've got really good equipment.
What's your opinion about molded surfboards?
I think they're definitely a part of the future. There's nothing better than having a hand shaped board, but it all comes down to value. As an American citizen you start to realize the truth behind what you're buying. Who's making it and where's it coming from. What will we be left to do, party & make movies?
I don't think its cool that business men that don't know how to shape come in and do it just to make money. I think it's cool that the Chinese are learning how to shape, but is there any surf there? I sure hope so, it would be good for them to get out and surf.
What do you find challenging about what you do?
Consistency - being able to make the same board again and again.
What's the best part of the job?
Being involved in what myself and everyone around me loves to do. I love to surf. Obviously god must have been a surfer. The world would be a better place if everyone had a board.
Is there anything you can tell the readers about working or succeeding in the industry (a piece of advice)?
Don't be afraid to realize that you can shape. Don't give up. Eventually you'll be able to create with your hands what you see in your mind or want to see with your eye.
How can someone find the opportunity to shape a board?
You can go to Foam E-Z or Bashem's to buy a start kit and do it.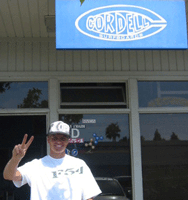 Anyone to say thanks or Hi to?
The list is long, but a few people are:
Dr. G
John at Fusion
Todd Miller at F54
My friends and the locals at Newport
Danny Kwock
Bob Hurley
Mike Estrada
Mark McConnell
Ben Aipa
Bill Stembridge
Sean Jensen
Wayland Kong
---