Back to News
3D Industries Helps WiseFool Integrate Recycled Fabrics Into Product Line
November 27, 2017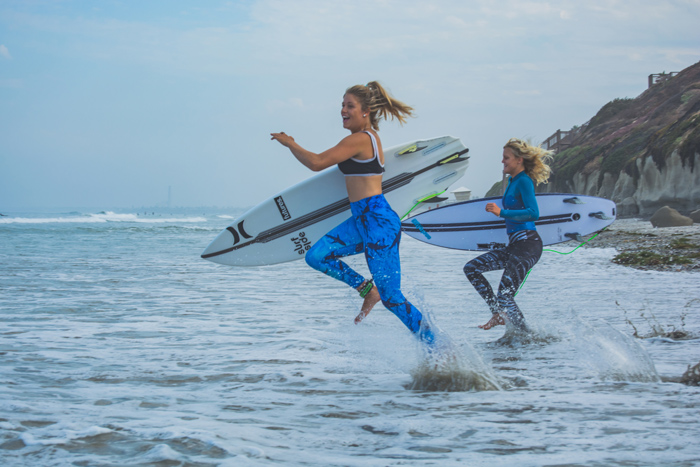 3D Industries works with a wide variety of brands and companies - from the large companies with deep roots in their categories to emerging brands establishing themselves as heavy hitters in their environments. 3D is able to deliver for clients large and small and can bring innovation to these companies. One such example is that of WiseFool, a brand set on making an impact on sustainable fashion.
3D share this story of WiseFool in an interview with company representative Danny.
Tell us a bit about the concept of WiseFool:
At its core, WiseFool is about cultivating a mindset that leads to a meaningful lifestyle. "Get Wise" by educating yourself, learning from your unique life experiences, and maintaining a sense of mindfulness in all that you do. "Stay Foolish" by enjoying the ride and remembering that every new way of thinking was once considered foolish. Live a "Good Life" by finding balance and appreciating all that life has to offer. Hence our mantra: "Get Wise. Stay Foolish. Good Life." Integral to this entire ethos is the central notion of sustainability: living in harmony with our environments & realizing that everything we do has an impact, from the food we eat, to the way we treat people we meet, to the clothes we wear every day. That's why we try to reflect that sense of sustainability in everything we do, from the stories we tell to the products we sell.
Tell us about the decision to run with recycled/sustainable fabric:
We believe that the mindset needed to achieve sustainability requires awareness, responsibility, and innovation. When it comes to inspiring and strengthening that mindset, fashion makes for a perfect fit (no pun intended). Not only does recycled/sustainable fashion make sense from a production standpoint, it also sends a very powerful message that we hope sparks that same revolutionary spirit in others who discover our brand.
RECYCLED LEGGINGS & BOARDSHORTS from WISEFOOL on Vimeo.
How did 3D help facilitate the project and bring your ideas to life?
Developing top of the line performance products, and doing so as sustainably as possible, can be quite a tall task, and it's no wonder not many brands are even attempting to try at this point. We knew we would need to find amazing partners in order to even give it a try, and we feel so fortunate that we came across 3D right here in our very own neighborhood. 3D embraced the challenge head on, truly listening to and caring about our vision, then going the extra mile to make it happen. Sean is a gifted communicator, and he's made a world of difference in turning our ideas into finished pieces with every last detail accounted for. The whole entire 3D team has made us feel welcome to the table from day one, and it's been so great to work with people who truly want to see us accomplish what we're setting out to do.
Tell us a bit about the process, from concept to bringing the idea to life:
We came to the table with ideas, and 3D served as our guide every step of the way in helping us make the decisions needed to see those ideas come to fruition. It's been a remarkable process, and one we're excited to replicate and build on in the future.
How do you feel about the end product?
We honestly believe there's nothing like our products out there, due to the complete and total customization of both the process and the design of each product we worked on with 3D. Not only do the garments accurately reflect our mission by serving as stunning conversation starters, but the fact that they're so well made while also making use of recycled materials has allowed us to contribute something totally unique that stands out amongst the sometimes overcrowded landscape of performance apparel.
How have your audience and customers received the products and brand?
The WiseFool Family comes from all walks of life, which makes initial feedback all the more interesting and valuable to us. First and foremost, everyone LOVES the fact that our leggings and boardshorts are made from recycled single-use plastic, as it allows them to make a statement in honor of Mother Nature every time they wear them. On top of that, we're happy to say that our yoga instructor and studio owner friends absolutely love the fit and feel of the leggings, as do our skate and surf athletes. In fact, you just may catch a glimpse of both our boardshorts and leggings being worn in surf competions up and down the Southern Californian coast, as well as in Hawaii. We're also proud to say that one of our favorite professional skaters, Bryce Wettstein, recently placed 2nd at the Vans U.S. Open while wearing our leggings. We've been told that the way they fit and the full range of motion they offer make them perfect for aggressive bowl and vert skating at the highest level, and we're excited to continue sharing our sustainable fashion with our skater girl friends who we see as great role models for the industry, as well as the Wisely Foolish lifestyle.
This positive reception has translated well in sales and WiseFool were able to surpass their initial sales goal by almost 25% for the first drop of their performance leggings. Furthermore, this transition to sustainable fashion has opened up new avenues for them to collaborate with likeminded brands and organizations to give back, protect the planet and move forward as a cause-based brand.


---