Back to News
ElliptiGO and Partners Offer Ultimate Winter Training Giveaway
November 30, 2017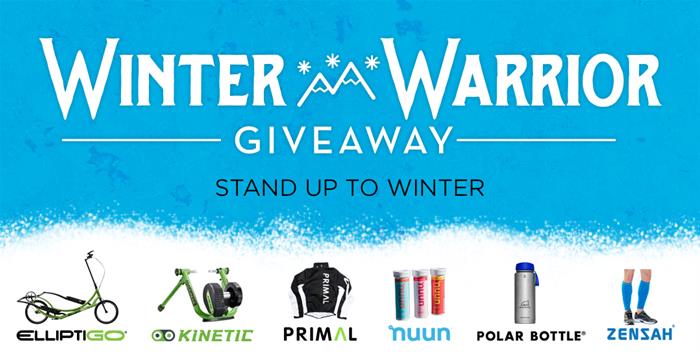 Enter at: http://www.ellpitigo.com/winter-warrior-giveaway
ElliptiGO, Kinetic, Nuun, Polar Bottle, Primal and Zensah want to make sure winter doesn't get in the way of one lucky winner's training goals. The companies have joined forces to offer the Winter Warrior Giveaway, featuring an ElliptiGO bike, a Kinetic trainer and accessories, one-year supply of Nuun hydration, and prize packs from Polar Bottle, Primal, and Zensah. The entire package is valued at over $4,000.
Two runners-up will win one Nuun Prize Pack, $100 of Polar Bottles at www.polarbottle.com, one Primal Coltrane Jacket or Ella Hoodie, and one Zensah Prize Pack. Each runner-up package is valued at just under $400.
The prize packs feature the very best products to train through the challenges athletes and fitness enthusiasts experience during the winter months. "ElliptiGO and our partners believe that in order to reach your potential, you need consistency in training, and that means continuing to put in work through the winter. We're excited to offer three lucky people the chance to achieve their personal bests with the help of premium exercise, nutrition, hydration and clothing products," said Bryce Whiting, Chief Enthusiast at ElliptiGO.
The contest ends Thursday, December 21, 2017. To enter, visit http://www.elliptigo.com/winter-warrior-giveaway.
To learn more about ElliptiGO, visit www.elliptigo.com, or follow them on Twitter @elliptigo and Facebook at www.facebook.com/elliptigo.


---