Back to News
Surfing Heritage and Culture Center Partners With Hobie on Museum Capsule
December 6, 2017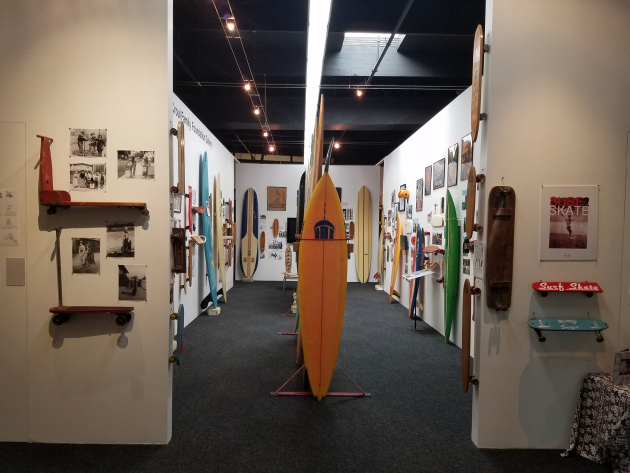 Collaborative museum capsule collections to be displayed at two shop locations
Hobie Surf Shops (HSS) is excited to announce a partnership with the prestigious non-profit organization and museum, Surfing Heritage and Culture Center (SHACC). SHACC will be curating historical mini capsule collections, selected from its world-renowned assortment of memorabilia, to be showcased at HSS locations. As well, HSS will design and sell special edition SHACC apparel, accessories and "fun stuff" under license, with a portion of the profits benefitting SHACCs mission to share surfings history and culture with the world.
A non-profit organization, SHACC has over 700 surfboards, a shaping shack filled with surf legend Dale Velzy's tools, templates and surfboards, and a rotating exhibit space that features a new display three to four times a year. Surfing Heritage might be best known for its photo archive, home to over 100 separate collections totaling nearly 300,000 historic images. The museum also produces special events such as guest lectures, slide shows, art and historical exhibits, surf film screenings, and concerts as well as educational outreach programs linking the sport of surfing to the community.
"We are more than stoked with this innovative partnership" says Glenn Brumage, SHACC's Executive Director. "SHACC founder Dick Metz was Hobie Alters business partner and opened the first Hobie retail store in Honolulu HI, making the SHACC annexes, as an integral part of the Hobie retail experience, very natural".
"In our desire to increase awareness in surfing's rich history, as well as pay homage to Dick Metz and what he created in the HSS, it made perfect sense for us to create these annexes. It's our job, as beach/surf retailers, to be a voice of surf history and culture" stated Jake Schwaner of Hobie Surf Shops. "Both Mark Christy and myself are honored to extend the SHACC's reach in introducing more of the California community to its remarkably extensive collection".
The first annex at HSS Corona Del Mar is now open with the Dana Point annex opening the first part of December. The first exhibits follow the Surf to Skate story that SHACC is currently on display in the museum gallery.
About Surfing Heritage and Culture Center:
SHACC, dedicated to the preservation, presentation, and promotion of the surfing culture, was founded by surfing stalwart Dick Metz and surf culture preservationist Spenser Croul. Housing one of the world's largest surfboard and memorabilia collections, SHACC traces surfing's roots from pre-western contact with Hawaii to the present. Annually, SHACC welcomes hundreds of international surf pilgrims and other interested parties through its doors. www.surfingheritage.org.
About Hobie Surf Shops
For 63 years Hobie Surf Shops has passionately pursued surfing and sailing innovation while never losing sight of fun, ocean awareness, and respect for our elders; emulating our Hawaiian surfing brethren. www.hobiesurfshop.com.


---