Back to News
Next Generation of Entrepreneurs Speaker Series – RSVP Now
February 20, 2018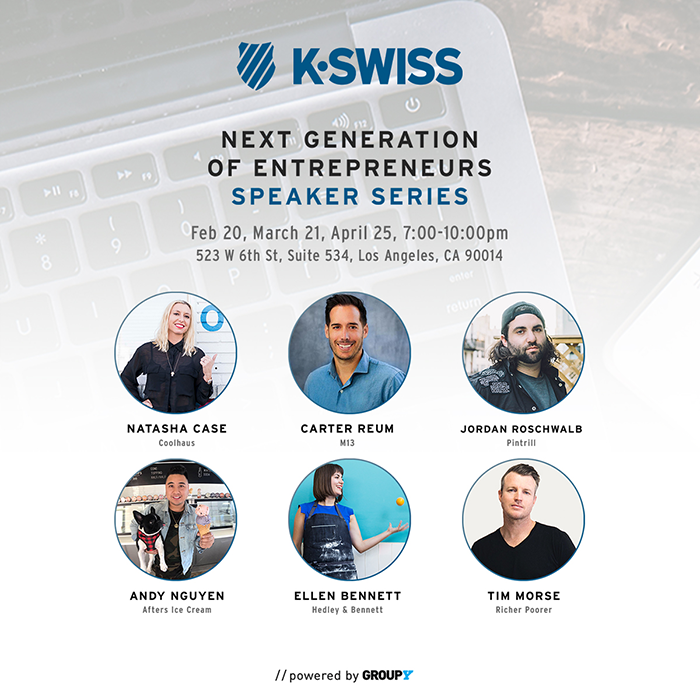 Powered by Group Y the events take place: Feb 20th, March 21st, & April 25th, 2018 7:00pm-10:00pm
K-Swiss HQ, DTLA 523 West 6th Street Los Angeles, CA 90014


"This is the single greatest era of entrepreneurship. Back in the day, rappers wanted to be athletes and athletes wanted to be rappers. And now: both of them wanna be entrepreneurs." - Gary Vaynerchuk
"Today's youth aspire to be CEOs more than athletes or celebrities," said K-Swiss president Barney Waters. "Entrepreneurs aren't wearing suits. These days it's T-shirts, jeans and sneakers."
K-Swiss in partnership with Group Y, bring this insightful event series featuring emerging entrepreneurs from fashion, lifestyle, entertainment, food, tech and more sharing best practices & tools for building a successful and engaged brand. Participants will hear from industry leaders about real world examples of successful initiatives they've led. Our goal is for participants to be re-inspired and come away with fresh ideas they'll be able to translate to their own individual or business goals.
Attendees will also actively engage with the speakers as they participate in unique BOF "BIRDS OF A FEATHER" interactive group discussions. Each group will be presented with a real-life situation that relates to brand marketing utilizing music & live entertainment to collectively discuss challenges and find solutions.
In Fall 2017 K-Swiss introduced the "Generation-K" campaign geared towards individuals we like to call Generation K(swiss). This new collection was made to inspire and outfit the next generation of entrepreneurs. Today's youth are not trying to be athletes or chasing empty fame. They want more. They are building their own brands, companies and businesses. Driven by creativity and the digital economy, this is the next generation of young entrepreneurs, where smarts, hustle, and success define your status.
SPEAKERS
Feb 20th
• Tim Morse – Co-Founder, Richer Poorer
• Natasha Case - CEO/Co-founder, Coolhaus
K-Swiss Global Brands
523 W 6th St, Suite 534 Los Angeles, Ca 90014
www.k-swiss.com
March 21st
• Andy Nguyen – Co-Founder, Afters Ice Cream
• Ellen Bennett – Founder & CEO, Hedley & Bennett
April 25th
• Jordan Roschwalb – Founder + Creative Director, Pintrill
• Carter Reum – Co-Founder, M13 Company, Veev Spirits & Co-Author of best-seller "Shortcut Your Startup"
About Group Y
Since 2006, Group Y is the original and leading collective of professionals focused on Youth Marketing, Lifestyle and other progressive and expressive cultures.
Our mission is to intersect influencers across industries and ignite ideas that inspire the current and next generation leaders and decision makers. Leveraging events, outreach, content and consultation, Group Y takes the work out of networking and strengthens the areas where industries overlap.
www.GroupYnetwork.com

About K-Swiss
From the beginning, K-Swiss has been driven by an entrepreneurial spirit when two Swiss brothers moved to California to create a footwear brand focused on tennis. As avid skiers, the brothers took inspiration from leather ski boots to create a tennis shoe that supported aggressive side-to-side movement. Introduced in 1966, the K-Swiss Classic was the world's first all-leather tennis shoe and powered some of the best tennis players of the time to win major championships. It quickly gained worldwide acclaim and became a style statement both on and off the court, worn casually in country clubs and just as fashionably on city streets. More than 50 years later, K-Swiss is building from its heritage as an American tennis brand and writing new chapters in its storied history. Paying homage to the hard work of our founders and the competitive nature of the game that inspired it all, K-Swiss is dedicated to outfitting and inspiring the next generation of entrepreneurs.
www.KSWISS.com


---