Back to News
Entrepreneurs - Jeff Hall and Bowen Ota
October 1, 2004
INDUSTRIAL PROFILE
Interview with

Jeff Hall and Bowen Ota
Pick up a Happy Magazine (http://www.happymag.com) to see the Industrial Profile in print.
Ever create the next blockbuster company in your head?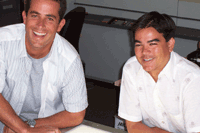 You know just what the industry is missing and you and your buddies have this ingenious plan to create a unique internet start-up. You've got the concept nailed, and Bill Gates and Michael Dell have offered up a few bucks.
Jeff Hall and Bowen Ota did it without the help of either of those guys.
Idea – Concept – Execute – Reality - Entrepreneur. Jeff Hall and Bowen Ota created A-Frame Media (aframephoto.com), the world's largest ocean related photo agency. The company is one-of-a-kind, and operates mostly behind the scenes of the surf industry.
Building a business that is primarily web-based is far from dead, but now you have to present something that has unique value. No more, or hardly ever, will you see the guy who invented blahblahblingding.com cashing the huge paycheck before the company stock tanks, and Ed in Nebraska loses the whole farm.
This interview starts out with commentary from both partners, but as it goes on some answers merger into one response, as did their efforts to build a solid company.
How did you guys get started with A-Frame Media?
Jeff: That takes a little bit of background. I got started in the industry in 1993 at Surfer Publications where I ran the merchandise department for all of the titles and eventually settled in as an Account Executive in the Surfer Magazine advertising department. From there I decided to broaden my experience level from print a bit and was part of the group who launched the original Swell.com where I was the Director of Sales & Marketing. I think the combined experience was really good, working for one of the most respected surf magazines, and then being on the ground floor of what was probably the most heavily funded surf industry start-up to date. In fact I'm very proud of what I accomplished at Swell and that the companies who trusted me from the first pitch are still involved and actually profiting from the whole thing. That feels good.
Bowen: While Jeff was on the Sales and Marketing side, I was working at Swell as a Content Manager / Producer on the company's three websites – Swell.com, Monsterskate.com, and Crossrocket.com. My background is in html / web production so my job was to publish content on our family of websites.
We worked pretty closely there and became good friends so when both of us had left the company we had plenty of free time to dream up what is now A-Frame Media. It's safe to say that the A-Frame idea was hatched on the trail to Trestles.
Jeff: Bowen and I would talk about the concept of A-Frame, and then at night I would go home, bust out the calculator, and get discouraged. It was a great concept, but I kept being too realistic and continually ran the numbers, which at the time made no business sense whatsoever. If it weren't for Bowen's consistent upbeat attitude about the whole thing I would've scrapped the idea and started sending out my resume.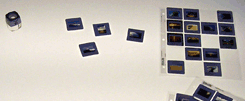 What was the concept?
We wanted to start a Stock Photo Agency that catered to the surf industry but also helped feed the mainstream advertisers who more often than not trip on their leash when it comes selecting and using surf related images. So acting as a consultant to these types of companies was always in the plan. We also wanted to be a one-stop shop in regards to images (still and moving), drum scanning, art direction and web construction.
What was the next step, and how long did it take to get the company going?
We first focused on conceptualizing and building the site to make it as user friendly as possible for our clients. During that development stage we figured out ways to stay above water like selling prints and posters through a network of retail shops, the Swell catalog and of course online.
After six months we had a well designed website that actually worked and was ready to go. All we needed were photos. We set up meetings with Jeff Divine and Tom Servais who both agreed to help us out. They trusted us and basically said "go for it". We owe them the world for that, as it made things real easy having the cream of the crop, so to speak, in regards to images.
Bowen: With no funding and only a small investment from the two of us, we had to keep our overhead down to make it feasible. So, we ran the whole operation out of Jeff's room. It was crazy. Girls were sent home early and the bed would always have to be made in the morning! People would stop by to pick up photos; we'd have meetings, and so on. At that time a lot of the people that were supporting us were also our close friends, so we could get away with it, but they would definitely give us a hard time about our "office" – all in good fun though.
Slowly but surely success started to come. We moved into an office/studio in downtown San Clemente, spent what we had in our account on more technical equipment and kept on rolling. We definitely felt much more confident and proud that we were representing our photographers at the level they deserved.
Would you sell?
I guess everything is for sale at the right price but we didn't build the company to sell it. We built it to have a lifestyle that we can enjoy. We could both go get jobs that pay more, but we have a long-term plan and it seems to be materializing sooner rather than later. We've put so much into it, and feel like we've created something of value. Each day that passes with everyone we work with remaining happy is a testament to that. We're just getting started.
How old is the company now?
3 years.









How does it work?
This is a very general explanation. Right now we have about 30 photographers that we represent, so the number of images we see on a daily basis is staggering. Once the images arrive here we'll do a tight edit to make a collection of the best work from each individual photographer, and of each athlete. All of the photos are scanned, indexed by company / sponsor and rider and then uploaded onto the aframephoto.com website.
Our customers are able to login to our website and search for photos of their athletes either by athlete name, location, keyword and/or type of maneuver. The database is password protected, so once a client logs on, the site actually surfaces all of the images that pertain to them.
We've harnessed the whole procrastinator issue of artwork deadlines and turned it into a situation that can work - we've enabled the procrastinators. (Apologies to anyone who works in a production department.) Now our clients are so used to getting the goods in the eleventh hour, we've spoiled them. Hopefully this doesn't encourage that behavior even more!
Are there any underlying benefits to the company's & photographers?
Well, I think the biggest benefit to the companies we supply is the amount of choices they can consider in a short amount of time. It's not uncommon that we'll have 3-4 angles of the same wave so the client can really base their decision on what works best for them. We've also eliminated the risk for both the photographer and client in regards to handling original slides.
There are big liability issues that go along with that and unfortunately relationships can get strained and/or ruined by lost or damaged originals. Our method eliminates that risk and at the same time makes more images available to the people who need to see them. No longer are submissions gathering dust going stale while potential clients go hungry.
For the photographers, we're making it possible for them to focus on what they do best, Photography. These guys are the real heroes. We're just directing traffic.
Bringing more people into the equation helps too. Art Directors, Team Managers, Surfers can all check available images and contribute to the process. We've gone so far as to enable Art Directors to create high quality mock ups to see how an ad lays-out before pulling the trigger.
Introducing a new concept is no easy task. What was or is the biggest challenge?
The biggest challenge was getting people to consider images online. Gaining our clients trust that we knew the difference between a soft image and a speed blur and whether or not a certain image would hold its composure when reproduced was huge. Instead of puffing out our chests with that "we know more than you attitude" we just let our product and service speak for itself. We love making an art director look good. It definitely comes around.
Site or no site we still have clients that will only consider the original slides in person. That's fine but we're hoping to turn that around soon as well.

How is it different today than start-up days?
Jeff: Well…my bed is definitely not getting made everyday. That's for sure. We're definitely finding ourselves working more as we've established an international customer base so we're kind of "on call" all of the time. It's pretty non-stop action around here.
Bowen: You only get out of it what you put into it. And I think we both can sit back and say that we put a ton of hard work into this and it's starting to smile back at us.
What's the best part of the job?
I love opening up a new submission and finding that photo that you know your client is going to freak out on. Seeing your stuff get up is cool.
And the best thing about being the owners of the company?
Well, it's comforting to know that the company won't be randomly sold out from under us. Another is, making our own decisions that aren't always based on the monthly bottom line but instead towards our long-term goals.
What's an average day at the office?
Get in and go straight to photo requests that have come in during the night. Most of the bigger agencies we deal with are in New York so we make it a priority to take care of those guys first thing.
10:00am FedEx rolls up with photographer submissions and we immediately start editing. I'm (Jeff) on the phone straight away while Bowen starts scanning and uploading images for consideration. We make it a point to have new images up everyday. That's definitely one of our strong points.
We certainly don't have many "boring" days. It gets kind of exciting when someone calls with an off the wall request that we're able to fill within the hour. Our non-surf industry clients are used to that kind of service with the larger stock agencies so we haven't told them it's just the two of us yet. They've been extremely supportive and have always complimented us on our professionalism and quality of images.
Thinking back on some of the major points you shared with us, what's the most rewarding aspect of what you do?
Surf photographers are so underrated. Their work is comparable to lots of other industries, but the pay definitely isn't. It's very rewarding to send them a royalty check out of the blue and have them do a back-flip because they can feed themselves that week. It's even better when we make a sale that can put them in another tax bracket. Yeah, from 5k-10K a year to 15K. (laughter)
It's also very rewarding when a client uses one of our images that turns out to be their best piece of creative for the year. We thrive off all of the new magazines.
Humor. How about crazy requests?
Dealing with mainstream ad agencies has produced some weird & hilarious requests. Things like, "we need a photo of a lady about 40+ years old, shot from the water, in a wetsuit, and preferably riding the barrel."
Or, "your breakers are too angry!" and "the tunnels are all too big"
A lot of people out there probably dream of being a surf photographer, or making it to the next level. From your experience, what can a photographer do to take those steps?
Auto-focus aside…photography is a natural talent that can continually be improved on. If you think you have what it takes to become a surf photographer you need to start shooting as much as possible. Pay attention to your results and learn from your mistakes. It's not going to happen overnight but you can definitely jump a few tiers with lots of hard work and a positive, inventive attitude. It also helps to shoot the right guys so if you can put yourself in those situations you're ahead of the game.
How about some of the new things we're seeing, like night-time shots?
New? Hardly. It's funny, some of the older guys scoff at that stuff as they've been through that phase before and didn't think much of it. The remote flash stuff these days, however, is awesome and more than anything I think it makes the guys think of other ways to be creative and come up with exciting images. I think everyone will be really stoked on the things we're working on with some of the guys right now.
What makes you want to throw in the towel?
Nothing! There are so many things we want to do and still haven't done yet. Too many red-hot irons in the fire.
Is there anything you can tell the readers about the entrepreneurial route?
Bowen: To start your own deal it takes a certain personality. I knew from pretty early on I wanted to be accountable for my own decisions and efforts. Owning your own business allows you to do this and see the results immediately (good or bad). You have to be willing to take a risk and forgo the steady paycheck for a while. In a partnership situation it's also important that both people have the same vision and ideas about how to run the company.
Jeff: Go get as much experience as possible. My years of working at Surfer really helped me out. People knew me and trusted me. I approached it like, "we can't let these guys down" and was willing to work without pay until we built something of value for both our clients and contributors.
Thanks to?
Jeff Divine, Tom Servais, Art Brewer, Ron Stoner, John Severson, Steve Pezman, Court Overin, Denise Bashem, Mike Madlender, Tim Richardson, Tim McCaig, the crew at Surfline, Brandon Lillard, Brandy Faber, Joe McElroy, Jeff Canham, Wally Fox, the Money Kid$, the Merkelator, Phil Gordon, Ruby, Chad LaBass, Swell.com, Desi, each and every one of our photographers, and of course all of our clients who I failed to name here. We love you all.
---