Back to News
LifeProof Announces Official Sponsorship of World Surf League
March 7, 2018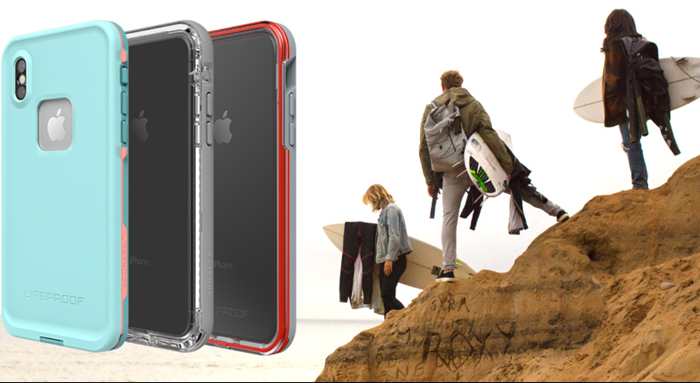 LifeProof, the No. 1-selling waterproof case in the U.S., today announced a partnership with the World Surf League across 2018 North American events as well as the season kickoff, the Quiksilver and Roxy Pro Gold Coast.* LifeProof will hit the sand and surf at six Tour stops and provide a behind-the-scenes look at these world-renowned events featuring the best athletes in the sport.
LifeProof Cases Logo. LifeProof Cases, Inc. designs, manufactures and markets cases that provide all-environmental protection, functionality and interactivity to SmartPhones and Tablet PCs. The registered brand name 'LifeProof' is inspired by the protection and fully functional convenient operation of the device in rain, in water while swimming or surfing, in mud, sand, dust, snow or ice. The company mantra is 'Freedom' - freedom to be connected anywhere with your mobile device
LifeProof is the 2018 North American protective phone case partner, and the exclusive protective case partner of the Quiksilver and Roxy Pro Gold Coast, which runs March 11-22.
As a partner of WSL, LifeProof will be visible at all major events throughout 2018, including:
Quiksilver and Roxy Pro Gold Coast, Queensland, Australia, March 11-22
Founders' Cup of Surfing, Lemoore, Calif., May 4-6
Vans US Open of Surfing, Huntington Beach, Calif., July 30-Aug. 5
Surf Ranch Lemoore, Lemoore, Calif., Sept. 5-9
Hawaiian Women's Pro, Hawaii, Nov. 25-Dec. 6
Billabong Pipe Masters, Oahu, Hawaii, Dec. 8-20
LifeProof offers a range of award-winning mobile device cases, accessories and waterproof Bluetooth speakers. Its lightweight, premium protective cases safeguard devices from Apple, Samsung, Google and more. LifeProof's best-selling waterproof case, FRE, is waterproof to 6.6 feet for up to one hour, drop proof to 6.6 feet and completely sealed from sand, dust and dirt – perfect for surfers, beach-goers and adventure-seekers everywhere.
For more information about World Surf League, visit www.worldsurfleague.com. For more information about LifeProof, visit lifeproof.com.
---