Back to News
Scholarships for Skateboarders - explained by Keegan Guizard of the CSEF
March 20, 2018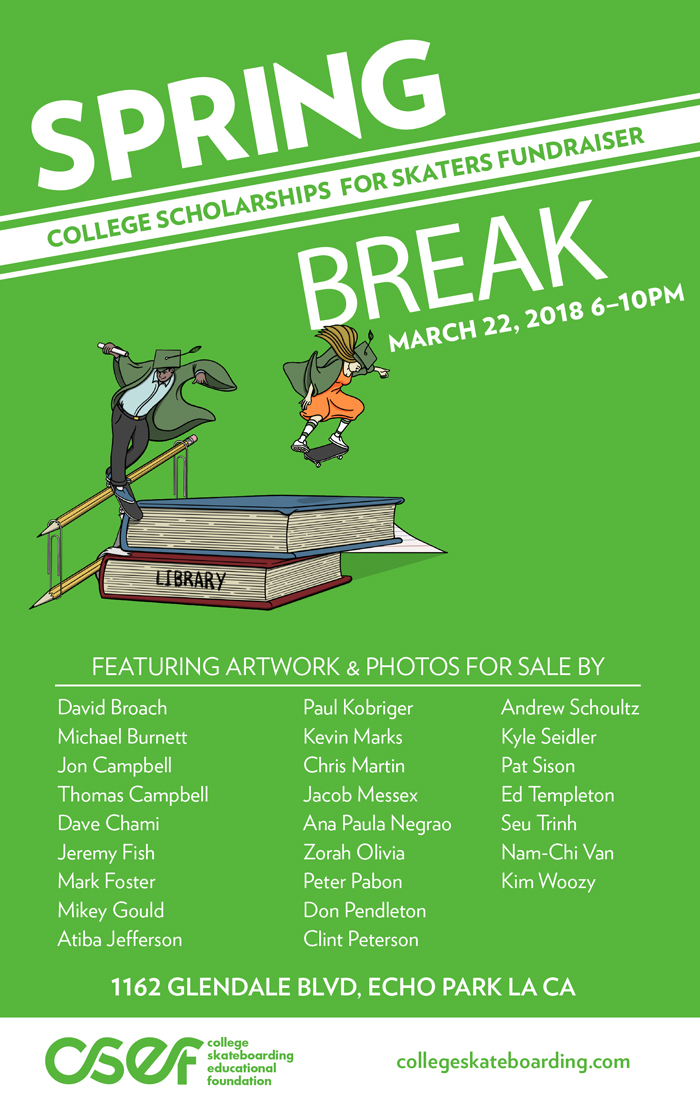 How great is this? The College Skateboarding Educational Foundation was created to help kids who skate get through college by providing scholarships. What a great idea and cool way to build a bridge for those who love to skate but can't make a living from it. Keegan Guizard tells us a little bit more about it and how you can get involved – it's easy to provide support. Check it out.
How did the idea for creating College Skateboarding Educational Foundation (CSEF) come about?
The idea for CSEF (the College Skateboarding Educational Foundation) came from the existing Collegiate Skate Tour. Collegiate Skate Tour encourages higher education for skateboarding youth as the national contest series for college skateboarding. People frequently asked if there was a college scholarship component, and until recently there was not. Over time, the need for the scholarship became obvious. There had been one at another time, but there was no current scholarship for skateboarders.
What's the vision for your organization?
When I met my fellow board members, the opportunity became clearer. Now, CSEF exists and helps tell the narrative of college student skaters to others (skaters or non-). It also raises the money for scholarships awarded to lifelong skateboarders with good grades. By awarding scholarships and telling the stories of college student & graduates, we can be a catalyst for skateboarders of today to seriously consider continuing their education.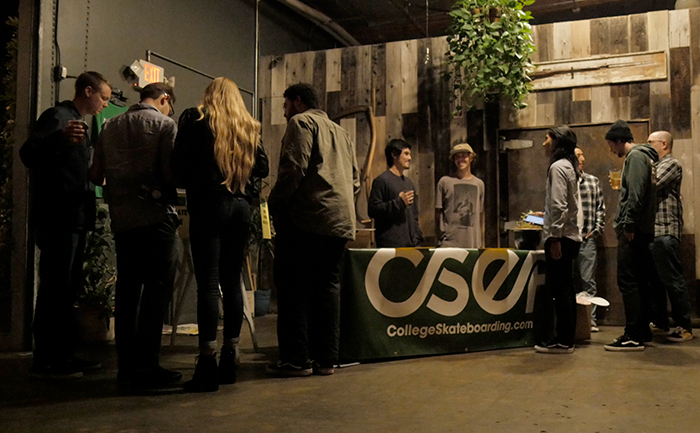 How are the scholarships funded?
Our funding comes mainly from individual donors, online & in person, as well as event-based fundraising. Our next fundraising event is actually this month in Echo Park, Los Angeles. We're curating an art show and selling all art & photography to benefit the scholarship fund. Happening at 1162 Glendale Blvd on March 22nd, 6-10 pm.

How does the scholarship application process work?
To Apply for our scholarship(s), visit: CollegeSkateboarding.com/scholarships. To Donate, visit: CollegeSkateboarding.com/give.
Once you give someone a scholarship does it carry on until the student graduates?
The scholarships are for one-time amounts, and this is our first year of fundraising for our first round of scholarships awarded. We're really excited to give out the first CSEF college scholarships later this year! We have many skaters in the running already, and we can't wait to share their (recipients') stories with the world. In the not-so-far-away future, we'll have recurring scholarships and partnerships with major universities.
Tell us about where the scholarship program is active now. Do you have a story to share about one of the recipients?
We haven't yet given out a scholarship so that story will come soon!
How can people and companies get involved?
We're thrilled for the future of CSEF and can barely wait to watch it grow more. Any individual or company hoping to donate or help the cause at all can visit our Donations page at CollegeSkateboarding.com/give or shoot us a message at info@collegeskateboarding.com. All donations are tax-deductible. If you are a college graduate & skateboarder, we'd love to shine a light on your path, so be in touch!
---