Back to News
Sheckler Foundation's 9th Annual Skate For A Cause Happens May 5th
April 16, 2018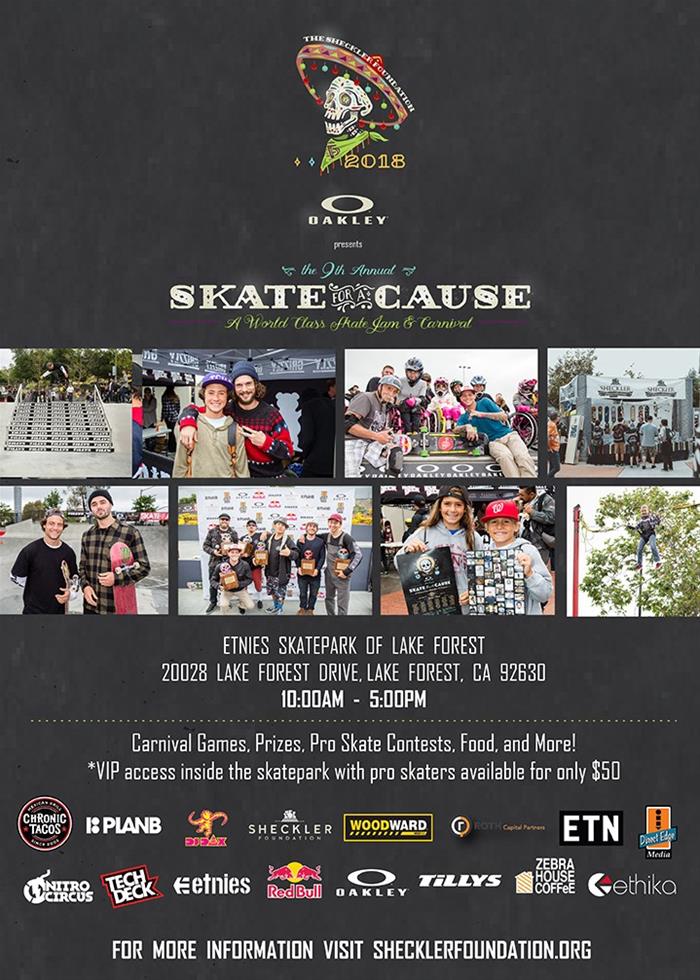 For the First Time Ever, Skate For A Cause Will Host an Adaptive Skate & WCMX Contest
The Sheckler Foundation and Oakley are proud to announce its 9th Annual Skate For A Cause taking place on Saturday, May 5, 2018 at the etnies Skatepark of Lake Forest. Skate For A Cause is a family-friendly event that features a world-class skate jam and carnival aimed to help raise funds for the Sheckler Foundation's "Be the Change" initiative to support injured action sports athletes and children in need. This event is open to the public from 10:00 a.m. - 5:00 p.m. and admission is free for families, friends and individuals of all ages. For exclusive access into the skatepark, limited-VIP tickets are available for a $50 donation on the Sheckler Foundation website: https://donate.shecklerfoundation.org/products/vip-access-to-skate-for-a-cause.

The charities and past "Be the Change" recipients joining the Sheckler Foundation in raising awareness include: Traveling Stories, Talk About Curing Autism (TACA), Tilly's Life Center (TLC), Skate MD Team Lilly Foundation, Adaptive Skate Kollective (ASK), SC Skatepark Coalition and Passport 2 Freedom.
2018 Skate For A Cause Schedule:
10:00 a.m. - Gates open to the public for the carnival village
10:00 a.m. - 12:00 p.m. Athlete warmup/practice
12:00 p.m. - 12:20 p.m. Nitro Cirucs WCMX Best Trick Contest
12:30 p.m. - 1:00 p.m. Roth Capital Adaptive Skate Best Trick Contest
1:30 p.m. - 2:30 p.m. Plan B SkaterCross
2:45 p.m. - 3:10 p.m. Red Bull Tech Center Best Trick Contest
3:15 p.m. - 3:40 p.m. OAKLEY Tranny Best Trick
3:45 p.m. - 4:30 p.m. TILLYS Stairs, Hubbas, Rails Best Trick Contest
4:30 p.m. - Awards
4:45 p.m. - SF Raffle winners announced at SF booth
5:00 p.m. - Carnival Ends

As the contests take place, the event will host games, drinks, food and giveaways at the Carnival Village from the following sponsors: Woodward West, Tech Deck, Ethika, Chronic Taco, etnies Skatepark of Lake Forest, etnies, Plan B and Zebra House Coffee.
For additional info on the Sheckler Foundation and its 9th Annual Skate For A Cause, follow @SheckFoundation on Twitter and stay connected with the foundation on Instagram, Facebook and LinkedIn .


---