Back to News
Nitro Circus Partners With Rocket League - Audience 44 Million Strong
April 23, 2018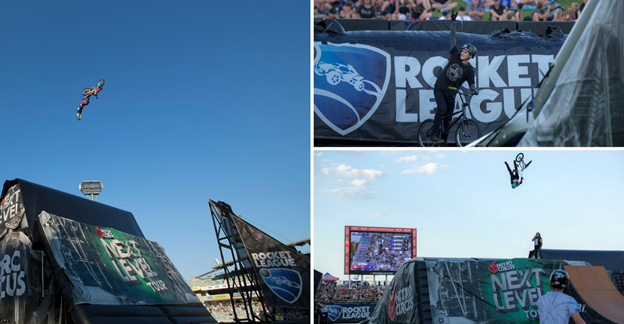 Sports entertainment brand Nitro Circus and independent video game developer and publisher, Psyonix, are excited to announce that Rocket League is an official partner of Nitro Circus globally for 2018.
Rocket League, the hit sports-action game with a worldwide community of more than 44 million players, is a high-powered hybrid of arcade soccer and driving with rewarding physics-based gameplay. It is developed and published by San Diego-based game studio, Psyonix. Throughout 2018, this partnership will see Rocket League integrated into all of Nitro Circus's live shows worldwide.
"We are excited to form this custom partnership with Rocket League, which will see a host of exciting initiatives and content rolled out on a global platform." said Nitro Circus' Chief Commercial Officer, Brett Clarke. "Both audiences, ours and Rocket League's, are very synergistic. More importantly, our athletes are avid Rocket League enthusiasts and we look forward to giving our fans the opportunity to compete against them throughout the year."
First activated in Australia last month during the kickoff of Nitro Circus's 2018 tour, the pairing will make its way to North America starting this summer then roll on to Europe in the winter. Rocket League will also make appearances across Nitro Circus's massive social media channels over the remainder of 2018 through branded content, giveaways, custom content, and more. Fans will even have the opportunity to square off against their action sports heroes in special Rocket League online tournaments. With esports exploding in popularity -- Business Insider has estimated a global audience of nearly 300 million players at an average age between 21 to 35 – this collaboration is set to resonate in the highly coveted young adult demographic.
To learn more about Rocket League, please visit www.RocketLeague.com, "Like" it on Facebook, and follow it on Twitter @RocketLeague for all the latest developer updates and news.
For Nitro Circus news, exclusive behind-the-scenes content, tour updates and more, go to NitroCircus.com and follow Nitro Circus on Instagram and Facebook.


---