Back to News
Spy Implements Locally to Drive Customers Into Brick N' Mortar Retailers
June 6, 2018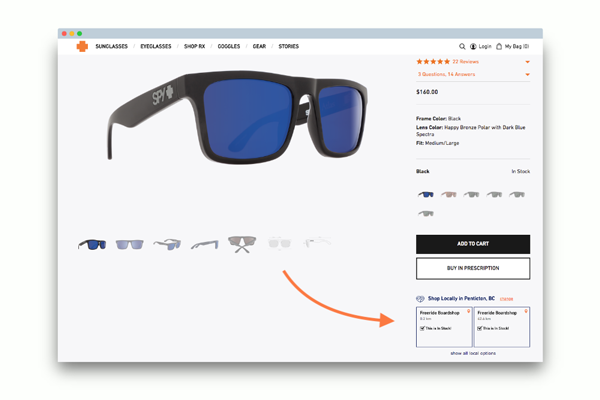 SPY has implemented a new online technology specifically to guide shoppers from its website directly through the doors of the brick-and-mortar retail stores in their area. Through a technology platform powered by Locally, SPY now delivers an online-to-offline shopping experience that showcases immediate local availability on the same page as the products being viewed.
Studies have shown that while the majority of consumers research products online before making a purchase, nearly two thirds of them indicated that all things being equal, they preferred buying from physical stores to purchasing online.* When it comes to sunglasses and goggles, where fit and feel are very subjective, the retail experience with is even more important in the decision making process.
"The integration of Locally into SPY's website turns every product page on our site into an ad for our local retail partners. Media reviews have already been telling our customers that we probably have the best lens ever, and now there is a strong chance that we're providing the best shopping experience too. Anyone browsing the SPY site in North America knows immediately what retailers in their area carry the products they're interested in, without any extra steps or clicks," commented John Gilson, SPY VP of Revenue – Digital.
The new Locally integration is just another recent example of SPY's dedication to supporting retail partners and providing a cohesive experience for its loyal customers.
"We know that consumers compare the price they can get online with the one they see in stores. Last year SPY began an aggressive initiative that removes retailers violating our minimum advertised pricing guidelines and counteracts the negative effects of showrooming. With Locally, we're making sure that consumers know the products they're browsing online can be tried on that same day at a local retailer, for the same price they're seeing on the SPY website," commented Charlie Ninegar, SPY VP of Revenue – Wholesale. "Factor in that the free return shipping built into our Happiness Guarantee extends to any eyewear purchased from an authorized retailer, and it's obvious how SPY continues to look for unique ways to support our partners in the mountains, streets, and beach towns."
The SPY's website integration with Locally is almost complete and its rep force is in the process of informing retailers on how they can connect their inventory status into SPY's website. More information on SPY can be found online at spyoptic.com, instagram.com/spyoptic, twitter.com/spyoptic and facebook.com/spyoptic.


---