Back to News
SDSI Expands Business Mentorship Programs
July 12, 2018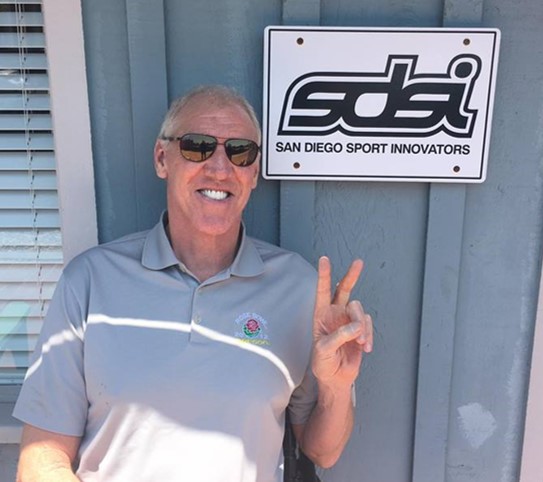 Under the leadership of Bill Walton, SDSI's popular Springboard program grows to better serve the needs of all SAL entrepreneurs.
San Diego Sport Innovators (SDSI), the non-profit business development community for the rapidly growing Sports and Active Lifestyle (SAL) sector, is excited to announce the rebranding and restructuring of their mentoring programs. The SAL sector has grown significantly in the last 5 years, so to keep up with the pace SDSI is expanding support for SAL businesses of all stages, from idea to household name.
"Sports, business and San Diego are all synonymous with the spirit of collaboration that always permeates success. Over the years, 87% of our Springboard companies are still in business. We have helped to start and build more than 80 different companies and we have helped create hundreds upon hundreds of real jobs - jobs that are the bedrock foundation of our community" said SDSI's Executive Chairman of the Board, Bill Walton.
Building on those statistics and following the mission to strengthen the SAL business community in San Diego, SDSI set out to create an expanded path for all entrepreneurs and companies in the Sports, Active Lifestyle and Health Living Space. Now, SDSI offers a Gateway Workshop, structured Accelerator and highly confidential Masters program, all leveraging the collective knowledge of industry veterans and seasoned business executives.
The new SDSI Gateway Workshop is open to all entrepreneurs in the early stages of putting an idea into action. This workshop covers the basics of starting a business, from protecting IP, to gathering sufficient proof of concept, to go-to market strategies.
The SDSI Accelerator is a 20-week structured business mentoring program for existing businesses that pairs companies with teams of mentors to refine business plans, prepare for investment and ready for growth and scale. Applications for the SDSI Accelerator open July 30th – learn more and apply here.
The new SDSI Masters program is an executive level, highly confidential mentoring program that leverages the best minds in SDSI to help established SAL companies accelerate growth. This completely customized program puts industry knowledge to work, where and when it's needed most.
For more information on SDSI's expanded growth and scale programs, please visit: www.sdsportinnovators.org/mentoring-programs/


---