Back to News
Winners Announced College Scholorships for Skateboarders
July 17, 2018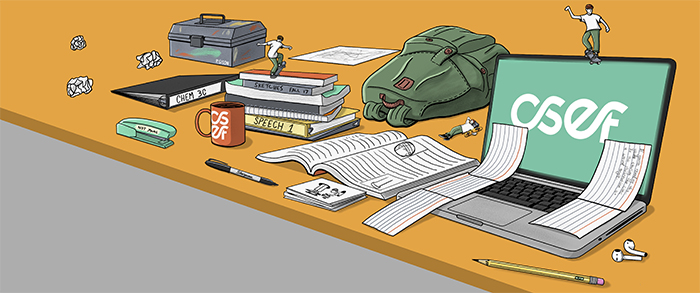 The College Skateboarding Educational Foundation (CSEF), the only national academic scholarship for skateboarders, is proud to announce their first round of scholarships. The following students will receive $500 for the 2018/2019 academic year:

Cody Koester, New York University, MFA Creative Writing Poetry
Collin Hussman, Arizona State University, Economics
Logan Greenwood, Arkansas State University, Management
Michael Wang, John Hopkins School of Public Health, Microbiology and Immunology
Sarah Palmer Antoniou, Oregon State University, Natural Resources: Fish and Wildlife Conservation
Stephanie LaVita, Bunker Hill Community College, Public Relations
Thai Hill, San Francisco State University, Mechanical Engineering
"After we all read through the applications it became apparent to the entire board that something we value is giving back to your community through skateboarding. A lot of people we selected either started or helped an organization that helps skateboarding, put on skate events in their community or advocated to build skateparks in their community," said CSEF Executive Director Keegan Guizard. "If they're giving back to people, even if they don't have much to give, that's important. Because if you're having a hard time paying for school and you're spending your time doing rad stuff for no money, you're the one we want to hook up."
When asked how skateboarding and academics pursuits can be related, 2018 CSEF Scholarship Recipient Michael Wang from John Hopkins School of Public Health breaks it down like this, "My life works like this: When I'm sick of neuroscience I skate. when I'm sick of skating I neuroscience. If either were gone I'd just be sick of life. Whenever academic life smashes a brick over my head and gives me an F, I remind myself 'at least you've got a sick nose manual."
"The toughest part of this was narrowing down the applications from an amazing group of over 250 skateboarders that applied for a scholarship." Said CSEF Co-Chair, Thomas Barker. "This year we just wanted to show the world why this is important and the size of the need for scholarships just inside the skateboard community. These 7 skateboarders are incredible humans but I wish we could have given funds to the top 50. Skateboarders make special humans and this year's applications reinforced that to the fullest. If you want to support amazing humans, support us."
USC Professor and CSEF Co-Chair, Neftalie Williams is excited for the future, "We are able to give out $3,500 to 7 amazing students this year but that is just the beginning. As the culture accepts us we can leverage the power of skateboarding to really show the world how special skateboarders are. Skateboarding teaches you to look at the world differently and that is exactly what you need in academia."
Built for skateboarders by skateboarders, the College Skateboarding Educational Foundation provides a new opportunity for skateboarders to manifest better futures for themselves. Regardless of financial assets or personal network, everyone deserves a chance at pursuing a college education, and the team at CSEF believes that skateboarders are no exception. Through CSEF's scholarship fund and mentorship programming, skateboarders all over the country will be given essential assistance with completing their goals in school and in life.

For more information, to apply for scholarships, and to donate, visit www.collegeskateboarding.com


---