Back to News
Surfing's Most Delicious Food - First We Surf, Then We Eat
August 28, 2018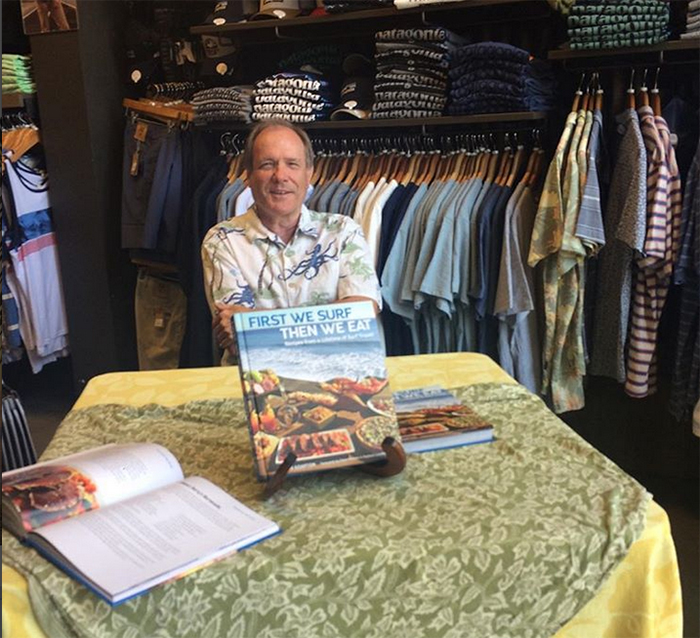 The author, Jim Kempton, pictured above. You can purchase the book here.

Jim Kempton started his career as Editor and Publisher at Surfer Magazine back in the late 70s into the mid 80s. He went on to work in media and events at Quiksilver, and Billabong, as well as serve as president of the California Surf Museum. His career takes him all over the world and as someone who loves food he indulges in delicious local food. So much so that he was able to make a cookbook!
When did you decide you wanted to publish a cookbook?
Through a lot of luck and a little quick thinking I've been able to make a living while enjoying the three things I enjoy most: surfing, traveling, and cooking. In a certain way I've been working on this book all my life. I've had the privilege to visit forty countries, surf in most of them, and collect a lifetime of recipes and adventures. My goal was to offer a variety of delicious recipes that all relate to my surf travels and the surf culture. They're easy but distinctive, often featuring fresh ideas that people from around the world use to make their food—and drink—more interesting, healthier, and/or flavorful. And I wanted to have fun telling the stories of the people, places, and waves I encountered along the way. I looked for a range of recipes; from simple stuff a surfer can cook at the beach or on the road to more exotic recipes for those who like to get busy in the kitchen.
Tell us about the recipes and flow of the book. How is it put together?
Its a travel, surf adventure cookbook, 90 recipes, ten chapters each one a surf region - Hawaii, Indonesia, France, Caribbean, Morocco, Peru, Mexico, California, South Pacific, & Central America. Each chapter has short stories about adventures, surf, restaurants, markets in the region followed by a recipe. It includes recipes from Dale Velzy, Bethany Hamilton, John John Florence, Rell Sunn, Donald Takayama, and other legendary surfers as well as a foreword by Surfer's Journal's Steve Pezman and photos by legendary surf photographers Jeff Divine, Art Brewer and Tom Servais.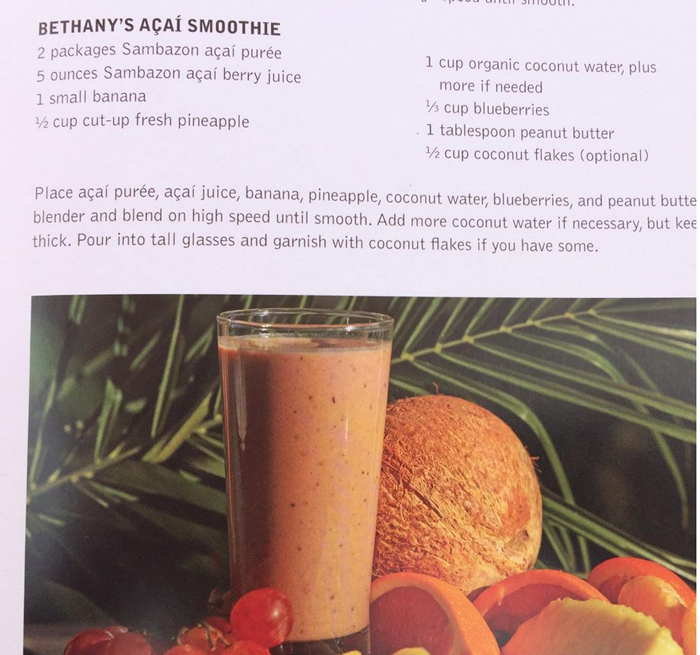 A recipe from pro surfer Bethany Hamilton's collection.

What types of food are featured?
I've done some simple dishes, some more complicated ones, but nothing that takes a genius, lots of salads, fish, soup, seafood plus rice and pasta dishes. Since it comes from all over the world there is a lot of variety. I included a lot of super-foods – dishes with high nutrient ingredients that are super healthy.
If you have to pick one favorite, what is it and why?
If I only had one I probably pick Poulet Basque – a chicken dish sweet pepper and onions in a fresh tomato sauce. I love the Basques Country of France and Spain - the surf the weather, the people, the countryside - its an easy dish to make, feeds a ton of people, and has a bunch of wonderful flavors. Plus it's a healthy dose of vegetables that taste great.
Where can people pick up a copy of the book?
A book tour is starting August 15 up the California Coast. If you want a signed copy ask a local surf shop when their event is. It's also available at all Barnes & Noble stores and (gulp) Amazon.
Is there a hashtag people can use to share photos of their version of your recipes?
#firstwesurf is a good hashtag. I love for people to talk about the book and share photos, ideas, travel stories or their version of the recipes.
What's next for you?
I'm on the road with this book through the holidays – California tour, then New York/New Jersey in October, Turtle Bay Resort is launching the book in Hawaii in November. Butas far as the next project, I'm working on a History of Women's Surfing that should be a great addition to the history of surf culture.


---