Back to News
Eco Brands Group's Roots are Upcycling
October 24, 2018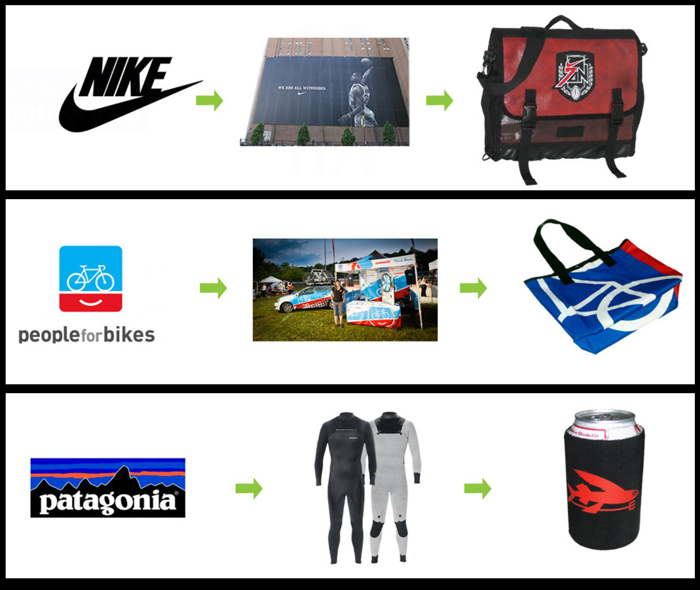 Eco Brands Group is 13 years into the upcycling business through very unique promotional goods to the most well-known brands in the world, and under its own brand names. Check this story out to learn about upcycling and get inspired about the possibilities that exist in this world. Conner Callahan gave us some of his time to share the story.
What was the first product and brand name under Eco Brands Group?

Ecologic Designs, our custom and promotional brand, came about first, in 2005 in garage in Nederland, a small canyon town in the hills, near Boulder, CO. The garage became too small for the growing number of projects we were doing and a larger spot was found in Boulder, where we are now headquartered. There was a desire to build sustainable, USA made products for large clients like Clif Bar, Nike, Whole Foods and others who were already producing promotional items, but made overseas, and from virgin materials. Companies were (and still are) producing branded marketing materials and throwing them out once they are "out of date". All it took was reaching out to them to let them know that they could use their outdated materials to create sustainable products that would speak on behalf of their corporate responsibility and sustainability efforts.
In 2008 Green Guru was born. Our first product was the Inner tube Zipper Pouch and it took off from there. Alchemy Goods was another player in the world of upcycled production but based in Seattle, WA. In 2016 we merged forces to create Eco Brands Group, with the 3 brands: Ecologic Designs, Green Guru Gear, and Alchemy Goods.

How did the idea come about?
Our co-founder, Davidson Lewis, was working for a bike shop while also going to Virginia Tech design school. Guest presentations were part of the design curriculum, and one that stuck out was a presentation from an individual in the plastics industry. They discussed how the newest plastics had many different applications and were the new go-to material. Davidson, who was also learning about sustainability and environmental awareness at the time, decided that he wanted to avoid using materials that were damaging to the environment and would never breakdown if they needed to be discarded. The bike shop that Davidson was working for had a huge surplus of inner tubes that were changed due to being punctured and were being thrown into the trash every week. This was the beginning of diverting still-useful materials from local landfills that were unique and extremely durable, and transforming them into products.

What's in the product line of your Green Guru and Alchemy Goods brands?
Green Guru is home to our upcycled Bicycle products, from frame bags and bike packing gear to panniers that can carry groceries home from the store. We utilize inner tubes, vinyl billboards, and canopy tent toppers to create extremely durable, functional and unique gear for people on the move.

Alchemy Goods is home to our upcycled lifestyle & fashion gear for the urban dweller. Backpacks, messenger bags, purses, and wallets are our main Alchemy products. We also sell inner tube belts, toiletry kits made from 18-wheeler truck tubes, and our new denim travel collection, made from salvaged Wrangler work wear denim scraps.

Upcycling doesn't seem like it would be all that easy to figure out. Can you share what's involved in creating a formalized development and production process? Are there oddities you have to account for that wouldn't exist in any other production environment?

Upcycling can be difficult due to the variability of material quality, non-uniformity, and volume of materials that come from different sources. We look for reliable sources that regularly have similar "waste" materials, and in large volumes as this helps us integrate the upcycled materials into runs of products for uniformity. Some of our materials require cleaning due to being used outside, which differs from companies that are using virgin materials created with the sole intention of being used for production. We want to help clean up local communities, and put people to work with livable wages. USA manufacturing for us is a MUST!

The (colored) fabrics that you seen in our Green Guru products come from a local promotional printer – Omni Promotional – and are the scraps or misprints from canopies, large hanging banners, and branded event materials.

Our inner tubes come from all over the country, and must be sorted into specific widths before being used for specific products to result in a uniform look. Vail Resorts is a large supplier of tubes, along with REI whom we have been upcycling tubes and even a few climbing ropes from for almost 10 years.

There are many different types of vinyl billboards, varying weights, along with each being uniquely printed on which can complicate things. We utilize banners that are heavier than 15oz as these create durable products that stand up to the elements and normal wear and tear. Certain banners – those with wind-lets are harder to use, but we can utilize the areas between them in smaller items that require less square footage. Many of our Ecologic Designs' Custom items utilize branded billboards, mesh, or signage from companies to create promotional items that are used for eco-conscious marketing, employee gifts, and even sold through retail locations to customers.

Eco's brands have upcycled more than million pounds of product into new gear. How do you find that much supply and do you have any concern with running out of raw material?

There is so much "waste" that is regularly disposed of that we are just scraping the surface. Millions of bicycle tubes are produced each year and most of them end up in a landfill. As we ramp up production needs we can bring additional sustainability partners on-board to acquire more materials. We aim to upcycle materials from close to where we manufacture them to avoid any additional externalities, but also have partners across the nation that send them to us. We have a large stockpile of upcycled materials that clients can choose to use for custom projects, or utilize their own branded or outdated materials for promotional items.

When did Ecologic Designs start making promotional products?

Ecologic Designs started creating upcycled promotional products in 2005

What are some notable recent projects?

Pictured above are a few recent projects out of the Ecologic Designs operation.

What range of products are you able to create?

We can create any soft-sewn good! We have the capability to produce 100s to 10,000s of units.

How much material would a company need to create it's own custom products?

It depends on the size of the product; some require 4-5 square feet per product (totes, backpacks, etc) and smaller items like wallets or pouches only need half a square foot. We made koozies for Patagonia and can get about 15-20 from one wetsuit. We generally make about 500-1000 Koozies at a time, which uses around 60-70 suits. We can work with small indoor signage, all the way up to highway banners that are 48 feet long. If a company has smaller banners we advise smaller products and vise versa if they have large volumes of usable material.

Are individuals and / or small companies able to create their own upcycled products with you?

We are open to working with small or large companies, and individuals if they are looking for 100 units or more! Our design team can help with prototyping, mock-ups, and artwork to get exactly what you are looking for. We have products you can choose from, or build something that is entirely custom.

---