Back to News
FOX Sports and World Surf League Sign Milestone Media Rights Deal
February 12, 2019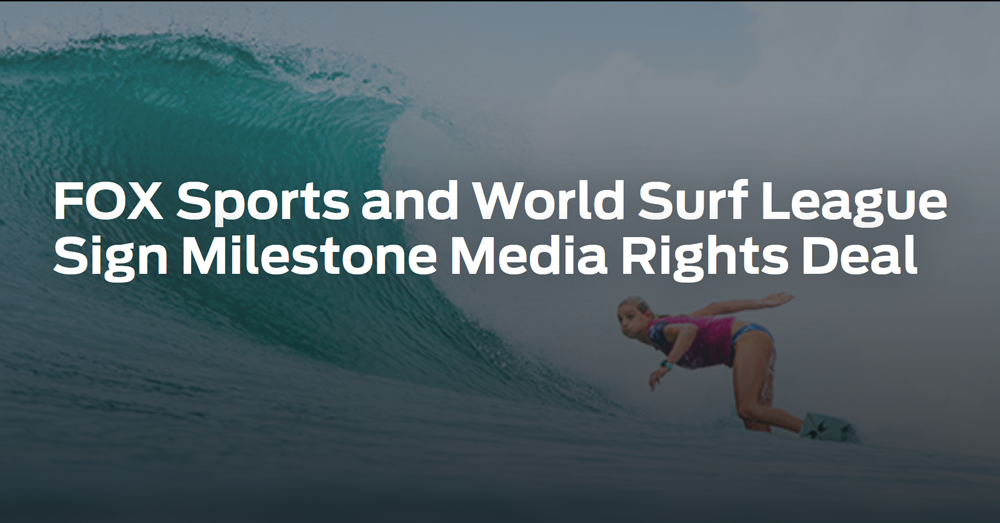 FOX Sports Telecasts More Than 500 Hours of WSL Programming in 2019
FOX and FS1 To Feature 10 Contest Highlight Shows
FS2 Presents All World Tour Events
Today, FOX Sports and the World Surf League (WSL) announce they have reached an agreement making FOX Sports the exclusive U.S. television broadcaster for WSL's 2019 Men's and Women's Championship Tour (CT), as well as the Big Wave Tour. FOX Sports will telecast more than 500 hours of WSL programming, including live contests and highlight shows, across FOX, FS1, FS2 and the FOX Sports app in 2019.
"The World Surf League gives us the opportunity to present the world's best surfers to our audiences," said Bill Wanger, EVP of Programming, Live Operations and Research, FOX Sports. "FOX Sports has a long history with the World Surf League, and we're excited to be working with them again, featuring these great athletes in some of the most exotic locations around the world, live on television."
"We're delighted with the additional coverage FOX Sports will bring to our events and millions of fans across multiple platforms," said WSL Chief Executive Officer Sophie Goldschmidt. "With our athletes continuing to take the sport to new performance levels, more people than ever can now witness the excitement of professional surfing and everything that comes with our world class events."
WSL programming premieres on FOX and the FOX Sports app with a one-hour 2019 WORLD SURF LEAGUE PREVIEW SHOW on Saturday, March 23 at 12:30 PM ET, highlighting the current champions, rising contenders and hard-charging rookies for the new season.
The WSL Men's and Women's Championship Tours begin on Wednesday, April 3 in Australia with the men's Quiksilver Pro Gold Coast and women's Boost Mobile Pro on FS2 and the FOX Sports app. FS2 will telecast all Championship Tour contests live or close to live throughout the year.
FS2 will also present the US Open of Surfing, the premiere men's and women's Qualifying Series contest that takes place in Huntington Beach, California each summer from July 27 to August 4. In addition, FS1 will feature eight, one-hour highlight shows after select contests are over. Check local listings for show times and dates.
2019 World Surf League Championship Tour Schedule:
April 3 - April 13: Quiksilver Pro Gold Coast and Boost Mobile Pro, Australia - Men/Women
April 17 - April 27: Rip Curl Pro Bells Beach, Australia - Men/Women
May 13 - May 25: Bali Pro, Indonesia - Men/Women
May 27 - June 9: Margaret River Pro, Australia - Men/Women
June 20 - June 28: Oi Rio Pro, Brazil - Men/Women
July 9 - July 22: J-Bay Open, South Africa - Men/Women
August 21 - September 1: Tahiti Pro Teahupo'o, Tahiti - Men
September 19 - September 22: Surf Ranch Pro, California, USA - Men/Women
October 3 - October 13: Quiksilver Pro France/Roxy Pro France - Men/Women
October 16 - October 28: MEO Rip Curl Pro Portugal - Men/Women
November 25 - December 6: Hawaii Pro, Hawaii - Women
December 8 - December 20: Billabong Pipe Masters, Hawaii - Men

2019 Big Wave Tour Events:
Mavericks Challenge – Half Moon Bay, California
Nazaré Challenge - Portugal
Jaws Challenge - Maui, Hawaii

Longtime WSL play-by-play announcer Joe Turpel and former world champion Martin Potter call the action from some of the most remote and exotic surfing locations in the world. Rosy Hodge (former Champions Tour competitor) and Strider Wasilewski serve as commentators reporting from the water. In addition, Ross Williams and big wave champion Peter Mel round out the commentary team.
Viewers in the U.S. can live stream all WSL shows on the FOX Sports app. The shows are available on desktop at FOXSports.com and through the app store or on connected devices including Apple TV, Android TV, Fire TV, Xbox One and Roku.


---