Back to News
Fast Five - Thrill One Sports
January 21, 2020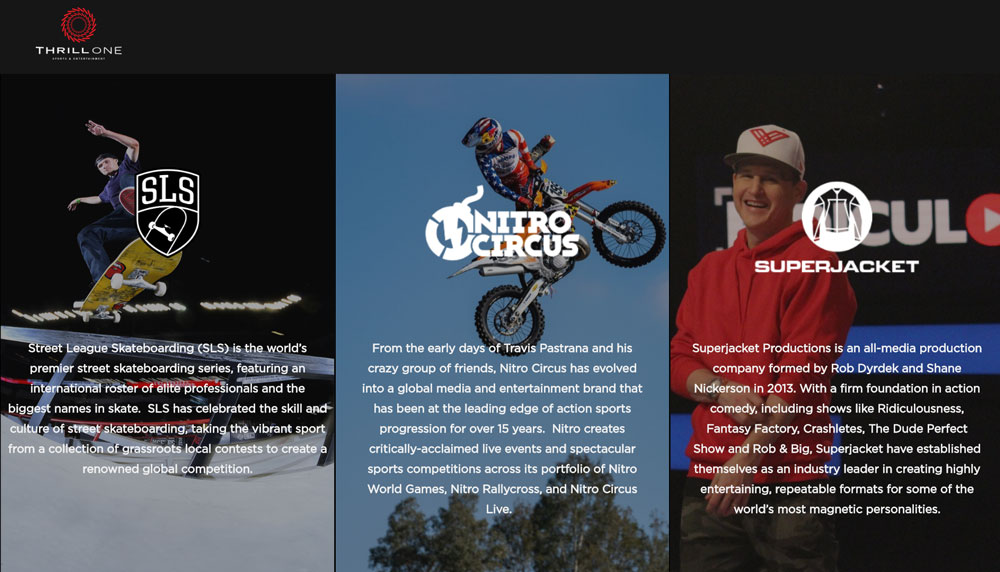 The success Rob Dyrdek and Travis Pastrana in what they've both created outside of their success as athletes is historic and the recent creation of Thrill One Sports is proof of that. Pastrana's Nitro Circus and Dyrdek's Street League Skateboarding series and his hugely successful media production company are now all under one roof and backed by some serious horsepower. It's going to be fun to watch how this unfolds and this is written with sincere hope they crush it. Check out this Fast Five on it.
1.
Thrill One's two named supporting investment groups have interesting portfolios:
Causeway Media Partners
– take a look at the investments they back and you'll see an interesting mix of sports properties, sports apps, event properties, and data analysis tools. Talk about vertical integration in today's world – that's it.
Raine Group
– is focused in media (hit the investor page and see a massive photo of happily grinning Brian Grazer & Ron Howard, Barack Obama, and more) and apparel.
2.
The Chief Executive Officer role was awarded to Joe Carr, who most recently was the president of the WSL and before that held senior positions at UFC and started his career at the very famous and well-known firm, Black Rock.
3.
They plan to launch new media properties and also acquire existing media properties, which could be a good boost for people who've been making great content for a long time and can use additional backing to make even better content. Wonder if they'll buy GoPro off the public market?
4. Nitro Circus is headquartered in San Clemente, Calif. and SLS / Superjacket is based out of Los Angeles.
5. Where will they take this thing? So many options. We wish success to the companies and all of the talented, hardworking people behind the scenes that make it possible.
Network with people at:
Nitro Circus
and
Street League
.
---