Back to News
Surf Marketing Manager
March 1, 2005
Interview with Logan Dulien, Surf Marketing Manager at RVCA.
Pick up a Happy Magazine (http://www.happymag.com) to see the Industrial Profile in print.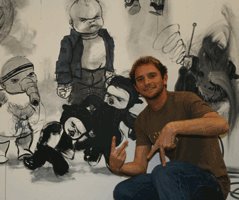 You don't have to be a former Professional Surfer to become a Surf Team Manager, or to work in the Surf Marketing department. In some cases as you'll find out in this Industrial Profile with Logan Dulien who is the Surf Marketing Manager for RVCA, other paths can lead to a position as a Team Manager or Surf Marketing Manager. Logan said he got into it by growing up in the right place at the right time, but it's much more than that. Logan's fundamental approach to
life and work had a lot more to do
with where he is now.
How did you involved in Surf Marketing?
Growing up in the right place at the right time, my family has a house on the beach at the Newport River jetties. There was no parental guidance; it was just me, my brother, my four sisters, and waves in my backyard. At age 14 I was riding for Volcom and through them slowly started to meet more and more people. Before you know it pros like Bruce and Andy Irons, Kyle Garson, Jason Bogle, Rory Parker, Mikala Jones, Dustin Barca and more would stay at my house anytime they were in town. People such as magazine Editors, Photographers, and Team Managers would stop by all the time to talk with them. I got to know a lot of people, and slowly got into it. My intention was to make people feel at home, and it turned out to be a niche where a job existed.
So what was your first job?
Right after I graduated high school a couple of my friends were sponsored by SMP, and the company needed a Team Manager. I was trying to go to college but ended up surfing Rincon more than going to school. My friends recommended me to the guys at SMP and I ended up taking the job of Team Manager.
When I was working for SMP I got to travel all over the place, and spent some time in Australia because the company was headquartered there at the time. While I was there I met people like Taj Burrow, Mick Fanning, Asher Pacey, and more.
Between the people I met in Australia and friends I'd made at home before long I knew a plethora of top level pros and up & comers. These guys were at the verge of breaking it big. It was just before they made it to the top. I was really interested in figuring out how to bring all of this talent together, but was limited by SMP. So I left SMP to make surf movies. My friend Chad Towersey just graduated with a degree in TV production so we teamed up and made Snap 1 & 2. I focused on the producing, filming, and directing, and Chad had the expertise in editing. Snap 1 turned out to be a hit. We sold thousands of copies and received two nominations at the Surfers Poll awards for Barrel of the Year and Innovative Move of the Year.
Some people thought our success with Snap 1 was a fluke so we had to do a second. It turned out great. We were rolling on a good note, and I wanted to end it that way. While Chad and I were making the movies Pat Tenore, the owner of RVCA, had been talking to me about joining RVCA to handle all of the Surf Marketing. They were essentially holding the position for me. I eventually turned Potent Productions over to Chad and he's continuing 110% with producing surf movies. He's on the next release, Mull Berry Lane. And shortly after I took Pat up on the Full-Time Surf Marketing position with RVCA.
When did you join RVCA?
The end of August, 2004.
What are your responsibilities?
RVCA had good team riders, but nobody to specifically make the Surf team & marketing efforts a collective effort and in tune. My goal is to continue developing our Surf program in every aspect, and at the same time keep everyone involved in anyway on the same page to create a tightly knit team and program on the whole. I keep our surf team in good communication with the photographers, magazine editors, sponsors, and more.
I also focus on trying to eliminate any problems that come up for our surfers so they can focus on doing what they do best. They don't have to worry about anything, like travel arrangements, getting entered in contests, being involved in photo shoots and anything else that's a distraction. For example, I sit down with each team rider and help them plan out a schedule of the coming year. And I'll work with our riders other sponsors to make things smooth and hassle-free for them.
My job is not limited to working with the team. I also have responsibilities within other areas of our Marketing program. I'll work with other people in the department to develop surf-oriented marketing collateral such as POP, stickers, and so on. I'll work with our Outside Sales Reps to make sure they have access to all the marketing tools they need.
And I'll handle anything else that comes my way when I'm in the office. If one of the artist or bands that we work with needs something I'll make sure it gets done.
It's so versatile at RVCA it's crazy. I've met more crazy people over here than ever before. It's not all surf-surf-surf. There's a lot going on.
Who's the craziest person you've met?
Mickey Avalon and Vitor Belford. Mickey Avalon is a crazy white rapper from Hollywood. And Vitor is a former UFC World Champion and is still considered one of the sport's fighters. They're both crazy and are amazing at what they do.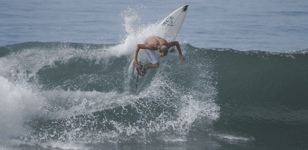 What's the current routine?
Regardless of where I am, I always try to sneak in a few surfs. It changes every day. One day I'll be here, next day in Florida at a tradeshow, or heading out to Tavarua.
While I'm in town there are a lot of late nights here. Owner, Founder, and Designer Pat Tenore sets the pace by staying here a lot of the time till 4am, and he has a family so it's pretty easy to feel good about staying late too. RVCA is Pat's dream, he's poured blood, sweat, tears, heart and soul into the company and it shows. I'll be here close to midnight sometimes answering emails, brainstorming with Pat, getting feedback on what we're working on. Sometimes night is the best time to get work done because there's nobody around.
The bottom line is to get as much work done as possible and enjoy myself along the way.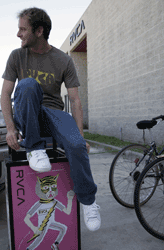 What about the big picture of what you're doing at RVCA?
RVCA is one of the fastest growing brands around. We want it to grow organically, and only time will tell. My department has a lot of opportunity to grow. My goal is to build a good team with solid chemistry where there really is a feeling that the program is a team, and each individual is motivated and inspired to be a part of the team.
Pat has given me the ball to run with it, and I'm working to make Surf one of the best divisions of the company.
What's the best part of the job?
Being a part of something that's so positive and you can watch grow every day. And knowing I have a big impact on the department I work in. Working with everyone at RVCA is also great experience. Each person is fun to work with and is doing great work within their own division.
And it never hurts to go on a few good surf trips with our team.
What type of "Tool Box" does your job require?
Without my cell phone and computer I'd be ruined! Communication is everything.
What is the most significant challenge?
The most significant challenge working at RVCA is trying to not grab all the product in ever color. It's a constant battle against myself, when I'm in the warehouse it's like being a kid in the candy store – I want it all!! Pat designs such amazing stuff and I think that's also why the brand is growing as fast as it is.
What do you have on tap for events, promo, etc.?
We have a huge art show, the New Image Art Show at RVCA. All the artists and team riders are coming out. People are coming in from across the globe. That same night we'll be opening up our skatepark. It's going to be a big night.
Next week the whole company and surf team are going to Tavaura for a week. Then the surf team and I will head off to the Gold Coast to post up for a month to shoot photos. After that is the Lowers contest, then off to Cost Rica to do another photo shoot.
That's brings us to May. In the summer we'll be doing the east coast tour from New York to Florida, and all the QS events along the way.
That's a busy schedule.
Yeah, it's pretty heavy. That's what I mean when I said earlier every day and every week is different.
Is there anything you can tell the readers about getting into what you do?
Always try to build bridges, and not burn them. Try to welcome people the way you would want to be welcomed. Taking care of all these people has come back around 10 fold for me.
Is there anyone you would like to give a shout to, or thanks?
I want to thank all of my friends for everything that they've accomplished. It inspires me every day. I'm really proud to say some of my friends are the best surfers on the planet. My dad for the house on the beach and lenient parental guidance, my brother, and my four sisters.
I'd like to give a shout out to Conan; he's been overseas working hard for RVCA and we haven't seen him in a long time.
My great friend Jason Bogle who just past away, he's inspired me in the whole surf community in so many different ways.
Last, but not least Pat Tenore, without him there would be no RVCA.
---