Back to News
Op Girls Learn To Ride
April 4, 2005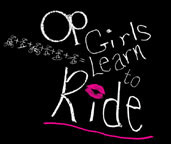 Op Girls Learn To Ride Announces Teen Vogue As Presenting Sponsor Of Its 2005 Nationwide Action Sports Series, etnies Girl as Supporting Sponsor

LOS ANGELES (March 29, 2005)—Op Girls Learn To Ride (Op GLTR), the original series of action sports instructional clinics for females, today announced Teen Vogue as its new presenting sponsor and etnies Girl as supporting sponsor for 2005. Op GLTR, now entering its sixth year, has assembled an unprecedented 200 action sports clinics and camps in the United States and Canada this year. The clinics will be conducted by top instructors in the sports of snowboarding, skateboarding, wakeboarding, motocross, BMX freestyle and racing, mountain biking and surfing.
Teen Vogue will provide marketing, media and event support throughout the year, enabling the youth-focused sports program to reach a larger mainstream female audience. In addition, Teen Vogue will bring on some of their advertisers and marketing partners, including Garnier, to make the experience on-site more enjoyable for the girls.
"Op GLTR has developed into the premiere action sports instructional series in the nation, with record-breaking attendance year after year that evidences the major relevance of female participation to the lifestyle of action sports and to the business," says Alain Mazer of Ocean Pacific (Op). "During what will undoubtedly be Op GLTR's busiest season ever, we're really glad to have on board such admirable and expert partners as Teen Vogue and etnies Girl."
Jane Grenier, Teen Vogue associate publisher, marketing, says: "TEEN VOGUE got on board the Girls Learn to Ride program because so many girls are interested in participating in action sports rather than sitting on the sidelines, and also because there's an interesting crossover between athletes and performance wear and fashion in general. The fact that Op is the title sponsor of Girls Learn to Ride is a great bonus, as we've had a strong marketing relationship with them from early on--Girls Learn to Ride is now a natural way for us to expand that partnership."
This year, etnies Girl has signed on as supporting sponsor of the Op GLTR program. The leading action sports shoe manufacturer will work with Op GLTR to create promotions and special events online, at retail and in its flagship skate park in Lake Forest, Calif.
"etnies Girl is excited for this opportunity to partner with Op GTLR, to share our passion for skateboarding, snowboarding, and surfing with girls in the US and Canada," says Patrice Fernandez, etnies Girl marketing manager. "These events reinforce our history and commitment to women's participation in action sports, and are the perfect means of sharing our values of encouraging girls to express themselves in a healthy, fun and adventuresome way."
For the past five years, Op GLTR has developed relationships with the leading action sports organizers, athletes, instructional facilities and media outlets in order to provide the highest level of instruction to women of all ages. In addition to Op, Teen Vogue and etnies Girl, this year's list of sponsor partners includes Teen Vogue as presenting sponsor; etnies Girl as supporting sponsor; top venues such as ESPN X Games skateparks, Vans Skateparks, Woodward Camps and ski resorts throughout North America; instructional schools such as Surf Diva, HB Wahine Surf School, Wakeboard Boot Camp, Mtbchick racing, Mission2Ride, Honda Rider Educational Centers and MGT Snowboarding Camps; professional associations including the IASC (International Skateboarding Companies Association), Women's Motocross Association, IWS (International Women's Surfing), Women of Freestyle and E.A.G.L. BMX; and media partners within each sport, including Racer X magazine, Wakeboarding magazine, SG magazine, "GKA" and Active.com.
The complete 2005 schedule of events can be viewed at www.opgirlslearntoride.com.
About Op Girls Learn To Ride™
Op Girls Learn To Ride™ (Op GLTR), the original series of girls-only action sports clinics, is designed to give females of all ages the basic skills and confidence necessary to participate in skateboarding, surfing, motocross, wakeboarding, BMX, mountain biking and snowboarding. In this program, skilled professionals provide hands-on training with an emphasis on safety and skill development. Now in its sixth year, Op GLTR has taught thousands of girls and women a new action sport. The program will host more than 200 events throughout the United States and Canada in 2005. For more information, please visit www.opgirlslearntoride.com.
---