Back to News
National Sales Manager - Tim Bernardy
April 1, 2005
Interview with Tim Bernardy, National Sales Manager at Redsand
Pick up a Happy Magazine (http://www.happymag.com) to see the Industrial Profile in print.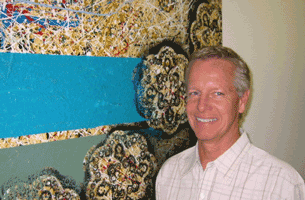 Summer jobs can lead to life-long careers. This is the case with Tim Bernardy, National Sales Manager of Redsand. He started out working at Newport Surf & Sport, and as a surf journalist. As a surf journalist Tim traveled to Mexico for months at a time to take photos and write stories for the likes of Surfing Magazine, Surfer Magazine, Surfers Journal, Surf Japan, Pacific Lines, and more.
Working at Newport Surf & Sport led to a 15 year career with O'Neill, first as a Sales Rep covering a territory from the tequila-drenched Mexican border to Paso Robles, and later to the position of National Sales & Marketing Director. After a short segue into kid's apparel, Tim is back spearheading Redsand. Redsand is successfully reestablishing itself as a surf / music / art apparel brand. When the company looked for someone who knew how to drive and grow sales they found Tim Bernardy.
How did you get involved in the industry?
During my college days, I went to Cal State University Fullerton and worked at Newport Surf & Sport. After college (mid 70s) I would take 3 month surf trips with local crews down to Mexico to surf and shoot photos in places like Puerto Escondido, Lazardo Cardenas, and Punta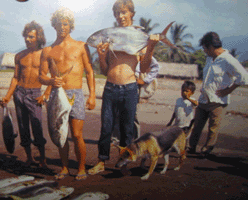 Mita. I started off shooting photos for Surfing, Surfer, and Pacific Lines. Pacific Lines was the first tabloid, actually a precursor to Happy Magazine.
The surf industry back then was different. When I worked at Newport Surf & Sport Pat O'Neill was our sales rep for O'Neill. That's right; Jack O'Neill's son was our rep. It was during that time I met owners such as Bob McKnight (Quiksilver), John Bernards (Offshore) and Doug Warbuck (Rip Curl). That was the very beginning of surfing turning into business for me, and by the late 70s I was the Sales Rep for O'Neill from the Mexico border to Paso Robles. Aside from O'Neill the only other wetsuit companies out there were Sea Suits and Body Glove. Rip Curl was just coming to the U.S.
What was the surf industry like in this time period, the late 1970s?
It wasn't much of an industry at that time. Clothing was just being introduced into surf shops Op was the first big player, then Lightning Bolt and Off Shore. To give you a point of reference, the Frog House in Newport Beach was considered a true surf shop because all they carried were hardgoods – boards, leashes, wetsuits and wax. If you carried any sort of apparel aside from shapers t-shirts you'd be denoted as a surf & sport, and were seen as a sell out. Bob "Russell" Brown once had a perfect statement to sum it up, "we're a surf shop, not a mall store." It's changed a lot - there aren't many "surf shops" left.
How did the transition happen from working at a shop & shooting photos to working as a rep for O'Neill?
Segueing into the industry was no different then than it is now. I was working at Newport Surf & Sport and Pat O'Neill was our rep for O'Neill wetsuits. Pat thought I had the power to buy and he'd take me out to lunch. He didn't know I couldn't (Paul Heussenstamm, Bron's dad bought) but I wasn't going to say no to free lunch! I got to know Pat and started shooting some photographs for O'Neill ads.
When Pat came in he really knew his product, and was a great promoter but he wasn't a very salesman because he wouldn't follow up but to be fair…he was also the only sales man for the whole country. I told him he needed a good sales rep, and he asked me what I was doing. I had gained some good sales experience working for my dad's insurance agency. My dad had asked me to give insurance a year and I did and hated it. The experience gave me valuable formal sales training. I took the job at O'Neill, their first west coast sales rep.
What was it like being a Sales Rep in those days?
To a large degree it was the same then as it is now. You're living the lifestyle and working with people you like. And in many ways it was different. Communication wasn't as easy as it is now, few cell phones, no email or company web sites to go to. People relied on the surf magazines and word of mouth for industry information. When I went on the road I would go to the magazine's offices (Surfing, Surfer) to pick up a pre release copy of the next issue and take it with me. Everyone from Chula Vista to San Luis Obispo would want to know what was going on in other shops down the coast.
Switching speeds when going from one area to another was always necessary. I'd head north to visit shops like Val Surf in the San Fernando Valley, and Natural Progression in Malibu. Before heading on to Santa Barbara I'd have to tell myself to slow down, because once you got up there it was a completely different pace, more laid back.
Did you have a lot of shops to visit, and were there any key accounts?
There definitely were key accounts back then. Up and down the coast there was a big guy in every town. Many of the same big players are still here today; South Coast, Hansen's, Jack's Surfboards, the Frog House, Huntington Surf & Sport, Val Surf, Surf n Wear, Central Coast, Wavelengths, etc.
What are the essentials to be a good rep?
There are a few really important things. First, you have to like people, and you have to like a variety of people. You can't be the type of person who gets upset because you feel someone dissed you, or looked at you wrong. You have to be outgoing, not necessarily the "life of the party", but you have to be able to take a knock and keep going. Second, you have to have good organizational skills, and follow up. There is a lot of detail. Lastly, you have to be self-motivating. A lot of the time this profile is the profile of two opposite people, and it's not often that an individual possesses all three, but when they do result is usually a great rep.
Can you tell us a little bit about advancing trough your career in the industry?
When I started with the wetsuits I had a head start on a lot of guys because I had skills acquired during my time selling insurance. I had a big territory, from Mexico to Paso Robles. In addition to repping I was also very involved with product development, design and advertising. At that time O'Neill made great fullsuits for the chilly waters in NorCal but in I was SoCal and a lot of the suits were over-kill. I was able to provide input on developing new products more appropriate for here such as more flexible fullsuits, springsuits, rash guards and the convertibles suits. It was part of my job to keep the company current on the all the latest trends from colors to new products. This led me to the management side of the business, so I continued on that road.
The next big thing with O'Neill was adding a licensee to manufacture apparel so I formed a sales agency, incorporated and created TBI, Inc. to manage a contract with O'Neill to represent all O'Neill products for Southern Ca. This was early 80s and it was probably one of the first agencies. John Gothard (Spy), Mark Moran (O'Neill sportswear) and Michael Burns (O'Neill wetsuits) all worked for me back then. Gothard would tell everyone he prayed for me to have a car wreck so he could take over the business!! They are all doing well for themselves now.
You spent 15 years on the road for O'Neill, and then moved in house to become National Sales Manager & Marketing Manager. What inspired that move, and what was it like working inside?
After the company went through a transitional period (two sportswear licensees went BK) and anew licensee relocated O'Neill Sportswear in SoCal I decided to go in house. I divided up the agency between the reps that worked for me and moved into my new role. It was a significant transition. I hadn't ever been an employee, I was always self employed plus I had to work in the same building every day.
It's a different pace; the timeline I worked on went much further out. I was used to working on a season at a time and now I had to make decisions about things out a year or two. I was involved with positioning the brand, merchandising the line, working with sales, inventory and hiring managing our rep force throughout the country.
What enabled you to advance in your career?
It was being efficient at what I do. I hate to make it so basic but it is. Do what you say you are going to do, just execute. Go through your day with your brain engaged, understand what's going on around you, what's needed. When I was repping it was all about communicating and management was the same.
What was the next step for you?
My wife started a company called Metropolitan Prairie that was a boutique kids line (Fred Segal, Barney's etc), and we had our third child, and she needed help with the company. I facilitated John Warner's entrance to O'Neill Sportwear and went to work with my wife for 5 years. My experience at Metropolitan Prairie was great. I wore so many hats. I got a great operational overview from a concept to production to budgeting etc, and gained a more spherical understanding of the apparel business but my heart is in the surf business so after 5 years I came back.
I landed here at Redsand which is a division of Perry Ellis International based it Miami.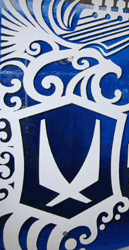 What's your current position?
I'm the National Sales Manager. I'm the senior person of our operations here on the west coast.
How long have you been with the company, and what is the main focus of your work?
It's been about 1 year and 3 months. From a sales and operations stand point I'm involved with everything from our brand positioning, to calendar, to line breaks, to purchases of the product… sales is the gas in the tank so ultimately it all comes back to sales.
In terms of the big picture for the company, our first goal is to reposition and reestablish Redsand as a surf / music / art apparel brand. We're not trying to establish Redsand as a core surf brand. We've made some major accomplishments, and continue to succeed in pushing forward. We've been successful in getting Redsand back into the key specialty retailers and better department stores where it is selling well.
I don't try to dictate the marketing; I try to give our staff the accurate feedback so they can do their deal. They're good.

What are some of the key factors that have led to the successful positioning of Redsand?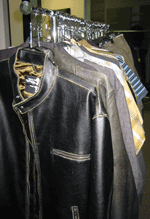 Our new mark / logo is where it started. We're introducing a lot of fashion oriented pieces to the line that are affordable for the consumer like a "vegan-leather" jacket that will be available this Fall in stores for $60. We've got great wovens and an outstanding denim program. Our designers are great, and constantly produce unique pieces that will keep people asking for more. Kids are more sophisticated all time, the bar is constantly raised, and we're meeting it every time. Redsand has been getting great acceptance across the board from single-door specialty stores to large retail accounts.
We put together a good, solid team and are going full steam ahead. We have good operational horsepower combined with boutique styling. It's a winning combination.
What is the biggest challenge you face today?
For us it's integrating specialty store business into a very large public operation. A lot of apparel companies in the industry have dealt with this, it's nothing new. We're the tail, they're the dog, and the tail never wags the dog.
In terms of the industry, there's consolidation everywhere - Billabong buys Beach Access and Honolua Surf Company, VF Corp buys Reef, Quik buys Rossignol, Federated just bought May - and dealing with all that presents major challenges for smaller companies to do business with or part of larger companies. As these operational systems are getting more complicated it's going to take more sophistication to just do business. Automation and global sourcing are a given.
What's most rewarding aspect of what you do?
First off, I like people and meeting a large variety of people. The other thing is I like managing people, where you get a chance to bring out the best in them.

What can you tell someone who wants is building a career in sales within the industry, or looking to start one?
Do a self evaluation - do you like people? Are you organized? Detail oriented? Self motivated? If the answer is yes then you'd make a great rep so jump in. Check out the opportunities on Malakye.

---