Back to News
Sole Technology
January 1, 2015
Sole Technology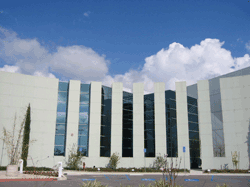 Sole Technology consistently hires new people to join the ever-growing organization, always with the long-term in mind. The alluring job descriptions infuse the career seeker with excitement and with the motivation to succeed.
The corporate campus is a temple dedicated to the action sports industry- Sole Tech's headquarters is complete with a skate park, retail store, and show rooms. In addition, the entry rotunda, a skater's version of the Pantheon in Rome, lifts spirits and makes a believer out of anyone who enters. In the world of Sole Technology, the company culture creates the sense that this is a great place to continue building a career.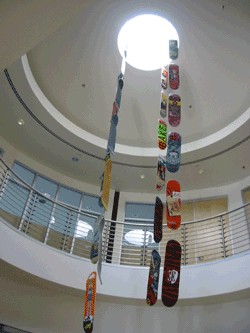 Still, as one of the largest companies in the industry, Sole Tech also maintains a family feeling. The people are professional, and care about what they do - not viewed as a number, and work doesn't go unnoticed. The following Q&A gets into Sole Tech's most common openings, hiring process, opportunity for advancement, and more – everything you want to know when considering employment at Sole Technology.
What are some of the current or most common job opportunities with Sole Technology?
In general we always have entry-level opportunities available, whether it is administrative, support, customer service. We're constantly hiring for in those areas.
Right now, we have a lot of supervision and management positions available in departments such as R&D, Sales, Marketing, and Operations to accommodate our constant growth.
In the future we're going to focus on brand-specific positions. Our brands are very distinct from one another. Take a Sales Manager position for example; right now if we have 1 that supervises all three brands, in the future we will have one for each brand.
What are the first things you look for when a resume is submitted for your openings listed on Malakye, or from any other source?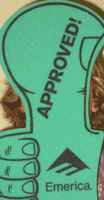 An easy-to-read layout is very important. Specific information that enables us to gain a tangible feel for a person's responsibilities, achievements, and the scale or significance of the positions held. Everything should be well articulated.
A candidate's resume should also be specific to the job he / she is applying to. It's worth taking the extra time to cater a resume for specific openings. Make sure work experience that is relevant to the job opportunity is very clear and easy to see. A candidate should be able to look through key responsibilities of an open position here, and make sure it matches up with his / her experience.
Duration of employment is also very important. We look for people with the long-term in mind. A candidate that has short periods of employment will not be eliminated from consideration, but he / she should be ready to talk about the circumstances.
We always look for candidates who are tactical and deliberate when their submitting resumes – specific application to a specific job opening. Nothing will hinder a person more than submitting a resume to every open position we have. It gives us a feeling that the person "just wants to work here", and that's not who we look to hire. We look for people who have the skill set necessary for the opening and who take the time to communicate to us what they're applying for and how they're qualified for the position. The competition is so stiff candidates really truly have to be selective when submitting a resume or it will work against them.
How important is it for a candidate applying to a design job to provide samples with application, or an easy way for you to view samples (i.e. – link to portfolio website)?
Absolutely a necessity. Applications that do not include samples, or provide a link to online samples, will not be considered as quickly as those that do. If we have to request samples, then it takes longer for review and a person who submits samples initially will be considered first. An individual's style & technical skills are so important to design that the only way to make a decision is by seeing a designer's work. To not have samples available is the equivalent of sending a cover letter with no resume.
If you're the one making yourself available for employment you've got to prepare and do everything you can to make yourself easily available. Providing samples is one component that helps accomplishes this.
Does this apply to all open design positions, entry through senior level?
Yes.
Is there ever the exception?
Not really. With the size of our company it's necessary.
What is your feeling about people who apply for jobs which they obviously don't qualify for? Or apply to multiple openings at once?
It gives two impressions.
The person doesn't know what he / she has to offer
It basically gives us the impression a person didn't read the job description, and he / she is not serious about employment with us.
To use an analogy, it's like building a professional team. When you're building a team you want the best of the best. You don't want people who are looking for anything – you want people who have applicable skills and know how to use them. If Wayne Gretzky wanted to come back from retirement he wouldn't apply for a Goalie position.
But, in the event a person is qualified for multiple positions, it's definitely welcomed to apply to them. However, the person should explain specifically how she / he meets the jobs requirements as I mentioned before.
How relevant are the responsibilities and requirements of your job descriptions? Does a person need to meet all, or almost all, of your specifics to be considered for an opening?
They're completely relevant, and candidates should have previously held most of the responsibilities, as well as meet the majority of the requirements – if not every one. Our company is constantly growing, and the more we grow the more specific a person's experience and skills need to be. Unfortunately, the time to train individuals is extremely limited, so it's not easy to bring in candidates with a lot of potential but not a lot of practical experience.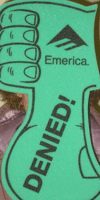 What's a sure way for someone to not be considered?
Applying for a position, but not having any of the qualifications necessary
Trying to go outside the process – we lay out the application procedure in our job descriptions for people to follow
Overly assuming approach – for example, someone assuming they're "automatically in"

Is there opportunity for career advancement with Sole Technology?
Definitely. We truly support promoting from within. Every time a job opens up we look inside for someone with the qualifications and ambition to do the job.
With our constant growth the likely hood for career advancement is extremely high. People who are career minded, and constantly demonstrate willingness go above and beyond the call of duty will be very successful here. As well as have self-initiative, and express the fact that they're interested in career growth. And the other characteristics: team player, attitude, forward thinker, thinking strategically.
Does the company offer opportunity for career development?
We're developing a training program, and reviewing options. We always encourage and support professional development.
Can you provide insight to key opportunities that exist in your company for experienced professionals?


Great opportunity exists for professionals with a strong background in R&D, Apparel and Footwear. We have a vertical structure so there is opportunity for at various levels within each department.
What about people who live out of the immediate area (i.e. – require relocation)?
There's a lot of talent in this area that enables us to not need to go out of the immediate area to find someone. But we will look at people out of the area for more senior level positions. If a position requires a specific background, and is unique in nature, and there's nobody in the immediate area then we'll definitely consider candidates from other locations.
What is the basic process you go through when job opportunities open up?
We'll advertise the opportunity and start reviewing resumes - looking for the details mentioned before. Then resumes are presented to the Hiring Manager for review. Hiring Manager will review to make sure all the qualifications are inline. They'll select who they'd like to see, and we'll set up an interview. Occasionally, we'll start with phone interviews for jobs with a large candidate base.
The first interview is with the Hiring Manager, and a Human Resources Representative. From there, we'll do follow up interviews if necessary. If no additional interviews are needed, we'll request references, make a decision, and make an offer.
How can someone prepare for an interview?
Whether you're interviewing for a senior level position or an entry level position, there are a few important points that should always be addressed when preparing for an interview here.
Take time to find out who you're going to see. You don't necessarily need names, but find out who will be there – HR, Hiring Manager from the department, etc.
Research the company
Come prepared understanding what the position is, and requires, and be ready to talk about how and why you meet the requirements
Be on time
Bring copies of your resume
Not a bad idea to bring a reference list at that time.
Bring examples of your work. Not just designers, if you're an Admin Assistant and you came up with a really great sales report, you can bring a sample of it, etc.
Be honest, be yourself. Interviewers know the "standard" interview answers. So avoid being scripted.
What is the worst mistake someone can make, or has made, in an interview?
The worst common mistake is to not stopping talking. It's best to answer the question, and avoid bizarre tangents. If we have more questions we'll ask. Nervous-talk is understandable, but it's something to watch out for and keep to a minimum.
What can job seekers do, in the short or long-term, to increase the chance of employment with your company?
Really the normal things someone should do. Go out and gain the experience. If a career path requires school, then go to school. Do what you want to do and things will fall into place.
What else would you like job seekers to know about your company?
In a company of this size, you truly have impact and visibility in what you do. You're not a number. People know you, and what you're doing – your work output is visible from the top down.
It's the best company to work for in action sports. We're a privately held company, and established with a solid history. It's not public, and there's no plan to become public which can lead to corporate bureaucracy. We've remained core, and yet achieved growth. That's a really big challenge. What that means to a person who wants to be employed here is they get to come to a company that has credibility, is stable, and there's potential for advancement. There's no intention to sell this company, something that can lead to instability.

You get the best the both worlds; a company that's stable and offers growth.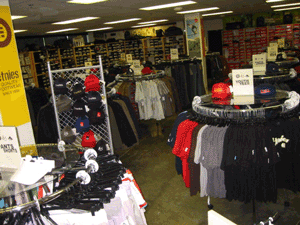 The people and the vibe are great too. It's like a family. We kind of live by the motto of work hard; play hard. There are tons of perks – special events, a employee company retail store on site. We give out free product to our employees throughout the year. There's a skatepark on-site, so if you need a 15 minute break to blow off steam, it's no problem.
We also have STI (Sole Technology Institute), which demonstrates flash in the pan and it's a huge investment in our product and future.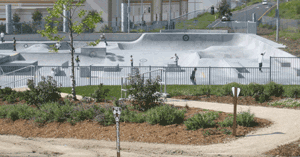 And of course we have a competitive benefits package.
Day to day, what is it like working at your company?
It's fast paced and fun. You get challenged, and you feel accomplished.


---