Back to News
FutureAction Sports Set to Drive Freight Train Through Action-Sports Publishing
April 25, 2005
FutureAction Sports Set to Drive Freight Train Through Action-Sports Publishing
Dream Team Continues to Grow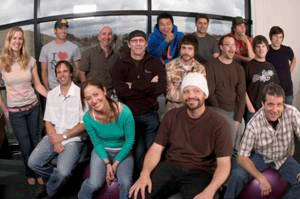 San Marcos, California, April 25, 2005 — Future Action Sports, the newest division of Future, is hiring the best in the industry to launch its new action-sports group. The talent and experience run deep with this hand-picked dream team of industry veterans, who have come together from all areas of the industry, and country, to execute their shared vision of creating the best magazines in action-sports publishing.
The Future group continues to grow — the team now stands strong with 18 members. Pictured from left to right are (back row) Robyn Lass, Adam Renfree, Fran Richards, Alex Yang, Rob Campbell, Mike Jarboe, and David Small; (middle row) Jason Ford, Jon Foster, Colin Whyte, Adam Sullivan, and Dano Pendygrass; (front row) Maja Kobayashi, Justin Cobb, and Keith Lenharr.
Our Canadian contingent consists of Colin and Dano, both hailing from Whistler, while the East Coast representation is strongly in place with Rob, Mike, Fran, Keith, Adam, David, and Jason. The rest of the group hails from the West Coast. The inner-office "East vs. West" rivalry is already becoming apparent; Colin and Dano just talk about hockey all day. Future US President Jonathan Simpson-Bint had this to say about everyone: "I can't believe I actually hired this group of criminals! I just found out that Mr. Cobb grew up a Mexican-Pikey. As a young lad, he didn't own a pair of shoes until he was 15, for goodness' sake. Seriously, though, our story is amazing, the titles we're releasing will be unparalleled, and this gang will make a huge impact with these magazines."
The most recent additions to the FAS team are two industry diehards who, ironically, both started the same day. Group Art Director Mike Jarboe (below right) joins us from his most recent position as senior art director at Globe shoes. He previously held the title of art director for TW SNOWboarding magazine. Rob Campbell had this to say of Jarboe: "Mike is one-of-a-kind. He possesses the natural ability and passion of a true artist, the experience and expertise of brand-building, and the ability to conceptualize magazine layout from start to finish. The only thing I can't get past are his shifty eyes!"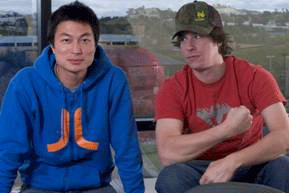 The second addition to the team comes in the form of Group Advertising Sales Representative Alex Yang (above left). Before coming to the Future family, he was most recently PR grounds keeper for Sole Technology brands éS, Emerica, and Etnies, while before that he held a long tenure in sales at Skateboarder Magazine. "Alex is such a punk. He skates better than me 95 percent of the time, looks better with glasses on (even though he doesn't need or wear them), and knows almost as much about skateboarding as I do," said Skateboard Trade News Editor Adam Sullivan half-seriously.
With all 18 members occupying one medium-size office, they're all getting to know each other really well — a little too well, in fact. The skaters in the group like to think of themselves as higher beings, while the rest of the group just laughs in amazement as the skaters' craniums grow to unbelievable sizes. (The group is keeping a pin-cushion handy in case things ever get really out of control.) With all this fun happening in San Marcos, The Snowboard Journal crew just can't wait until we're all in one building, which is slated for early summer.
About Future
Future is the leading US publisher of cutting-edge games, computing, action sports and musician magazines, which sell in excess of 2.2 million copies per month. Future's publications reach a young, active, affluent male audience and rank 12 th among audited newsstand publishers in gross newsstand revenue. Its market-leading titles include Official Xbox Magazine, PC Gamer, PSM: 100% Independent PlayStation 2 Magazine, Mobile, Maximum PC, MacAddict, Snowboarding Trade News, Skateboard Trade News, Guitar World, Guitar One, Future Music, Guitar World Acoustic, Guitar World Bass and Guitar World Legends. Future is based in the San Francisco Bay Area, with offices in New York, Los Angeles and San Diego.

About Future plc
Future plc was founded in the UK in 1985. Today, it publishes over 100 special-interest consumer magazines worldwide with strong portfolios in the computing, games, music, sports, motoring, crafts and leisure sectors. It is the sixth largest magazine publisher in the UK and last year was reported as being the fastest growing US magazine publisher at newsstand. Future employs 1,200 people in offices in the UK, US, Italy and France. Over 100 international editions of Future's magazines are also published under licence in 30 other countries across the world. The company is listed on the London Stock Exchange (symbol FUTR).

---