Back to News
Senior Product Designer - Eli Marmar
May 1, 2005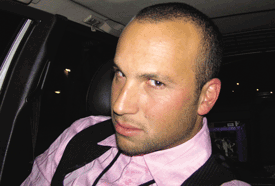 Interview with Eli Marmar, Senior Product Designer at O'Neill, Inc. in Santa Cruz CA.
Pick up a Happy Magazine (http://www.happymag.com) to see the Industrial Profile in print.
Neck rash, crotch rash, knee rash, or arm-pit rash are all things your wetsuit might force you to deal with. Eliminating those rashes, improving flexibility, warmth, and durability are all things the wetsuit designer deals with. Any guess what the ratio of wetsuit designers to wetsuit users is? No ideas here; but it's probably somewhere around 1:100,000. Glad there's at least one.
Wetsuit design is a blend of analytical and scientific skills with artistic and creative skills, as you will find out in this Industrial Profile with Eli Marmar, Senior Designer at O'Neill in Santa Cruz. Eli finished up a degree in Industrial Design at Art Center College of Design 5 years ago, and has been on the job with O'Neill ever since, working to make your experience in your wetsuit that much better than the last one.
How did you get involved in wetsuit design?
I went to Art Center College of Design in Pasadena for Industrial Design. When I was going through school, I decided I wanted to work in the surf industry. I went to our career and alumni center and found ONE person out of all the alumni who worked in the surf industry, Bruce Moore. At the time Bruce was at O'Neill so I got in touch with him and he took me under his wing. During school I did a design project for O'Neill and I was fortunate enough to get hired by O'Neill right out of school. My experience with the company during school was the key to securing the job. Wetsuit design is a very small and specialized niche, so there are not many jobs available, or people who are qualified to do the job. I'm in my fifth year here at O'Neill now.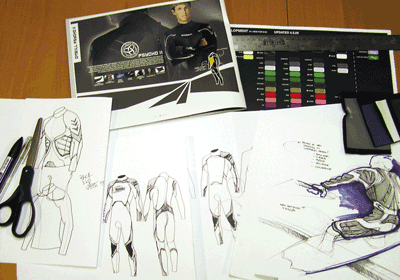 What areas of wetsuit design fall into your responsibilities?
All of our wetsuit merchandising, design, and development fall within our Product Development department (Area 52). We have a Vice President of Product Development (Greg Clarke), a Product Consultant (John Hunter), a Senior Designer (me), and a new designer (Daniela Loureiro) who we recently hired from South Africa to take over the whole female product range. It's a collaborative environment in our design studio just 2 blocks from the eastside point breaks. As Senior Designer, I'm responsible for the entire range of O'Neill neoprene products which consists of all wetsuits and neoprene accessories across all of our categories - Surf, Wake, Waterski, Dive, Triathlon, and Wind. I handle everything from say small changes to our line of Wake & Waterski vests to the most complicated designs for the PYSCHO 2, our top of the line cold-water surf wetsuit. Our department does everything from developing and sourcing raw materials down to the product graphics and everything in between.
How many products fall onto your desk?
100 to 150, maybe more. Right now we're designing over 100 products for the current Spring 2006 design cycle. (Side Note - there are about 250 work days in a year). Our design cycle is 6 months, a spring and fall season.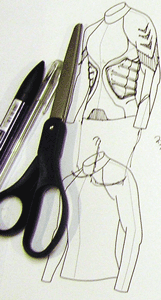 What's the hardest category to design for?
The most technical and challenging category, which we spend the most time on, are our technical cold-water wetsuits. What's really tough about it is the fact that you're taking a skin tight, hand-built product and trying to balance functional objectives that inherently work against each other - stretchy and light BUT durable and warm too.
What's the general process you go through when designing a wetsuit?
We always use the previous season's suits as benchmarks. We compile all of the feedback we receive over the season from retailers, sales reps, local riders, our national & international team riders, our customers, and of course our own testing. This is headed up by John Hunter, who has been with us for over 20 years. He started out working in our retail store, then as our #1 sales rep, and for the last 7 years in Product Development. He's like a mad scientist. Based on all of the feedback, we are able to determine the functional changes needed to make the suits perform better for next year, and outperform the competitors.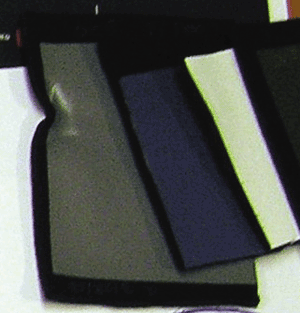 What are some common areas that are improved on year in and year out?
The number one element that still drives wetsuit development is the raw material – better neoprene. Coming up with improved neoprene is a serious challenge because you need to be really conservative and do a lot of testing with any new neoprene to make sure it works not only in a prototype, but in mass production as well. This is where extensive testing and retesting becomes critical, and where O'Neill has a strategic advantage testing year-round in our local frigid waters.
We constantly work with our raw material suppliers to come up with ways to make the neoprene stretchier, more durable, lighter, and warmer. A lot of time is spent in research and development. We constantly take trips to the suppliers' labs, look at materials under the microscope, test them in the lab, and get down n' dirty with science in the real lab – our 53 degree local breaks.
Beyond the raw material, the other critical factors are entry systems, seam construction, and fit. These are really what set one brand's suit apart from another. Every season we are refining our Patented Z.E.N. Zip entry system, improving our exclusive Double Fluid Seam Weld seam construction, and tweaking our fit. It's this endless process of refinement that makes the suits feel more buttery every season.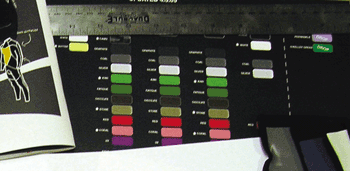 What is neoprene, how does it work, and how is it made?
There are two components that make up neoprene –foam and fabric. The foam is closed cell rubber foam, and nylon or polyester fabric is laminated (glued) to either one or both sides.
First and foremost it's the foam that's keeping you warm. The foam works as an insulator because it's closed cell, which means impervious to water & air. Those little microscopic cells of air regulate the temperature between your body & environment like a down sleeping bag keeps you warm when camping. The fabric makes a difference too. Fabric type greatly affects the stretch, durability, and warmth of the neoprene.
Single-lined neoprene, a.k.a. smoothy, is the outside of the foam itself – no fabric – and minimizes wind chill since it holds no water. The presence/amount of "smoothy" greatly depends on the purpose of the suit. Kite/windsurfing suits are almost all smoothy because of the huge amount of wind exposure and subsequent cooling. Surf suits tend to have smoothy in the chest and back only and have double lined (fabric on both sides) in the rest of the suit for maximum flexibility and durability.
Actually making neoprene is a lot like making bread. The foam starts out as petroleum based rubber pellets. There are other ingredients that are included, but are proprietary. Then all the ingredients are mixed, grinded, and kneaded. When the "dough" is ready to go it's rolled out flat, cut into "buns" of about 3 feet by 6 feet, and baked. When it's baked it rises just like bread. When it's done, it's sliced – yup like bread - they are rolled on a conveyer belt and cut by an ultra thin, sharp blade into sheets of material ranging from .5mm to say 7mm (4mm and 3mm are most common – hence a 4/3) Once the foam is sliced you can decide what, if any, fabrics you're going to laminate to it.
Then it goes to cutting and wetsuit assembly which is still an entirely hand done process – you're wetsuit is hand-made, literally nothing is automated.

How do new materials and new neoprene come about?
Our raw materials suppliers will show us samples of innovations they come up with, and we'll inspect and test the materials, sometimes use them, often making many changes before running with them. Often we'll come up with an innovation and direct the suppliers on how to make it.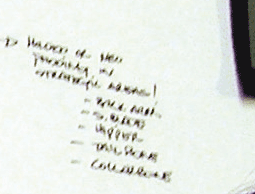 How do you cut down on irritating rashes, while improving flexibility, warmth, and durability?
That's a real design challenge to be able to achieve all those things at once. What we always stress at O'Neill, and provides a one-word answer to this question, is FIT. A proper fit means you're minimizing possibility of rashes and eliminating water entry which will improve warmth.
We dominate the market because we have 50 years experience in size grading, pattern making, and engineering. A lot of other brands rely on factories in Asia for everything; they don't have the team that's capable of engineering, materials development, quick sampling, and more. That's a huge part of why the product they produce is inferior to ours. Companies can claim a new material that is the bomb - more flexible or whatever else, but if there is an area for water to enter the suit by flushing up the leg, or pooling up the back, how warm can it keep you? The way we design our necks is another area where we're superior. No weird binding or unnecessary stitching. Our necks are flush and smooth – creating an incredible seal and eliminating rashing.
If you don't have your own engineering and prototype team you can only do so much – development timelines don't allow for multiple revisions. If you wait for over a month to receive a sample, and your timeline is 6 months, you can't make very many changes. With some of our suits, such as the PSYCHO series, we'll develop a new sample every week for months on end until the thing is dialed. We'll work with our engineering and prototyping teams to modify patterns, and make fit adjustments. Then we'll send the adjustments to our own prototyping facility for a new sample and often have that delivered within a few days. Then we'll water test it again, which is the critical part of the design process. We put it on our fit model and it all seems good; then we put it on Hunter and he paddles out and after throwing some hacks, we find out we've got issues to fix.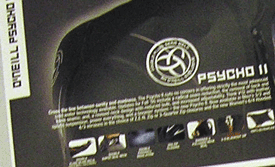 How long does it take to learn wetsuit design and become really comfortable?
I've been doing this for 5 years now. Only in the last year or two have I become totally confident in the process. Overall, it's a really fine balance between performance and durability. People demand innovation and we strive to make a suit that is so gooey that it makes you think you are surfing naked. But then consider the abuse a wetsuit takes. You have to have a perfect skin tight fit from neck to ankle, have it slip on and off easily, and perform without causing the user any problems. It's constantly in salt water, peed in, getting dried out in the baking sun, gritty with sand, or rotting in a bucket in the trunk. You have to design something that's going to meet those performance and durability standards and withstand those abuses.
If everything goes right you'll hear nothing good or bad, but if something goes wrong it's really wrong – there is no minor error - your phone will be lighting up all day.
Is there a daily, monthly, quarterly, or annual routine to the job?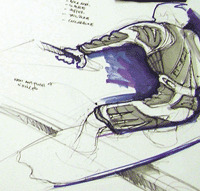 The real routine that drives what I do is a 6 month design cycle. We do break our design cycle into four major periods, and we'll have big meetings at the end of each period. That's where we'll flush out all the details – drops, ads, new colors, materials, graphics, etc...
What enables you to be a successful designer?
What's cool about product design is the ability to be artistic / creative as well as analytical / scientific. A lot of people have one skill or the other. As a Product Designer you need both as the process is the fusion of science and art. You have to be willing to be creative and take risks, but at the same time you have to be very realistic about what those risks are. It's a technical/functional product, not just a drawing on paper, so if the product doesn't work and look killer you won't last long.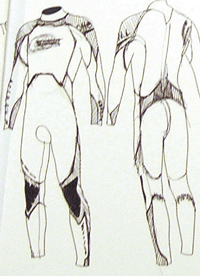 What are the biggest design challenges you face with wetsuits?
As we talked about before it's the nature of the product. Another big challenge is coming up with a merchandised range of features, looks, and pricepoints that satisfies everyone. With the cold water surf suits, you have the core guys who always want that stealthy all black and don't want to stand out. Then you have the guys that want something fresh to make a statement. Then there's the rack challenge; variety on the rack is key. We can't have the O'Neill aisle at Jack's look like the black hole or blend in with the competitors suits.
What's most rewarding aspect of what you do?
Definitely the most rewarding aspect is when I paddle out in the water and I see people ripping in O'Neill suits. Checking our guys killing it in the mags in our custom color team suits is also a major stoke.
Being creative and problem solving on a daily basis keeps the job exciting. I feel lucky to work with a team of great people at O'Neill where the surf lifestyle reigns despite working long hours. Working with and traveling to our international divisions in Japan, Australia, Europe, and Mexico is extremely rewarding. Just the other day I got a call from our Australian Sales Manager, Rob Bain, to let me know that they can't keep up with the demand for Psychos, there is a real buzz happening and we are grabbing market share – that's exciting.
What can you tell someone who is in school or looking to get into this industry about succeeding here, in this space?
Having or building connections is really important. Do that as soon as you can by any means you can. Intern for free or work in the warehouse if you have to. Be proactive, and build those connections while you're in school. Even coming out of a school like Art Center, if you don't have any connections or applicable real work experience, it's going to be MUCH harder.
Would you say this is one area of the industry where you can get started without any connections?
No, not necessarily. Wetsuit design is a very small niche, and the number of opportunities / jobs is limited. You'd have to be a great designer, and a very qualified product user.
What would make a strong portfolio for someone who wants to get into wetsuit design?
Someone with strong experience designing technical sporting product (footwear, outerwear) would probably have success crossing over. Wetsuits are technical and functional, but also fashion driven. Wetsuit design on the whole is an interesting blend of product, graphic, and fashion design. A strong portfolio would contain all of these elements. Lastly, one's personality and ability to work in a team environment are huge factors – you must be confident in your ability and yet humble enough to take criticism.
---