Back to News
Skateboard Trade News Issue no. 2
May 9, 2005
Skateboard Trade News Issue no. 2 - Loaded With Crucial Info.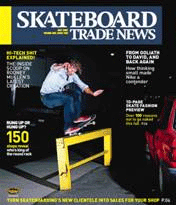 Receives Industry Praise for Innovation and Insight

"I don't ever look forward to industry trade magazines or ever read them from cover to cover. But after reading the first two articles, I realized that Skateboard Trade News was unlike others – it offers truly insightful and interesting articles."
- Tory Boettcher, VP of Sales for Blitz Distribution
May 9, 2005-- The second issue of Skateboard Trade News (STN), the only trade magazine devoted exclusively to the skate market, has arrived filled with key information you need to become a better retailer or manufacturer. Top feature stories in this issue include:
Who's King of the Round Rack?
Find out if you are putting your dollars into the right brands or how your brand stacks up to your competitors in "Who's King of the Round Rack?" We asked 150 shops across the country what brands were ringing up the highest sales.
Women's Market
Here's how to turn skateboarding's expanding clientele into sales for your shop.

Nike Profile
Skateboard Trade News takes you into the minds of Nike. Learn how thinking small has made them a heavyweight contender in the skate-shoe market.
Fall '05 Apparel Preview
Over 100 reasons not to go naked this Fall.
Rodney Mullen Interview
Rodney Mullen explains Uberscheissen, the carbon-fiber skate-deck technology that is the first technology to come out of Dwindle Experimental.
Plus: how proper hanging, stacking, and timing stops decks from getting the bends; how a clear policy and a little sympathy can remove the anxiety from handling returns; and much, much more!
If you haven't received your copy or not have not yet signed up for your FREE copy of Skateboard Trade News. To sign up now, go to: www.futurenetworkusa.com/STNsubscribe
What are you waiting for? There are dollars to be earned and Skateboard Trade News is here to help—for FREE!
---