Back to News
Senior Apparel Designer - Hank Renteria
July 1, 2005
Interview with Hank Renteria, Senior Apparel Designer at Alpinestars

Working as an Apparel Designer in the Action Sports industry is a goal shared by many people. As irony will have it, companies sometimes have to search to no-end to find great Apparel Designers. Creativity, style, practical skills, and other key variables have to line up perfectly for both designer and company.
Hank Renteria, Senior Sportswear Designer for Alpinestars, has been an Apparel Designer in the industry for close to 10 years. This Industrial Profile with Hank is a tour through getting started, progressing, and working in today's market as an Apparel Designer.
How did you get involved in the industry?
The first work experience in this industry I had was at Becker Surfboards where I worked for about 3 years, from 1991 to 1994. During the time I was at Becker some of my neighborhood friends started Ezekiel Clothing. When I was at Becker I wanted to go to fashion school but didn't have the money. Ezekiel started taking off and they needed help, so Vinnie De La Pena and Shane LaVoie gave me a chance to work for them and learn from the ground up.
For about a year and a half I did a little bit of everything like ordering trims, checking on production at the local facilities, identifying trends, and building out window displays at some of the local retailers.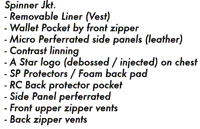 When was your first chance to actually design apparel?
After a year and a half at Ezekiel I had a chance to design a couple of boardshorts. At that time I had no computer skills. I hand drew the designs. We had an in-house pattern maker and he made the patterns for them. Some were a flop a few went somewhere.
Did you dive head first into apparel design after that?
No. I took a short, very short, side route into sales and worked for a label and trim company in LA because I wanted to make more money and it seemed like it could be the source. Apparently not. Whatever my quota was, I didn't get close and I was FIRED!!! People get fired all the time and they think it's the end, but it's actually the beginning.
A light at the end of the tunnel?
Definitely. When I was at Ezekiel Jeff Moore was the head of sales. While I was trying my hand at sales Jeff moved over to Planet Earth. He knew I was looking for a new opportunity so he lined up an interview for me with Chris Miller for an apparel design position. I went into the interview with the boardshort design experience, some production knowledge, a small drawing portfolio that demonstrated my personal style, and no Illustrator skills.
I was competing with a few other designers who had more experience but I got the job. So I started with them as a Clothing Designer / Idea Guy in 1996.
How was that?
Good, really good. Chris Miller and Jose Gomez took me under their wings and taught me so much. When I started I was known as "Primitive Man" because of my computer skills or lack there of. But that changed pretty quickly with their help and a desire to learn and progress. During my time there our apparel line grew, they added an outerwear line, and Adio Footwear was born.
My job started up with clothing design ideas for a fairly small line of bottoms, wovens, knits, and trunks and progressed to full design responsibility for the entire line including all apparel and accessories. Over the four years I was with Planet Earth the line grew from being fairly small to fairly good size. It was a monumental experience.
What happened after Planet Earth?
I focused on a non-profit brand. Todd Casselberry and I started called Nikao intended to help homeless high school kids learn how to design while at the same time I was working with Alex De La Pena at his design firm. We were able to get Nikao clothing into some nice boutiques and it was growing but the business aspect of it distracted us from the main mission because you've got to have cash flow to survive. We unfortunately closed the doors.

How did you end up here at Alpinestars designing the sportswear line?
A friend of mine Malcolm McCassy gave me a call out of the blue in March 2003 to let me know Alpinestars was looking for someone to work with the team riders on designing an apparel sportswear line. I knew Malcolm from when he was running the No Fear team and marketing. Alex and I helped No Fear develop their Evo Tech line. I enjoyed working with Malcolm so was interested to learn more about the Alpinestars brand and how I would fit in.
This is a great opportunity, Alpinestars has a great foundation. We've been around since 1963, and everyone at this company is serious about what they're doing. And the work environment is team oriented and effective. That's something that's easy to say, but a lot more difficult to make reality. So we've been building our sportswear line for a couple of years now and it's going great. Every season keeps improving.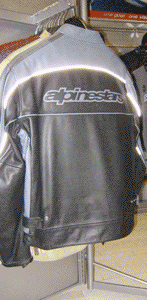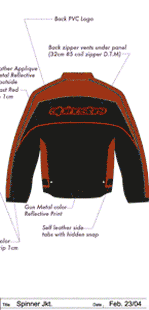 What's the routine like now?
I'll take you through a spring design cycle to give you and idea. From late December to early February we design the line. I start out with a gigantic story board. Put together cut-outs from magazines, ads, fabric swatches, grab influences from music, graphics, imagery, color combinations and a lot of other influences that go into the creative scheme. In the end it helps me forecast what the market is going to demand next spring. Then we'll determine the overall size of the line and start breaking out designs, revisions, etc.
Once we're down to the bottom of the six weeks the entire line is built-out. We'll all get together again to make sure everything is feasible and "production ready". A big part of achieving that success is John Aldrige who I work with. John's knowledge is key to making the development and design of the line flow together.

What is the biggest challenge you face today?
The graphics category is a challenge. Sales want what's selling now but you also have to project what will be hot and what fits Alpinestars. Graphics symbolize a brand so you want to delineate who Alpinestars is to the consumer.

Here at Alpinestars we're designing sportswear for a wide range of customers. We have our F1 riders and consumers around the world wearing our clothing, and we've got our MX riders and consumers who are into the local trends in areas from Riverside to the Midwest. There are so many variations and segments to address we could sit here naming them all for days. Trying to incorporate the motor sports world into the sportswear world is a challenge because there are so many contradistinctions to factor in.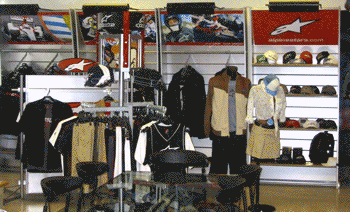 What makes a successful designer in today's environment?
Having a team is essential. A great sales influence that gives opinion based on numbers, a president with a solid vision, and great product development/design team. When all of these elements are working together it's a winning situation. Good teamwork creates a positive work environment that in the end is more productive and produces good numbers and brand longevity. It's great here, we have a lot of trust & respect for each other without any ego. Without the team you're not going to succeed.
On an individual level it's growing up in Southern California that really helped me excel in this market. I'm able to use all of the past and current trends as a foundation for designing. Keeping in tune with the trends, treatments and washes is essential, and always working to produce designs that will keep our customers coming back and new customers coming in.
And it's also important to be able to design products that the market demands, and not necessarily exactly what you may want. Most designers are unique in their own way and their taste isn't for the majority. You have to put away your ego and do what's best for the company.
What's most rewarding aspect of what you do?
Making the sportswear line successful which translates into sales.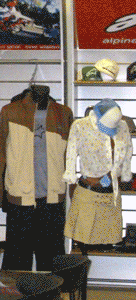 What can you tell someone who wants is building a design career within the industry, or looking to start one?
A humble attitude and willingness to be trained will do wonders, and it will get someone a lot further than a person that thinks they know it all because there is always so much more to learn. Understanding fashion and being able to put yourself into the attitude and lifestyle of the customer is essential too. Get your foot in the door at any sportswear company even if your just the janitor, and network, network, network your way up. I would of paid Ezekiel back in the day if I knew I was going to be this blessed today.
What would make a strong portfolio for someone who wants to get into apparel design?
Learning Illustrator is important, Photoshop helps. Beyond computer skills that are essential today, understanding the lifestyle from music, art, skate, surf, moto and snow. You have to reach people from every market. Demonstrate versatility and ability to adapt design / style to meet different needs. For example at Alpinestars being able to create designs that appeal to a multiple of audiences like the Ruff Riders, Drake McElroy to Sunny Garcia. Respect all genres of music, folk, punk, hip hop, rock, to metal, because music artists help dictate fashion trends.
---