Back to News
SponsorHouse.com Launches New Version of its Online Sponsorship System
August 23, 2005
SponsorHouse.com Launches New Version of its Online Sponsorship System
(Oceanside, CA) SponsorHouse.com pioneered its online sponsorship services in the motocross industry in 2001 and quickly became the industry leader. SponsorHouse has since evolved offering a system to help match all types of athletes and opportunities to companies that are seeking to promote their products and services via sponsorships.
SponsorHouse is proud to announce the launch of the most powerful and easy-to-use version of its website yet: SponsorHouse v5 (version 5). Now virtually anyone from athletes, teams, and event promoters to retailers, manufacturers, and corporations can utilize SponsorHouse.com to find or offer sponsorship in just about any activity that falls into the motorsports, action sports, or active lifestyle categories.
SponsorHouse.com v5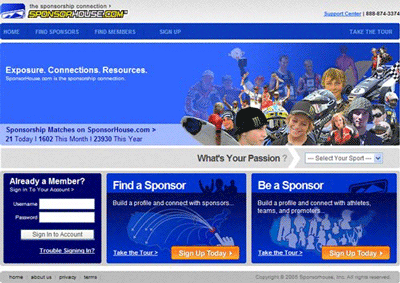 With more than 175,000 deals signed since 2001 and nearly 10,000 athletes and 350 companies utilizing its website, SponsorHouse.com is the largest online sponsorship community. SponsorHouse v5 provides athletes with an effective way to get exposure to their accomplishments and a direct connection to hundreds of potential sponsorship deals. Sponsors have tools to quickly locate candidates and streamline the administration of managing their sponsorships.
"SponsorHouse has been the light at the end of the tunnel providing EVS and hundreds of other companies with a streamlined approach to athlete sponsorship and management," says Todd Lentz, Director of Sales and Marketing for EVS Sports. "SponsorHouse has not only simplified the search for sponsorship, they have raised the bar and become the pinnacle source for athletes worldwide. Over the past 3 years, EVS has saved time, money and increased the number of sponsored athletes with the use of SponsorHouse.com."
Jason Lawrence has been in The House since the walls went up in 2001. From his days as a struggling, young, New Jersey local rider in '01 to his days with Team Green and American Suzuki, Jason has won 3 Loretta Lynn titles along the way. He made his pro debut in '05 finishing 8th in the 125 class at the Unadilla National on 7/17/05. SponsorHouse has been his SOURCE for getting the EXPOSURE, ACCESS TO DEALS, and PERSONAL ATTENTION that he needed to get to this level in his career.
"This newest version of the SponsorHouse system is a compilation of all the requests for services we've gathered from the athletes and sponsors on SponsorHouse and other industries over the past couple years," says SponsorHouse CEO Scott Tilton. "Looking ahead, we plan to continue expanding ultimately providing a place where virtually anyone can go to research opportunities and find or offer sponsorship."
Enhancements to SponsorHouse v5 include:
FREE Entry Level Account - Aren't convinced that you'll locate a deal or find the right opportunity? Sign up for a FREE account and contact a limited number of companies or athletes. You aren't required to upgrade until you get sponsored or offer a sponsorship.
Sponsorship Listings - New Sponsorship Listing feature effectively matches athletes with sponsors based on predefined criteria such as their sport, discipline, age, region, and/or skill helping to create new sponsorship opportunities for local sponsors and athletes.
Premium Accounts - New Premium accounts provide maximum exposure, enhanced services, functionality, and control.
Team Section - Teams now have the ability to setup profiles to promote their accomplishments and search for deals.
More Exposure - Additional channels added for athletes and sponsors alike to increase exposure throughout the site.
Expanded Custom Services - Additional services to help both athletes and sponsors to maximize the value of their sponsorships.
"I have been dealing with sponsorship programs, in one way or another, since 1977," says George Quay of Pro-Action. "I have tried every concept imaginable. We got involved with SponsorHouse in 2004 and it has been by far the easiest and most efficient way of connecting with and supporting our athletes helping to take the bite out of a normally insurmountable task."
The athletes agree. Team Red Bull / KTM's up and coming star Ryan Mills explains, "For as long as I can remember SponsorHouse has helped me out with anything I have ever needed and has gotten me so much press with the sponsors. They are great guys and everybody should be involved with SponsorHouse."
You can find SponsorHouse on the road each week at events all over the nation
For more information or to learn how SponsorHouse can help you, visit www.sponsorhouse.com. Companies interested in listing with SponsorHouse should call 888.8-RIDESH or 760.722.3396.
About SponsorHouse
Launched in August 2001 by Scott Tilton and RJ Kraus, SponsorHouse.com is the largest and most active online community of sponsorship listings and opportunities. We provide an easy to use and effective online medium that helps to connect hundreds of sponsorship deals each day. Today, there are nearly 10,000 athletes and 350 companies using SponsorHouse to connect.

---