Back to News
Liquid Force/Maven Welcomes Lauren Loe
October 27, 2005
Liquid Force/Maven Welcomes Lauren Loe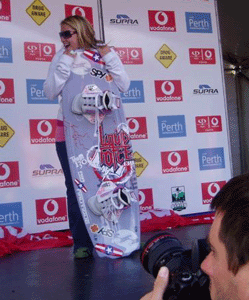 Lauren Loe has officially become a member of the Liquid Force/Maven team. When asked about her recent move, Lauren excitedly said the following, "I've always respected what Liquid Force has done for women's wakeboarding. The LF Women's team has always been treated well, has been influential in the company's overall direction, and has been marketed well. Even more importantly, the product is geared specifically for women like me to enjoy and have fun on. I'm really excited to finally be a part of a family I've always hung out with. Melissa Marquardt and I are like sisters… it's great to finally be on the same team as her".
Liquid Force/Maven is already working closely with Lauren to help develop gear that is specific to women's needs. She is currently riding the Angel 130 with Minx bindings, and has tested other boards like the Team and the Cadence. The Team 130 and Minx setup carried her to a second-place finish at the Gravity Games in Perth, Australia two weeks ago. It's no doubt this marriage of Lauren, the enjoyable LF/Maven team atmosphere and great products are going to bring exciting things to women's wakeboarding.
After talking with team manager Aaron Grace it's apparent that the entire LF family is happy to have Lauren on board. "It just feels right to have such a fun and professional rider on the women's team. She fits in so well that I've almost always considered her one of the crew, anyway. I am really excited to see her and Melissa, and Amber, and the others push each other to a higher level. Having Lauren on our team is exactly what women's wakeboarding needs right now". It's no doubt that the already dominant Liquid Force/Maven team will continue to get stronger with this addition.
Lauren brings a very style-driven approach to the water and leaves the ego behind. That has always been a strong point for any Liquid Force team member. Riders and fans alike simply enjoy interacting with Lauren and most of all watching her ride. Her style is smooth and pleasingly different from the more common contest style of riding that seems to fuel other women riders. Wakeboarding is fun to Lauren and that shows every time she free-rides. Expanding the sport by getting more women into the sport is her main goal… not winning contests.
Liquid Force is proud to have such a great athlete and friend on the team. Look for great photos of her rocking her LF gear to appear in the upcoming issues of WakeBoarding and Alliance Wake magazines. She is also currently filming with Justin Stephens for her part in the new 2006 LF Films team video. It's going to be a bright and fun filled future with Lauren Loe and the Liquid Force Maven team together at last. For more LF information, be sure to check out www.liquidforce.com, or www.liquidforcemaven.com
---