Back to News
NEW UK OFFICE – REVIVAL DISTRIBUTION UK, LTD.
November 16, 2005
NEW UK OFFICE – REVIVAL DISTRIBUTION UK, LTD.
November 16, 2005 - Torrance, California based Podium Distribution, designer, marketing and distributing arm of DVS Shoe Company, Matix Clothing and Lakai Limited Footwear, today announced the official opening of its London-based subsidiary office, Revival Distribution UK, Ltd. This new subsidiary will focus on the UK market, overseeing sales and marketing throughout this region. In addition to DVS, Matix and Lakai, Revival will also handle distribution for all Girl brands including Chocolate, 4 Star, Royal, Girl, Fillmore and Diamond.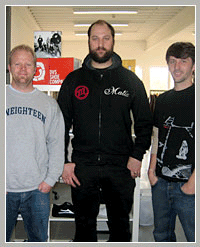 Revival Distribution will be headed up by former Podium key accounts manager, Erik Ecklund who accepted the position of general manager. Erik has been in London for the past 8 months setting up the office, hiring and training sales staff, developing and implementing marketing strategies and warehousing in the UK for the brands. "Erik's been with the company since 2000, and we were thrilled that he wanted to take on this new and exciting challenge. Erik has learned more about business in his first eight months managing Revival, then he could have learned in 2-3 years here at Podium," said Mark Feig, senior vice president of Podium.
Revival Distribution UK, Ltd. has already established an office of 10 employees and with the corporate decision to make Revival the European Marketing headquarters, they most recently hired European Marketing Manager Eric Conyers and Marketing Assistant Mathieu Tourneur.
"I am looking forward to working with both Eric and Mathieu on this new level. I have worked closely with them both in their previous positions and to now have them both at Revival is quite amazing," said Erik Ecklund, general manager, Revival Distribution.
As a Founding Partner and Designer for the advertising/design firm ATLARGE, Eric Conyers directed many freelance design and marketing projects in the fashion, music, and action sports industry. He was also the Associate Publisher for Strength Magazine and played a major role in transforming Strength Magazine into one of the top three magazines in skateboarding for editorial content. Most recently as the marketing director for New Deal and Warrior Distribution, Eric was responsible for the direct marketing of Fenchurch Clothing across Europe and the marketing of all brands distributed in throughout the UK. Mathieu Tourneur comes to Revival, from Lapa Distribution, Podium's subsidiary in Marseille, France.
"I'm excited to have our European marketing facility established and in place at Revival. There is so much room in the European marketplace to do some really cool stuff and we hope to bring some excitement over the pond," said Tim Gavin, vice president, Podium Distribution.
---