Back to News
Optic Nerve Introduces The Buddah
December 19, 2005
Optic Nerve Introduces The Buddah - Blending Style And Technology New Frame In Stores January 1st
Long known for their dedication to quality and cutting-edge technology, Optic Nerve has taken their product line a step further. Just in time for the New Year, Optic Nerve unveils The Buddah, a new sunglass style that incorporates their advanced Toric lens technology with a fashionable, oversized design.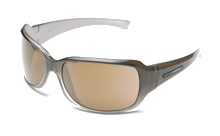 Introduced earlier this year, Toric Lenses are the latest addition to Optic Nerve's arsenal of technology. In addition to UVA and UVB protection, the toric lens provides distortion-free comfort and clarity with a 10 degree base curve horizontally and a 5 degree base curve on a vertical axis that protects against refraction. In short, it keeps your eyes from doing any extra work and provides a universal ergonomic fit not possible with conventional wrap lens styles.

Part of the Essentials series, The Buddah utilizes Toric Technology in an ultra hot, edgy design that is perfect for the style-maven and the ski bum in everyone. The Buddah fits a variety of face shapes and sizes and is available in four colors - black, demi, khaki and white. The suggested retail price is $54 and they are expected to be available in retail shops by January 1, 2006.

For more information on The Buddah, product photos or a dealer locator, visit www.nerveusa.com. While there, don't forget to sign up for Optic Nerve's Copper Mountain Vacation Giveaway!

For nearly 25 years Optic Nerve has been a leader in the sport sunglass industry. We have spent countless years, months, days and hours in the mountains of Colorado testing our products to deliver our retailers the finest sunglasses on the market. It all comes down to what our company stands for - intelligence, awareness and style in the mid-tier price point.

We have worked hard to create a dynamic program that rivals the quality of our competition. We continue to stand by and advance our products with our "No Hassle - Lifetime Warranty." For more information please visit nerveusa.com.


---