Back to News
Future of Surfboard Manufacturing Front Stage at ASR
January 16, 2006
Future of Surfboard Manufacturing Front Stage at ASR

The board builders forum, the world's biggest surf board and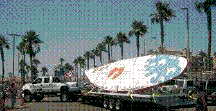 hundreds of surf industry leaders make ASR the place to find the future of surf
San Juan Capistrano, CA (January 16, 2006) – With the future of surfboard manufacturing up in the air, industry leaders, shapers and retailers are meeting at ASR, January 20-22nd in San Diego to figure out, 'what's next?' The SIMA Board Builders forum is scheduled for Friday the 20th. At the forum, the options and alternatives for roam core manufacturing will be discussed. Under one roof, on the ASR show floor, surf industry leaders are available with wealth of insight into the surf world.

"ASR started 25 years ago in the surf world and while the industry has diversified as it expanded, ASR is still the place where the surf industry meets," says Kevin Flanagan, ASR Show Director. "Last month there was a major shake up in the surfboard industry, ASR is a great opportunity for the industry to meet and figure out the next steps."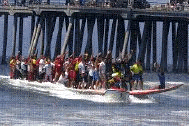 In early December, Clark Foam, the world's largest producer of surfboard blanks closed its doors. Leaving shapers with a massive shortage of materials to build boards. And leaving surf retailers with no supply just before the holidays. Now the industry is looking for solutions and alternatives for producing foam surfboard cores.

Surfing's most influential retailers, shapers and manufacturers will meet at ASR for the SIMA Board Builders Special Interest Group Forum. The forum is Friday, January 20th at 2PM, upstairs in Meeting Room 8.

"ASR January is the time for retailers to look to build their board inventory for the coming year," says Joel Cooper, SIMA trade show committee chairman and President of Lost. "The show is a perfect gathering place for the industry not only to check out the latest developments in hard goods, but to discuss current issues affecting the business such as the SIMA Board Builders Special Interest Group Forum at ASR."

Outside of the trade show, the Guinness Record book's longest surfboard will be on display. This summer the record of 47 surfers riding a single board at the same time was set at the US Open. During ASR, the board can be checked out in person as people enter the show.

---