Back to News
Future Snowboarding Magazine's Tracy Anderson
February 7, 2006
Future Snowboarding Magazine's Tracy Anderson Makes Joan and Melissa Rivers Look Like They're Not Even Trying.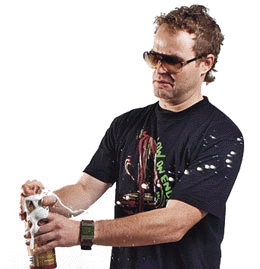 Solana Beach, CA –
In what can only be described as the biggest flurry of PR activity ever by a snowboarding magazine, Future Snowboarding's Associate Editor, Tracy Anderson, has managed to get his mug on TVs throughout North America, becoming the go-to guy for the likes of ABC News, CBS Sports, Reuters and Sirius.
Anderson's one man PR show started strong and never let up. At the Winter X Games, CBS interviewed Tracy for segments to run during the Olympics in Torino. Sirius Satellite Radio's "Faction 28" wanted to know the low-down on winning tricks in the dude tube and Tracy was their guy. If you opened up the LA Times, Arizona Republic, Detroit Free Press, Orange County Register,Daily Aspen Times—or just about any newspaper with stories from Reuters' wire during January or February—chances are you spied a quote from Tracy Anderson. Hell, spotting the Utah and Mammoth-bred Anderson became like a televisual game of Where's Waldo after a while.
In September 2005, FSM published an article penned by Mr. Anderson wherein he predicted the US Olympic Team by analyzing contest runs, strengths, weaknesses as well as mental and physical strength. By January 2006, this groundbreaking piece in FSM turned out to be very accurate: Tracy's picks were a 100% on the money in terms of riders selected. Olympians Shaun White, Danny Kass, Andy Finch, Mason Aguirre, Gretchen Bleiler, Hannah Teter, Kelly Clark and Elena Hight were all Predicted Pipe Olympians by FSM back in September—before the season even started. That's why FSM hires riders/writers from UC Berkeley like Mr. Anderson.
Not to be outdone by some young protégé, Future Action Sports' Editorial Director and resident Pittsburgh Steelers fanatic, Rob Campbell, showed up on ESPN's Cold Pizza with pro rider Andy Finch to talk equipment with the madman of the pipe. Anyone who knows Rob knows that ESPN is his natural jock environment and he later bragged of his TV prowess, going so far as to insist that co-workers start referring to him as "One Take Campbell."
Whatever, One Take…
Future Snowboarding's Editor, Colin Whyte appeared alongside the elusive Scooter Leonard, Editor of The Snowboard Journal, on RSN TV during last month's SIA trade show in Las Vegas. The Resort Sports Network's host, Beth Lahr, was startled when she referred to FSM as SBJ's "sister publication" and Mr. Whyte snapped back, "Who you callin' sister, sister?" Hilarity ensued.
All in all, January and February have been banner months for raising the profile of Future magazines in the public eye and for the action sports titles capitalizing on Olympic Fever.

---