Back to News
OFFICE BOYS: THE CONTEST at GROUSE MOUNTAIN
April 4, 2006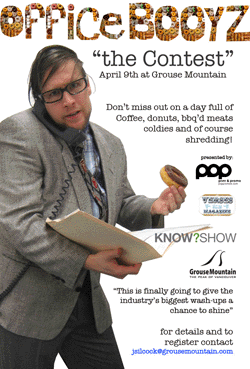 OFFICE BOYS: THE CONTEST at GROUSE MOUNTAIN
THE "WORKING CLASS" OF THE SKATE & SNOW COMMUNITY
WILL BATTLE HEAD-TO-HEAD ON SOME OFFICE-SIZED OBSTACLES
March 22, 2006. North Vancouver, British Columbia. - The first event of its kind, Office Boys: The Contest will pit snow and skate industry "office dwellers" in a jam-style battle on the obstacles of Grouse Mountain's parks.
The contest (and, more importantly, the riders) will be judged by some of snowboarding's biggest names, possibly including: Chris Dufficy, Devun Walsh, Kale Stephens, Ikka Bakkstrom, and Eero Niemela, too name a few.
Organizers say: "This is finally going to give the industry's biggest wash-ups the chance to shine".
What: Office Boys: The Contest
Where: Grouse Mountain
When: Sunday, April 9th, 2006

Check In: 08:00-10:00
Warm Up: 10:00-12:00
Coffee & Donuts: 10:00-12:00
Contest: 12:00-14:00
BBQ & Awards: 14:00-17:00

Cost: $100 per company. Includes entry for 5 riders (must be non-sponsored), morning coffee and donuts, BBQ lunch and beer. ( This price is with a Y2Play or corporate pass ). Lift tickets are at a discounted rate of $32 per person.
Additional team members are $42 including lift tickets.
How to register: pre-registration must be confirmed by Monday, April 3rd. All registration will be done by Grouse Mountain. Contact Jeff Silcock via jsilcock@grousemountain.com.
Office Boys: The Contest will wrap up an incredible year of snowboarding. More than a contest, this will be a great time, YOU DO NOT WANT TO MISS THIS!
See y'all on the slopes,
The Office Boys
---