Back to News
First Annual Kevin Windham Supercross of Poker
April 18, 2006
First Annual Kevin Windham Supercross of Poker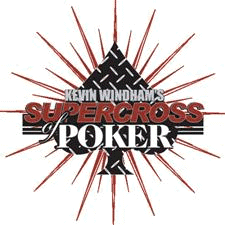 THE DIVISION, RacerX and Bluff Magazine proudly announce the inaugural annual Kevin Windham Supercross of Poker at Bally's Hotel and Casino in Las Vegas, NV.
With the recent popularity of ESPN's World Series of Poker, No-Limit Texas Hold 'Em has become a household game. Marrying poker's ubiquitous popularity with the motocross Industry's love of adrenaline-induced high risk, high reward activities, THE DIVISION proudly presents the Kevin Windham Supercross of Poker to satiate all tastes and appetites.

"The Supercross is the biggest motocross event of the year, Vegas is the poker capitol, it just fit," stated Kelly Flynn, Senior Partner of THE DIVISION. "This event is more than just your average poker tournament. This is a way to bring that same competition and intensity from the dirt to the felt. This is a chance for fans to play poker with their heroes. Forget standing in line waiting for an autograph, this is the only way you can say you went head to head with Kevin Windham or Ricky Carmichael and you won!" added Flynn.
With cash prizes estimated up to $200,000 and participation by the top riders in the industry, this event has grabbed the attention of the Action Sports Industry as a whole. The Kevin Windham Supercross of Poker will kick off the first annual event at Bally's on Sunday, May 7, 2006. Bally's; one of Vegas's most popular poker rooms and home of the World Series of Poker circuit will host the tournament from the infamous Pacific Ballroom. A limited 200 seats are available for reservation through www.CDPoker.com/supercross where players can pay just $xx to play to win a $1000 seat to the main event. (Must be 21 years of age or older to participate).

The tournament will play 200 entries, starting at 11:00 AM and play down until a winner is crowned champion. Competing for a prize pool estimated to reach $200,000, the first place winner will take home a large cash prize as well as a continue on with a $10,000 sponsored seat, serving as the official representative of the motocross industry at the 2006 World Series of Poker Main Event. Confirmed participating celebrities include Kevin Windham, Chad Reed, Ricky Carmichael, James Stewart, Ivan Tedesco, Jeremy McGrath, Ernesto Fonseca, Tyler Evans, Billy Laninovich, Jeff Emig, and Jimmy Button.
As an official satellite event of the World Series of Poker, the Kevin Windham Supercross of Poker will grant the winner automatic entrance into the 2006 World Series of Poker Main Event Championship, where they will have the opportunity to win a part of the $60 million plus expected purse. "We are really excited about being a part of this year's event. I'm eager to see what kind of poker players, motocross guys are," stated Matt Savage; the most sought after tournament director in poker.
"I love poker. The Vegas Supercross is such an important event for us, but it's the fans that make it so great, without them, we're just a bunch of guys riding around on dirtbikes. I wanted to have this tournament as a way to unwind, have fun with some of my friends and play a little poker with some of our fans," said Kevin Windham.
Event details subject to change. Please visit www.supercrosspoker.com. For more information about the event or how to enter please contact:

Kelly Flynn
Ph: 714.981.4000
Kelly@supercrosspoker.com
Jane Pak
Ph: 702.506.1685
Jane@supercrosspoker.com

---