Back to News
Young Gun Dane Reynolds Reloads with Quiksilver
April 19, 2006
Young Gun Dane Reynolds Reloads with Quiksilver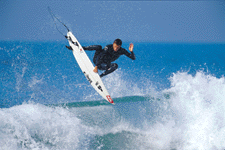 Major Surf Film Project and WCT Qualifier on the Horizon
(Huntington Beach, CA) April 19, 2006 --- Quiksilver, the leading brand in boardriding lifestyle and culture, is pleased to announce that its top young gun, Dane Reynolds, has signed a multi-year, multi-million dollar contract renewal.
Reynolds, 20, who also represents DC Shoes (another brand of Quiksilver, Inc. (NYSE: ZQK)), is widely acknowledged as the most exciting young surfer in the world. His cutting-edge and incredibly high performance approach to surfing makes him the perfect fit for a brand dedicated to these values.
"Quiksilver is the most recognizable surf brand in the world and riding for them is such an awesome opportunity," Dane said.
Over the last year, the Ventura, California-based surfer has been traveling the world working on his revolutionary surf film, "First
Chapter," due to be released in July 2006. It's rare for a surfer of
Dane's caliber to dedicate an extended break from competition for filming, but the final result will be well worth it. Watching a rough cut left a few of his peers awestruck by maneuvers that showed a surfer going to places and spaces on waves and in the air that no one's ever seen. "I'm stoked to have a movie," Dane said. "It's coming along and should be sick when it's finished."
In 2007, Dane plans on rejoining the ASP World Qualifying Series tour with an eye for earning a spot on the coveted World Championship Tour for the 2008 season. Many top pros will be anxiously watching his progress as he bursts back on to the competitive surfing scene. Seven-time world champion, Kelly Slater, for example, thinks Reynolds is such a threat that he nicknamed him Dane-ger after watching him take out former world champs, Andy Irons and CJ Hobgood, in man-on-man WCT heats.

Outside of the tour, Dane's career will see the launch of his first signature boardshort, The Shredder, in Spring 2007 and he will also be a major feature in Quiksilver's seasonal messaging campaigns. His irreverent yet humble nature combined with classic free-flowing style in and out of the water make him both highly relatable and inspirational to Quiksilver's core youth audience.
Although he is still quite young, Dane has a long list of accomplishments. He's the only surfer to have ever won ASL magazine's Next Big Thing award twice (which even perplexed Dane), Best Barrel at the 2005 Surfer Poll Awards, first place in Surfer's Hot 100 Issue, Most Radical Maneuver Award at the California Cup and the Highest Single Wave Score at the X-Games.
"When we first signed Dane, we knew people would compare him to Quiksilver legends like Jeff Hakman, Tom Carroll, and of course Kelly Slater," Quiksilver CEO Bob McKnight said. "Since then, Dane has been named 'The Next Big Thing' not once but twice and, despite the comparisons to Quiksilver greats, this fresh young phenom has shown that he's blazing his own unique path where creativity and innovation is king. We are stoked to have him in the family and excited to watch him
blow the world away with his arsenal of mental new moves."
About Quiksilver, Inc.
Quiksilver, Inc. (NYSE:ZQK) is the world's leading outdoor sports lifestyle company, which designs, produces and distributes a diversified mix of branded apparel, wintersports and golf equipment, footwear, accessories and related products. The Company's apparel and footwear brands represent a casual lifestyle for young-minded people that connect with its boardriding culture and heritage, while its wintersports and golf brands symbolize a long standing commitment to technical expertise and competitive success on the mountains and on the links.
The reputation of Quiksilver's brands is based on different outdoor sports. The Company's Quiksilver, Roxy, DC Shoes and Hawk brands are synonymous with the heritage and culture of surfing, skateboarding and snowboarding, and its beach and water oriented swimwear brands include Raisins, Radio Fiji and Leilani. The Rossignol, Dynastar, Lange, Look and Kerma brands are leaders in the alpine ski market, and the Company makes snowboarding equipment under its Rossignol, Dynastar, DC Shoes, Roxy, Lib Technologies, Gnu and Bent Metal labels. The Company's golf business includes Cleveland Golf, as well as Never Compromise putters and Fidra apparel. Gotcha is the Company's surf-based European brand addressing street fashion.
The Company's products are sold in over 90 countries in a wide range of distribution, including surf shops, ski shops, skateboard shops, snowboard shops, proprietary Boardriders Club shops, other specialty stores and select department stores. The European headquarters are in St. Jean de Luz and Voiron, France; and the Asia/Pacific headquarters are in Torquay, Australia. Quiksilver's corporate and Americas' headquarters are in Huntington Beach, California, while its European headquarters are in St. Jean de Luz and Voiron, France, and its Asia/Pacific headquarters are in Torquay, Australia.
****
NOTE: For further information about Quiksilver, Inc., you are invited to take a look at our world at:
www.quiksilverinc..com, www.quiksilver.com, www.roxy.com, www.dcshoecousa.com, www.quiksilveredition.com, www.hawkclothing.com, www.rossignol.com, www.dynastar.com, www.clevelandgolf.com, www.fidragolf.comand www.quiksilverfoundation.org
---