Back to News
Surfrider Foundation Celebrity Surf Jam Hits the Waves June 10, 2006
April 20, 2006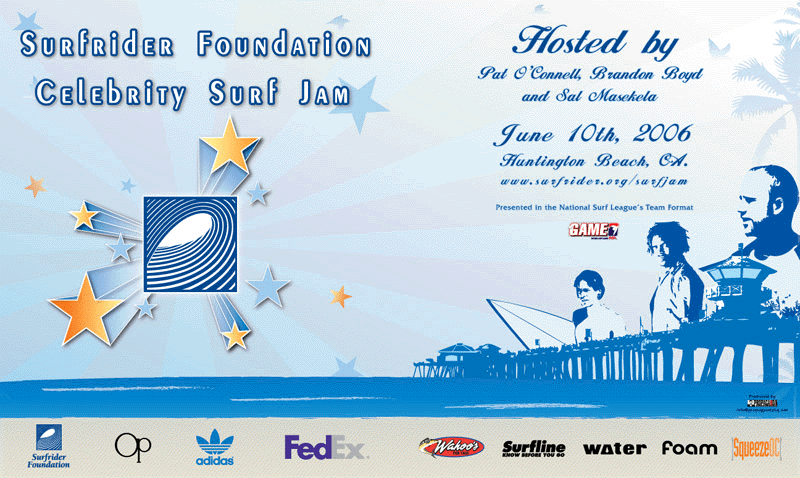 Surfrider Foundation Celebrity Surf Jam Hits the Waves June 10, 2006
Incubus' Brandon Boyd, Pro Surfer Pat O'Connell and E! Entertainment's Sal Masekela Host One-Of-A-Kind Event

Huntington Beach, CA (April 20, 2006) - The Surfrider Foundation and Propaganda Headquarters announced today that their wildly successful Celebrity Surf Jam will once again be returning to the world famous Huntington Beach Pier on June 10th, 2006. This thrilling and one-of-a-kind event brings together a host of stars from the world of music, entertainment and sports, to compete alongside the world's top professional surfers and Surfrider Foundation volunteers from across the county.
Returning hosts Pat O'Connell and Sal Masekela are joined this year by Incubus singer Brandon Boyd.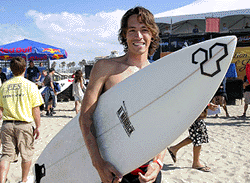 "My friends and I have grown up surfing in California and we try to do everything we can to preserve the beaches and oceans that have afforded us the opportunity to surf," says Boyd. "Through our band, Incubus, we've been lucky enough to raise funds to donate to The Surfrider Foundation in the past. Celebrity Surf Jam is just one more way I can help raise awareness for need to protect our coastal environments."
In addition to bringing together celebrities, pros and activists, Surf Jam is unique due its utilization of the National Surf League's revolutionary competitive format - The Game; which pits teams of surfers against each other in an exciting fast-paced match that includes quarters, time-outs and substitutions.
Surfrider Foundation Celebrity Surf Jam is supported by Op, adidas, FedEx, Surfline.com, Water Magazine, Foam Magazine, SqueezeOC and Wahoo's Fish Taco. For more information on the event, including athlete bios, event schedule and wallpapers, please go to www.surfrider.org/surfjam.
About The Surfrider Foundation
The Surfrider Foundation is a non-profit grassroots organization dedicated to the protection and preservation of our world's oceans, waves and beaches. Founded in 1984 by a handful of visionary surfers, the Surfrider Foundation now maintains over 50,000 members and 63 chapters across the United States and Puerto Rico, with international affiliates in Australia, Europe, Japan and Brazil. www.surfrider.org

---