Back to News
SponsorHouse
June 1, 2006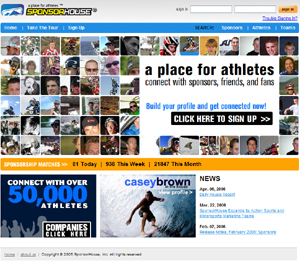 SponsorHouse
The web never died. What died are businesses that didn't add value to or improve upon an existing process, experience, product, service, etc. SponsorHouse is proof of that. Launched almost immediately after the "dot-bomb" era it's now been in business for 5 years and continues to pick up more momentum. SponsorHouse was originally created to connect riders & sponsors within the motocross industry. Since then, SponsorHouse continues to offer its service to additional markets or segments wherever rider / sponsor relationships exist. The company's serious commitment to expansion is demonstrated by a recent hiring of Ashley Otte and Todd Ballard who collectively have more than 25 years experience in the boardsports industry.
Can you give us a quick overview of how SponsorHouse works for athletes & companies?
SponsorHouse is a social networking site that helps connect athletes with sponsors, friends, and fans. Both athletes and sponsors can set up accounts, build profiles, and communicate with each other online. We launched the site back in 2001 and currently there are more than 50,000 athletes and 400 sponsors in motorsports, action sports, and cycling using SponsorHouse.
How does it improve the process of connecting companies & athletes?
Our system helps to streamline a very inefficient process. For athletes, rather than mailing out resumes, proposals, and sponsor me videos, they can create profiles with all the same information and send messages directly to participating sponsors through SponsorHouse. Team managers at each company can search the database or setup their own criteria to specify which athletes can contact them. It's a sponsorship management tool that allows them to organize all their athletes in one spot and maintain contact with them. Where the old process of attending events, sifting through resumes, video tapes, and mail could take months to connect with each other…now it takes minutes.
Does using SponsorHouse cost money? Who pays? When?
Any athlete can build a free profile on SponsorHouse and use our services. We do have upgraded memberships which we charge a nominal annual fee for. Right now we're having a special with discounts on upgrades. Everyone who upgrades their account before July 15 will be automatically entered into our summer sweepstakes, which might be a trip to the US Open of Surfing in HB or a new motocross bike. We've got a lot of cool stuff in the pipeline for our upgraded members.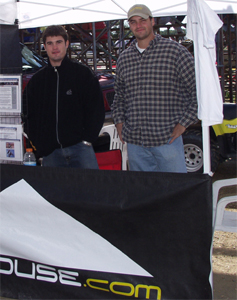 The "Internet Bubble" was bursting at the same time SponsorHouse was still an idea. What made you feel SponsorHouse would succeed? (Pictured right, Founders Scott Tilton and RJ Kraus)
Starting a company right after the bubble burst was actually a great time if you had the energy and perseverance to pursue it. As former motocross racers, my business partner and I knew the challenges with contacting companies for sponsorship. On the flip side, we were well aware of how overwhelmed marketing managers were with sponsorship applications. SponsorHouse simply makes it easier for everyone to learn about each other and communicate. Before SponsorHouse, we were helping a few friends by building their personal websites to direct sponsors to. We expanded on that initial idea and built the technology that powers SponsorHouse today.
Was starting out in Motocross a key to success?
Since we both grew up racing motocross we knew the industry and had the contacts to get the business going. At the time, sponsorship in other sports wasn't as organized or accepted as it was in moto so it made the most sense for us to start in. Motorsports in general cost a lot of money to compete in so the athletes need more help to compete at a high level. Brands in other industries have since seen the benefits to having grassroots programs for up and coming athletes and are much more open to participating in the program now.
How important is "regional sponsorship" to the motocross industry for both riders and companies?
Regional sponsorship is important in any sport or industry. The next hero may be 10 years old and ripping it up in Oklahoma or North Carolina. By the time most people know of him or her it's too late because others who had the inside track are all over them. By making the process easier to manage, we have helped companies to expand their grassroots sponsorship programs. This has helped to create more opportunities for the younger up and coming athletes who need it most while providing a way for brands to build relationships with the athletes early to keep them on their radar as they progress.
How big (budget, number of sponsorships, etc.) is an average sponsorship program in motorsports vs. action sports? What are the similarities & differences in sponsorship when considering: MX, Bike, Skate, Surf, Snow, etc.?
It varies so much from company to company. Motorsports programs could be in the hundreds and sometimes thousands of athletes depending on the company. Action sports on the other hand generally keep their programs more exclusive. It's more of an all or none type of mentality in sports like skate and surf. Some action sports companies have followed the motorsports model by offering a tiered program. They have their A list of athletes and the lower tiers are a way to bring less experienced athletes into the family in hopes of graduating them to the A list some day.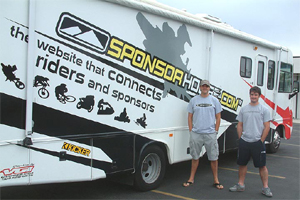 Would SponsorHouse have been as successful if it started out in industry segments such as skate, snow, and surf where sponsorship tends to be very limited?
Motocross was definitely the initial key that brought legitimacy to our service and put us on the map. Sponsorship opportunities and the number of spaces available on teams are smaller in board sports than motorsports so I'm not sure we would have had the same success if we did it reverse. We are seeing a lot more action sports companies now expanding their grassroots programs now for the reasons I just mentioned.
How is the progress coming within sport categories that are new to SponsorHouse? Specifically skate, snow, and surf.
We launched to board sports last summer and there are more than 5,000 athletes with profiles all though the success of landing deals is smaller than motorsports. We've been working with several top athletes and recently hired Ashley Otte as our Director of Action Sports, formally from the Transworld family and Nick Garcia as our Surf Manager. Nick is a well respected local surfer whose brother Gabe is at the top of the NSSA ranks right now.
What are you doing to fuel growth in these segments?
Partnerships. Some of the bigger things we're doing right now are presenting the Unsponsored section on Fuel TV, promotions with Transworld, and we are developing a new site for Josh Williams' (Metal Storm) new surf film, Chasing the Dream, which comes out this summer. All of our marketing programs are built around helping athletes.
You will soon break 300,000 sponsorship matches. What determines a match?
A match is when a company sends a sponsorship offer to an athlete and the athlete signs the deal online to join that company's program. We're amazed at how much activity has taken place on our site over the past 5 years.
Are there different levels of eligibility for a person seeking sponsorship? How is eligibility determined?
Every company has their own criteria on who is eligible or even considered for their program. We help provide the right information about each athlete in their profile and in certain cases partner with organizations to verify athlete information, but it is still ultimately in the hands of the team managers to decide who gets invited to join their program.
Do athletes continue to use SponsorHouse / update their profiles after they've received sponsorship?
Absolutely. Connecting with a company is only the first step in the athlete / sponsor relationship. Maintaining relationships with sponsors is a lot of work and it takes years to work your way up the ladder and earn premier deals. Athletes use SponsorHouse to maintain their profiles, add news, photos, video, and keep their sponsors up to date on what's happening. The direct connection to the team managers through our system makes it easier for them both to keep in touch.
What type of athlete is SponsorHouse for? (i.e. – aspiring pros, mid level pros, top level pros, etc.)
It works for all types. The sponsorship services are most beneficial for the up and coming athletes who don't have the relationships like the pros or top amateurs. For the top athletes like Jeremy McGrath, SponsorHouse is a great way for him to build his network of friends and fans, promote himself, and deliver value for his sponsors. Even if you're not looking for deals, you never know which sponsors will sign on and contact you. Without a profile, you won't be seen.
What sport categories fit into the natural progression of SponsorHouse? What sport categories are more of a challenge?
There are different uses and features depending on the sport. The way we have developed our technology allows for the flexibility to cater to all sports and activities as we grow. As long as there is a need, we hope to fill it.
What impact will SponsorHouse have on sponsorship as it exists in sports that are new or relatively new to the SponsorHouse umbrella?
SponsorHouse is essentially a central location to find out what opportunities are out there for both the athlete and brand. The only impact we hope to have is a positive one that helps make the process of finding each other more effective.
Does SponsorHouse enable individuals who are not athletes to seek & gain sponsorship? If so, what type of non-athlete people would use SponsorHouse to find sponsors?
Not currently, but we plan to open up our services to several new groups of people when we launch our new system this summer.
What do you have to say to people / individuals / companies who believe you can't possibly find a quality connection (company or athlete) through such an open forum? (i.e. – they only believe this magic can be found on a word-of-mouth / grassroots level)
Times are changing with technology and the new forms of communication. People used to think the dating sites wouldn't last because that is such a personal relationship. The internet simply makes our lives easier to find and connect with people, but it won't replace the relationships that people ultimately have with each other. We offer the medium for athletes and sponsors to connect with each other and communicate. It still takes a lot of work and face to face contact to create and strengthen the relationship long-term.
What job opportunities will you be hiring for over the next 12 months?
We plan to continue evaluating people for our team in all areas over the next 6-12 months.
Which job titles / categories are the most likely to be filled by people with non-industry experience?
Positions we look at that don't require direct industry experience include technology, operations, and finance. We would also look at senior level marketing and business people who have worked with large companies outside the industry as well. Once companies hit a certain point, businesses need to be managed well and a person who can incorporate business and lifestyle is important. I respect people who took the time to pursue an MBA or dealt with the corporate world to gain experience. I think it's important for the industry to have people who are 'buttoned up' in certain roles.
Which job titles / categories are least likely to be filled by non-industry candidates?
Depending on the company I think certain positions in management, sales and marketing, and product development absolutely require people who are in tune with the sports and lifestyle.
How can candidates without industry experience showcase their skills and value to your company?
Regardless of what type of experience you have…business is business. If you want to impress me, show us how you are going to help us grow or contribute to the success of SponsorHouse.
What positions or departments are the hardest to find candidates who have the right skill set and experience?
For us, it's technology. Almost half of current team is in product development. We're competing with companies like Google and Yahoo for talent and they are the major brands outside of the industry that everyone with those skills wants to work for.
Does a person need to meet all, or almost all, of the responsibilities requirements to be considered for an opening? What about the scenario where a person has 9 out of 10 requirements, but the one missing requirement is the most crucial element of a job's responsibilities?
Fitting the role is important, but sometimes a role can be adjusted to fit a person as well. Good people who are versatile and have the ability to succeed at anything you throw at them are hard to find.
What are the first things you look for when a resume is submitted for your openings listed on Malakye, or from any other source?
The first thing I look at is how many jobs they have had in the past few years followed by what accomplishments or successes they have listed. I like to see tangible results and loyalty…not fluff and job hopping.
Is there a general process that happens from opening to hire? (i.e. – collect resumes, phone calls, first interviews with…., follow up interviews with…, offer letter)
We don't have a formal process currently, but usually there is a screening process followed by phone interview with their potential manager, then calling them in for a face to face interview.
How can someone prepare for an interview?
Know our business, research our team, and have a clear understanding of how your skills and experience will fit with our business goals.
Is there opportunity for career advancement?
Always.
What can job seekers do, in the short or long-term, to increase the chance of employment with your company?
Even if there aren't any current opportunities, keep in touch on a reasonable basis to check in. Persistence is key.

---