Back to News
Luis Calderin, LifeStyle Marketing Director, Fox Riders Co
September 1, 2006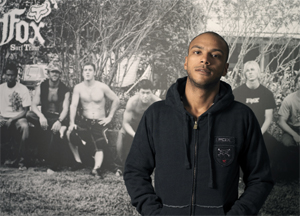 Luis Calderin, LifeStyle Marketing Director, Fox Riders Co
A Marketing career in the industry is highly sought-after, hard to get going. A Marketing career is where all the glory is, all the fun, short days at the office, lots of travel – that's not necessarily true! (But there is some truth to it) It's also work, its reality. Luis Calderin, Lifestyle Marketing Director at Fox, has been in the game for many years. Here you go:
Were you involved in any Action Sports before you started working in the industry?
I grew up Miami. when I was kid and then moved up to Vermont when I was 12. I skated a little bit growing up but when I got to Vermont I got into snowboarding. I worked at a shop called The Boarding House that was owned by Andy and Jack Coglan. Those guys were snowboarding legends and they would basically take off and let me run the shop. I was probably 14-15 then. Me and my friends would skate in the summer and ride in the winter; I used to run with this crew, my boy Josh Brownlee, Stephan Heise, The Swierz brothers and Jeff Brushie. Those guys were all way better than me, I would try to keep up but like I said I was from Miami, these kids grew up skiing and I grew up on some Miami beach type of shit. I broke my ankle one season pretty bad. Broke my tibia and fibula and had to have two screws put in. That pretty much helped me realize that I did NOT want to be a professional snowboarder. My friends continued to get better and the one that made it happen was Jeff Brushie. That guy was basically a rock star!! I had never met anyone prior to that that was getting paid, what seemed like millions at the time, traveling the world, getting in magazines, ruling it. Burton is in Vermont and so is the US Open of snow and it was just the coolest thing of the year to go to. Those were the day's; bunch of kids getting in a car going up there, crashing wherever and not giving a shit about it at all. Just having a ton of fun.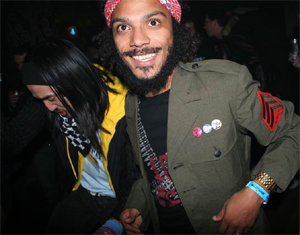 At what point did you decide working within the industry would make a great career for you? (Luis, pictured left during his DJ days)
Once I realized I wasn't trying to blow it up snowboarding, I discovered DJ'ing. I was pretty good. I had my little town of Burlington on lock. I was 16 working at the University of Vermont's radio station. I was the youngest DJ in the stations history and one of the only people playing hip hop at the time, this is like 1990. I basically became the party guy. Rocking shit. That same snowboard crew would have me come and DJ the parties and it was crazy fun.
I went to Emerson College in Boston, thinking that I wanted to be a professional DJ. 2 years in I realized that, radio DJ's were corny and I didn't really want any part of that so I bailed, went back home, decided that I wanted to start a clothing company and wanted to figure it out. About ten minutes after I got home, I started getting calls from the Department of Education. They wanted their money back and I wasn't really in any position to pay for anything so I decided to join the National Guard. They have this whole program, in New York, that if you are in the Guard they will pay your tuition at a state college and pay back a chunk of your existing loans. So the plan was to go to the army, transfer to New York, go to the Fashion Institute of Technology, become like Issac Mizrahi, not be gay and dress supermodels. It all made perfectly good sense at the time.
I moved to New York, ended up getting an internship at a studio that worked with photographers and stylist. I assisted the stylist on shoots then kind of became a stylist. I lived and hustled in New York for a couple of years, then went back to Vermont to visit. When I got there a friend of mine told me about a job at this design agency called Jager Dipaola and Kemp and that they needed an in house stylist and photo studio manager. JDK is basically one of the hottest design agencies in the world. At the time they did all the graphic design work for Burton and were working some really huge accounts. I went down, put my super hustle on, got the job and stayed in VT, round 2. I was there for a year or two and when I was there, my man Dave Corey put me onto Gravis footwear. He was their east coast rep and then moved in house and thought I'd be great there. I hounded them everyday for 6 months, then got an interview, went in, exaggerated my experiences a lot, said that I was proficient at excel and got the gig.
Dennis Jenson was the acting President of Gravis at the time. He outlined the job responsibilities, which were to oversee the advertising campaigns and manage the advertising buy. I was to also manage the two external PR agencies. One was Fuse sports marketing in Vermont and the other was the now defunct 1972 in New York, which was headed up by Paul Middleman and Brunno Musso. I had a little bit of experience or exposure to all of the above mentioned and that helped. What sealed the deal and I'll never forget this was what DJ told me, He said "I can teach you how to do all of this stuff but the one thing I can't is how to have a personality. That's a God given talent. The ability to get a list of phone numbers, call these people and by the end of the conversation have them be your best friends, so that they look out for you and your business, that's something you have to have the confidence, experience and personality to do".
That was it. This guy saw something in me, the fire in the eye kind of thing. Realizing that and having him help lay out the path, the career path that was available to me if I handled things motivated me. I needed someone to give me a break, my shot, I felt confident that if I had that, I would do everything in my power to learn as much as I could and make shit happen. My man Matt Capozzi helped me with a lot of the basics. He recognized that drive in me too; that's why he helped me do the most obvious stuff, like e-mail people and how to conduct a meeting. Thank God for that guy. Gravis allowed me to do a lot of really cool things. I was able to bring all these ideas to the table and the ideas were valid and that group was down to try things out. Those ideas were about realizing that action sports were more than the actual act of skating, surfing or snowboarding, that there is a whole lifestyle around it that makes those sports fun. Music, fashion and art in addition to the sports and the products that make them up add up to an action sports/lifestyle formula that seemed ground breaking at the time, because it wasn't clearly defined at that point but is now what everyone is doing.
What positions within the industry (or outside the industry) did you hold before becoming the Lifestyle Marketing Director at Fox?
From Gravis I was able to shine a bit. I was the face guy; the guy that some people associated with the positioning and success of the brand. My friend Jim Anfuso, who worked at JDK moved on from overseeing the Burton brand to become the VP of Marketing at Ecko Unlimited in New York. Jim got a call from American Eagle Outfitters; they had acquired a retail chain in Canada that they wanted to reposition. The chain was called Bluenotes, a volume denim chain targeting teens across Canada. They asked him to go up there and turn it all around. He caught wind of some of the stuff I was doing and asked me to go up there with him and help him out.
This was it. This was the call. American Eagle Outfitters is a two billion dollar business. I was going to be able to sit at the table with the president from both companies and help drive the ship, learn a ton and climb the ranks a bit. They made me their Brand Director and moved me and my family up to Toronto. The job was for a year, and probably the hardest job I've ever had in that it was really, really REAL. Dealing with real visibility to business. The stuff I worked on had a direct impact on business across the country and it was all analyzed thoroughly. The thing about a lot of action sports companies, especially in marketing; is that people create these divides within the companies. The marketing guys do the cool shit. They make something core or cool and the general feeling is that the sales guys are, well…sales guys. Product and marketing seem to work closer together. They make some stuff, you make it cool, and then pass it off to sales guys who are generally regarded as vampires, at least that was what my take on it all.
The AE experience taught me how to look at what I did and what impact it had on sales. It taught me that if you're not selling that product you're basically bullshitting around. I call those types of business, "art projects". They're cool and stoke your boys out but if your business is not growing, then REALLY what's the point? That experience taught me how to identify a business' goals, why that is important and how to lay a plan out to really get there. The reality is that a lot of the things you like as an individual may not actually be what moves and that'll bum you out if you're running an art project. If you're running a business you learn to set some of your personal tastes and convictions to the side and focus on the goals of the greater good, the business.
We did well up there. The goal for AE was to test a new retail concept but ultimately clean up the house and make it attractive to sell. The contract was for a year and although I was having a great time, I missed the states and wanted to come back. At that time Jim got a call from Fox. They asked him to come down and head up their marketing efforts. I stayed up in Canada for a while. Jim came down and got an understanding of what the brand was trying to achieve long term, when he saw that there might be role for me, he asked me to come down and meet with the Fox family.
Fox has been known as an industry leader in Motocross for 30 plus years. The family identified the potential it's clothing category could yield and knew that it wouldn't happen by itself and that they needed people to focus on certain parts of the plan. I came down, focused my efforts on PR and Events which then led to the advertising which then led to Product Placements which then led to etc. etc. etc and now I'm the Lifestyle Marketing Director. I oversee a pretty nice size team and our group's efforts focus on the clothing side of the business for guys, girls and boys, which also includes footwear and eyewear.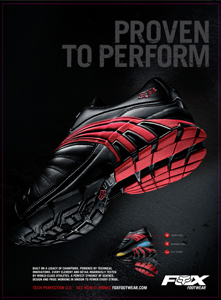 Do you work in conjunction with other divisions of Fox Racing, or independently, or a combination of both?
We understand that Moto is what the business was founded on and that the world of Moto is vast and although there are similarities, it does not necessarily share the same nuances as some of the other sports and marketing efforts required for each category and initiatives. So that being said, there is a group that solely focuses on the core MX side of the business and then there is everything in else -- and that's what I deal with. Jim oversees it all and I focus on the lifestyle/clothing side.
Since we have different sales forces from MX to Clothing, the work my team and I produce goes to support the Clothing Reps. Surf, BMX, Wake and FMX all fall under the Clothing / Lifestyle category and I work with the team mangers to better integrate their athletes into the over all marketing plan as it relates to the business. Girls clothing sort of stands on it's own at the moment. We do sponsor some amazingly talented women in MX and Wake but from a marketing standpoint, at the moment, we consider our girls line more of a Fashion/Lifestyle line and work with models as the face and image of the brand. On the guys side we support some of the most accomplished athletes in the world and use them in our imagery. Surf is a category that has the easiest, cleanest line, directly to retail so that's why I work a bit closer with the Surf Promotions manager, Chris Drummy. The team he's helped put together, anchored around Kalani Robb, is a team of very talented guys from all around the world. The program is built from a local to international level. We've pulled in guys that are sponsored by shops that support us or we want to be part of and go from there. The plan has been successful so far, we've opened up a number of shops that we really liked and have a pretty impressive team at the same time. Business is good and so is the team.
As a Lifestyle Marketing Director, what is the ultimate goal of your job?
My job is to help make this brand the best Action Sports/Lifestyle company in the world. That's kind of a big job but that's why I get up and come do this everyday. That's what I feel this can be. It's an amazing brand, with a really rich history and infinite potential. Personally, I feel like we're just getting started and I'm stoked that I'm trusted enough to help get us there. It's not just me by any means. It's a group effort. I've gone from a solo-cholo kind of guy to a guy that manages several people. That role is very challenging and one that I'm starting to feel a lot more comfortable with. I have a really strong team, I feel like I'm surrounded by the best people in the industry. Everyone has natural talent and I'm helping them focus their efforts to be in line with those of the greater goods.
My story is not your average industry guy's story. It's a bit of a wild ride. Not very traditional but it's one that I like to tell because I feel that really, what the hell is the "norm" anyway? In marketing it's all about identifying goals and realizing that there are multiple ways of getting there. Some are shorter than others but mine has gotten me to a really good place in a relatively short amount of time. I'm part of the hottest shit on earth and it all started with someone recognizing something in me and giving me a shot.
Between Gravis and AE, it's probably fair to say you have gained solid experience in Marketing ranging from the most creative areas to the most number-crunching, "you better be able to show ROI" areas. Does your work at Fox require you to draw from both areas of experience?
Yes and no. Yes in that, because of that experience, I'm way more conscious of what we do at Fox. I was taught at Gravis to be very critical of how you spend but AE taught me how to be very analytical about it. How to initiate a promotion, study the consumer purchasing behavior, look at what worked and what did not and then how to gauge it as a success or not, THEN compare that info to "last year" or LY and if it works it'll need to work again one year to the date because it's then "anniversaried". It seems really basic and elementary but most good things are. In my experience and observations on action sports; we as a whole have a tendency to need to make everything new again, every time. By starting everything all over again you basically throw out any hope of fine tuning execution practices. Action sports companies seem to have a tendency to "get over it" before the targeted consumers get a chance to. So as it applies to Fox, it wasn't necessarily expected of me to try and be over analytical or become a real ROI kind of guy, I just sort of am now. I realize that ROI can't be used on every scenario - some things can't be measured up front but I know a lot of things can be and that it's simple math. Spend as little as you can to execute what you want to do/ reach as many people as you can, divide the number and that's how much it cost you to impact a potential customer. Compare that cost, to say an ad buy and evaluate monies spent to reach the same customer. You gotta be careful with that otherwise you'll find yourself thinking a lot and not doing anything. There's a fine balance.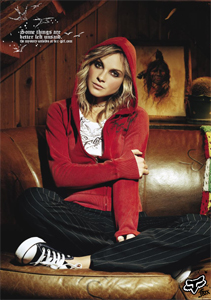 Are you involved in long-term planning for Fox's Lifestyle Marketing program? What are the long-term goals of the program?
Yes I am. I don't want to give away too much of the story but there is definitely a plan and I contribute to it. When I was brought on, I personally realized that to meet my goals it'd take 3 years. 3 years to the day. Within that time, there'd be a major brand re-positioning effort, which has happened, there'd be some of the best creative in the market. Buyers, industry and consumers would first notice, then react hopefully positively to it, then people would buy the stuff…and continue to buy it. That's kind of the rough business approach.
Long term and as it relates to marketing, we feel that we have established ourselves as one of the better action sports companies out there. We've been around for a while and we have always prided ourselves on producing products and marketing that contributes something to the game. We recognize that people look to us for quality in everything we do and given our track record and that of our athletes, we feel like we can't really be out here fooling around. We have to deliver the best work possible and as I said before, my personal goal is to make this THE best Action Sports/Lifestyle company in the world. That can be defined by many things but basically I want to help take this brand to levels in business that it's never experienced. Our plan is that of most good action sports brands and that's to build positive incremental growth for the longevity of the brand.

What tools / resources / channels are you using to achieve those goals?
Of course there's our team of athletes that get up everyday all around the world and continue to elevate the sports and the products associated to those sports to the next level. It's all very progressive. We use a lot of traditional avenues now and will continue to tomorrow - team, Advertising, PR etc. We have a lot of friends outside of sports, celebrities and musicians etc that continue to give us support in their worlds. Our website is basically the hub of all things relevant to our target audience. Then there are all the new surface and less obvious avenues. Web cast, viral campaigns, street teams etc. We're open to it all. Marketing avenues and their relevance constantly change and as a Marketing person you need to be up on it all. There's a lot out there and we focus on the basics, once that's nailed we open it up to the new hotness.
What checks or benchmarks are being used to measure your success in achieving those goals?
Well, I think it's safe to say that our logo, is one of the most recognized logo's in Action sports. The logo means a lot of things to a lot of different people. California and in particular, Orange County, is one of the most brand conscious markets in the world and I'm starting to see our stuff show up on a lot cool people and in a lot of cool places.
From an industry stand point, moving down here to Newport was one of the best things we've ever done. We're in a neighborhood filled with champion brands and it's really cool to be able to build relationships with some of these guys.
From a business perspective, it's whatever the total number, usually in bold, at the bottom of the spread sheet, whatever that number is compared to what we had forecasted and compared to LY. From what I understand, we're doing well.
Are you involved in hands-on day to day operations? How many different "things" do you have going on at any given time?
It's all hands on. I live in Dana Point, everyday I drive up PCH to our studio in Newport. In the car I think of all the stuff I'm "totally going to get caught up on today", once I get in there's generally a bunch of meetings, then a number of fires that pop up that need to get addressed. Then we do our best to stick to the game plan. It all looks so easy on paper. We definitely have a lot going on as you can imagine. No two days are ever alike unless its trade show season, then it's pretty much ground hog day. I've been able to build a team that focuses on particular parts of the Marketing program but since so much of what we do is still so new, I'm still heavily involved with what seems like every single detail. It's good; it's a just lot to retain.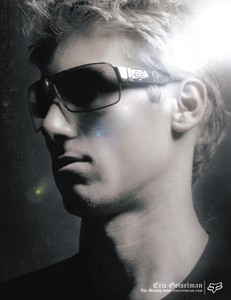 What is a typical marketing lifecycle of a project or initiative your group is responsible?
Well it depends on what you're looking at. From start to finish its 12 months, we're a year out in execution and 18 months in planning. So for example, I'm starting to consider what Product is working on now for Fall 07. The parts that we'll first address will impact the trade side of things. You'll see that stuff at the January 07 trade show season. We'll make it, show it around, collect feedback, sell it in, then fast forward to august and it'll be in stores. At that same time we'll have Advertising, PR and Web sites all focusing on whatever we deem as key messages. Usually the hot shit. Because we generally operate within 4 seasons there's a lot to keep track of. As I mentioned, we are currently about to kick off Fall 07. By press time we will be at trade for spring 07, today we are dealing with end of Fall 06 consumer at retail and finishing up our Holiday 06 consumer components. That's at work; at home I am practicing Guitar Hero, which if you don't know is basically all that really matters. By the time this prints in September we will be first wave holiday and I will have mastered "Iron Man" at the hardest level.
What projects are you working on now that will soon be ready for the public?
From a product stand point we're about to showcase our new Hoodie, The Sasquach. The best sweatshirt ever made, its fur lined. You will need one of these this winter. I promise you'll be stoked. Your girl will have a very hard time not wanting everything in the collection, and you know what, you should get it all for her. Our new sunglasses are blazing; I'd recommend "The Meeting". Footwear is crazy too. Our position there is that we're the first action sports company to put out a line of performance driven footwear. The Concept Stewart is basically what's up. I recommend getting the one's in the Florida colors.
Today, 80% of your time goes to….?
Getting through the day.
20% of your time goes to…?
Thinking about tomorrow.
What's the biggest challenge of what you're doing right now?
Being able to stop every now and then and look up to see where we're at and how it all looks. It's this business and I think it's true for everyone, because we all work in several seasons at the same time; it's difficult at times to really be able to savor the moment. You make some stuff, look at it, get amped on it, and then it's off to the next thing. That's sort of day to day.
I guess the biggest challenge is to still have to communicate what we [Fox] are about and what we're doing. This market, especially at retail has been built off of the same formula it has been for a very long time now, which is Skate Surf and Snow. It's a 3 part formula. The truth though is this, Moto is creeping up faster and faster everyday as a category that impacts trends, style and ultimately sales. A lot of people have a hard time understanding that and buying into it. But they are more and more everyday. The reality is that east of the 5 all the way to I-95 on the east coast there's a pretty big place called America and in that place a lot of people are into Moto and the lifestyle that it's developed. I don't want to get too heavy on that side of things but a change is coming. The hardest part is being patient enough for it to hit, really hit but it's starting and it's cool to be part of it.
What's the biggest reward?
Being the first.
What can you tell someone who is building a career within Marketing in the action sports industry, or looking to start one?
Work your ass off. Seriously. Here's why. First of all, you'll need that sort of determination the whole time. The minute you get comfortable you're going to have problems. These positions mirror the sports they represent, it's all competitive and if you aren't innovating, you're getting dated. There's always that new crop of kids that spin harder and are down to put in the work. It's just the way it is. Stay relevant, it's not to say that you need to always be the party guy, in fact you probably shouldn't shoot for that, that'll yield a different set of problems, but you basically always need to know whose who and what's what and if you can't, be sure to surround yourself with people that do. This is Peter Pan business. Always stay 19; just like you're target audience otherwise you're LL Bean.
Don't screw people over. This industry is ridiculously small and that type of stuff gets around. Don't talk shit about people because someday that guy might be the guy you sit across in an interview when you're asking him for a job.
This is the life we chose. Remember that. It's a great life. Lot's of fun things going on, amazing people. But underneath parties and flips there is a ton of work. It's kind of the by-product of this lifestyle.
Give people a chance whenever you're in a position to. Someone took a chance on you. Turns out you DID NOT have proficient excel skills, the person who hired you knew this anyway and took a chance. Give others that same chance. 75 percent of the people who are involved in this business are all diamonds in the rough. There's no surf marketing classes in college. You get that experience by getting the experience.
And most importantly work your ass off.
---