Back to News
Allodic - Action Sports Ad Network (ASAN)
September 1, 2006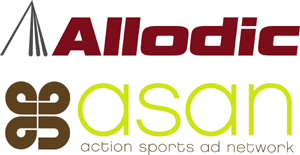 Allodic / ASAN
Where is technology when you really need it?! Allodic's Action Sports Ad Network (ASAN) brings new technology to the Action Sports industry. Founded as Allodic, and later dubbed ASAN, the company brings streaming media to the Action Sports consumer. Originally ASAN streamed manufacturer commercials into select retail locations throughout southern California. Today, it has progressed to a network that delivers relevant advertising, contests, surf forecasts, and more. Very interesting capabilities, and more about ASAN, are revealed below in this Q&A with CEO / Co-Founder Jeremy Bruhn.
How did the idea to create Allodic Marketing originate?
We wanted to create a better medium for out-of-home advertising. I am not a big fan of advertising in the traditional sense, in that it can often be a distraction from what you are really interested in. Although advertising located at the proper time and place where it is relevant to the people's interests is valuable. It can both inform and entertain. The idea actually came to me while standing in the airport and wondering where there was to get some good food and nightlife. I wanted to know what was available at that exact moment to help me make a decision. From there, we looked into how to make it happen, put together the right team and brainstormed what industries we would like to get involved in.
What made the Action Sports industry seem to be the perfect niche?
More than anything, the team all has a passion for the sports, but there were other factors that made it work as well. The industry was here in So Cal, which makes it easier to do business. The lifestyle is something that people like to see and is full of rich content, so we stated here. Action Sports is a unique industry, its advertising is some of the most compelling and entertaining out there.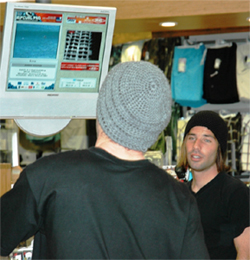 What is it about the format that adds to entertainment value?
One is the location where it is. Whether it's in-store or somewhere else we know not only who the viewers are, but what their general frame-of-mind is based on their location. If you are shopping in an action sports retail store the chances are that content is interesting to you at the time. The same ad probably isn't as relevant if it breaking up a movie you are trying to watch. The other significance is video as opposed to traditional static images located out-of-home. It's not like driving down the freeway and seeing a billboard with Di-Tec's lending rates advertised. Video is also more entertaining than still imagery. Video and information combined to compliment everything else going on is a big step up for retailers wishing to get a message across.
When & how did you decide to brand Allodic Marketing into Action Sports Advertising Network, ASAN?
We came at the market as Allodic Marketing and then changed to ASAN. This is a frequent question. We originally just wanted to be a marketing company with a better more measurable ad medium. As we evolved and looked into more of the possibilities such as surf & snow reporting, live events, etc… we realized this can be more than just a better advertising source. At that point it became a network and we felt it should be branded that way. We founded the company in March 04 and by March 05 the newer features were enabled and ASAN created.
What's the difference between ASAN and content you see on interactive displays at the supermarket or coffee shop?
Time and place – ASAN is right where Action Sports consumers are. Beyond that the advantage to ASAN is the industry can take a hold of it and mold it as it's own as the network grows. Brands have an opportunity to provide content and advertising. For example, they can stream in live footage of their contests into any or all retailers where ASAN is. We've broadcast more than 10 live events this year, Globe did it with the Fiji contest, and Volcom did it with the PB&J rail jam. Again the industry's is a little more progressed in many ways than others and this provides for great content opportunities.
Can you provide a basic overview of what ASAN is & does?
The simplest and best way to view what it is and does is to view it as a network that is an offspring of the best of the internet and traditional television. It is a communication tool on all levels between the industry brands, retailers, and consumers.
The network can be used for many purposes, most of which we haven't tapped into yet. Advertising is the most obvious, but it can also be used for promoting and airing a company's events from small to large scale. It can be used for off-hours training at a retailer's location. Brands can do live web-cast of a tech clinic and broadcast it out across the network, or it can be pre-recorded and aired at a particular time. It's completely customizable for every location it's in.
So Jake Burton could give a nationwide demo to all Burton's customers through the network?
Yup. To all the shops we're in. A live web cast directly to the shops. Or it can be recorded and played at specific hours according to a shop's schedule. A feature we would love to see used. Shop employees would probably be pretty hyped on that and pay close attention, possibly sell more product. The ability to watch & listen to company founders or the athletes representing the brand would likely have a pretty big impact. A larger retailer would have the opportunity to broadcast their own events, contents or employee rewards parties. Inform customers, educate and motivate employees. A lot of cool things can be done.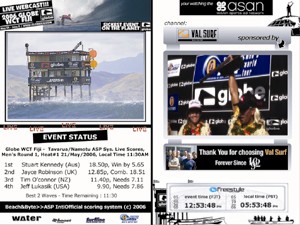 Has this web cast feature been used by any of the advertisers?
Not yet for product training or promotions, thus far it has only been event based, but it's something we'd love to see brands embrace.
Not yet? How much of an investment would it be from the brand to do a web cast?
A product training web cast is a good example. It would be the simple cost of a web cam, doing the demo at their office and the cost of bandwidth over the network. It could be done with a $50 Logitech Quickcam and a server. Cost to air it is calculated by the number of locations, resolution feed, and length of time. Those costs are really negligible though. We can't wait to see it happen.
Retailers would know ahead of time and be able to schedule all employees for a monthly or bi-monthly product training day. It could be made really entertaining. Imagine Gusto Gav giving a clinic on the Gusto Board shorts!
What technological know-how did Allodic / ASAN posses that enabled this network to be created?
Our core foundation is a team of engineers, business background, and graphic design artists. In a lot of ways, we didn't necessarily have a particular skill set, we just knew new it was possible and we went out there to figure it out. This is what we want to do. Now how can it be done? That concept continues here as we continue to evolve our business.
You can't exactly find an easy answer to this on Google, can you?
It was a multitude of answers on Google, and searching with a lot more sources. Thank god there's so much information available within a few key strokes.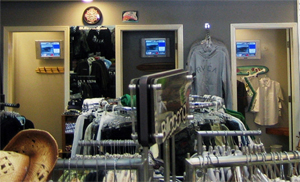 What was the original format & presentation of ASAN?
In its simplest format we were using a rear projection screen with full screen branded advertising. That's how it was when we came out as Allodic, essentially a marketing service. Once we discovered the potential power of the network it all changed.
What inspired the change from the original ASAN format of a basic full-screen advertisement to a full network featuring content and advertisements?
More than anything, we listened to the industry, the kids in the shop and the brands we were trying to get to pay us for something they had never heard of. From October to February 2004 we beta tested in Surfide (Solana Beach and Oceanside), during that time period, industry was the biggest influence that prompted change. The people who told us "no thanks" and us reasons why. Those "no" answers gave us the ideas to make it better.
When you create a concept from scratch, not a new version of an older concept, you have a chicken and egg scenario. You need retailers to get the advertisers and vice versa. Between the time you start and the time you have that golden number there needs be something there or else it's going to be blank – Blank is not interesting? What are we going to do with the space? The answer is content.
Who were your first adapters – advertiser and retailer?
Our first retailer was Surfride. On the advertising side it was Spy Optic, Future Fins, and Carve Boards, also Mutiny Media was supplying DVD trailers.
Will the growth of ASAN reach beyond Action Sports industry retailers & manufacturers?
It naturally makes sense for ASAN to go slightly beyond retailers and manufacturers. We will be making that transition very soon. It makes sense for resorts, particular restaurants, etc. We're being very cautious and guarded about the transition - making sure it makes sense for everyone involved. We'll never blow it out so that the network is in places where it really doesn't belong, just for the sake of more impressions. We want ASAN to be around for a long time, and will grow the company with that in mind.
As far as reaching beyond Action Sports with the advertisers, we're approaching that with the same caution. A few appropriate larger customers could actually word to subsidize cost for the industry. We are basically following the lead on what ASG and Transworld have deemed acceptable and will sell to advertisers whose information benefits the consumer at that place and time.
Retail customers would like to have the ability to buy lift tickets to their local mountain or book a condo at a destination surf spot, but probably don't want to be recruited into the military.
How would someone buy a ticket or book condo through a display monitor?
Today, they could be prompted by an advertisement through cell phone text messaging, which would pride a link to a URL. But in the near future, they'll be able to walk over to a kiosk in the store and purchase the tickets right there.
How does the kiosk get into the store?
The kiosk program will be similar to our other program. Retailer purchases kiosk and we support the services. Benefits to the Retailers and Advertisers are things such as collecting customer data. For example, Vestal could run an ad to win a watch and the ad could prompt the customer to enter his / her information at the kiosk screen for entry, and get free music downloads from sponsored bands just for entering.
How can Advertisers and Retailers measure the success of being a part of ASAN?
There are various factors that come into play in measuring success. We have two distinctly different types of content. Some content is limited to branding which makes it difficult to have a direct quantitative measure of success. Product-oriented content, something that is very specific such as a company promoting a specific product style, is easier to measure. We can work with retailers to analyze their POS data to see if there's a spike in sales of the advertised / promoted product. They can also see if overall sales for the brand went up, say another SKU right next to that one or overall market share in the store goes up.
Some of these things make more sense for a national retailer, ASAN could integrate with the POS system and get real time data for the performance of an ad on product sales across all stores. Let's say its back-to-school and a brand wants to push through a certain sku, they could run an ad during that specific time and directly measure the ad's impact on sales.
The retailer can promote what they want on the system. They get a certain amount of time to promote whatever they want. They can push through higher margin products, etc. and measure the impact. One of the biggest benefits for the retailers is what ASAN adds to the store environment. The average customer walks in and gets the feeling that the retailer has its own network. Take a shop like Val Surf for example who has a high-profile pro team. The day after Mason Aguirre won the Olympics Val had Congrats to Mason on it's displays. That provides an immediate connection between Val's Business, it's team and it's customers.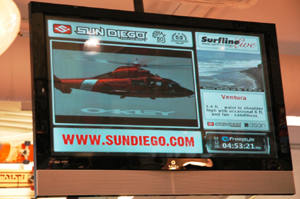 What does an Advertiser need to have in order to use the ASAN network? What size budget does a potential Advertiser need to for a successful presence on ASAN?
In terms of budget, having a good presence on ASAN can be very cost effective, $100 per month in a single location. It can get even less expensive if companies sign on for the year or are in the hardgoods categories. A board company can buy time in a location for the year for $250. Our goal is to provide a great communication medium and show results for the companies that advertise and the retailers. And it's measurable. Our end objective is to prove this is not an advertising COST but an affective tool to increase sales. If that ratio proves valuable, companies will be competing for time on the network. The hard data isn't there yet, but in the digital signage market, significant proof of impact is being released almost daily by major national retailers and independent sources such as Neilson.
To answer the first part second, for an Advertiser to run ads on the network it can be as simple as having a message they want to put out to a shop's customers. Really all that's needed is a print advertisement that we can animate in Flash. From there they can decide if they want to advertise in 1 store or 100 stores. Advertising in 1 store will not cost a lot of money. It's flexible, they can change the number of stores they're in every month.
What does a Retailer need to be able to display ASAN in its stores? Is there any start-up or ongoing cost?
They need a broad band internet connection and one or more flat panel displays. An ASAN Network Player, and that's it. The costs are hardware and a minimal set-up fee.
How does it take a retailer to get up and running?
If a shop can get creative to us and is ready to pull the trigger it will be running in 30-45 days.
Could a Retailer choose to sell advertising space on an ASAN display within its stores?
If a retailer has potential advertisers they want in their stores they could provide an introduction to us, and we'd provide a commission to the retailers. Both parties, ASAN and the Retailer, have to agree that the advertiser is a fit as well.
Does a Retailer have an option to turn the network on or off on a given display?
The retailer has to maintain a certain number of displays based on an agreed upon contract. At the minimum, they're required to have 1 screen running ASAN.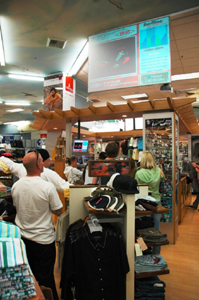 What are the challenges in demonstrating the benefits of ASAN to Advertisers and Retailers?
It's a difficult challenge. We came into this with lofty goals and objectives. Again, it's a chicken & egg scenario. You have to have quality content from the manufacturers, and a little history to measure success. Overall it's the wholly grail, digital advertising, if we can prove that advertising boost sales X percentage, then it's no longer an advertising cost, it's cost of sales. Another thing that is a very big challenge is to prove the worthiness of a medium. Traditional media is widely accepted, even if it is still unproven. What it doesn't offer is proof of bang for the buck. We don't know for certain ASAN is going to show an exact ROI, but the technology powering the network does offer the ability. We feel that the value of the branding and exposure to 100% of the target market is enough to warrant the costs of advertising, but if we can show the rest, everyone is going to be very happy.
How are those challenges being addressed?
What we're doing the most is research – talking to our community, and understanding what's going on. What people in the stores are watching, how long, what's useful. Then communicating it back to our advertisers to make sure we're getting content that's interesting. It's something that we'll continue to work on. Good things take time.
What's the next level, the future of what ASAN will provide?
Overall what we'd like to see is development as a network. Interactive kiosks, direct live product training & demos, bringing live events to the retailers ASAN displays, using ASAN displays to promote specific localized events and promotions etc... If someone has a movie premiere, manufactures or retailers can promote it that day, or in advance for various time periods.

A year and a half from now we can be at a point where if a shoe is picked up off the shoe wall, it will trigger an ad for that shoe on the ASAN display. We can do it if the industry decides they want it.
What job opportunities will you be hiring for as Allodic grows?
It's going to be pretty heavy here soon. Director level positions in Marketing, Sales, and Creative, as well as ramping up our advertising sales force.
What positions or departments are the hardest to find candidates who have the right skill set and experience?
Finding people who understand sales of our product and the industry is tough. When you have someone out in the field it has to be the right person.
Which job titles / categories are most likely to be filled by candidates with Action Sports industry experience?
We want ASAN to have as many people as possible with Action Sports industry experience. The industry stays young , and that means we'll always need people with their ear to the ground who are able to adapt, and grow with the network.
Which job titles / categories are most likely to be filled by people with strong professional-level experience gained outside of the Action Sports industry?
Software Engineering and similar positions where industry experience is not critical. Software Engineers don't care if it's code for the Action Sports world or the Department of Defense.
How can candidates without industry experience showcase their skills and value to your company?
From day one what we've looked for are people who are passionate about the business. Willing to accept the challenge, think freely about it, and be dedicated.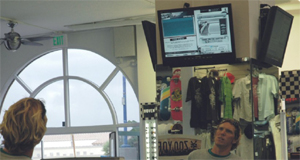 What is going to make a candidate stand out to Allodic?
Similar to what candidates without industry experience can do to stand out. When you get involved in a startup company you put everything into it. At this point we're looking for people who have that same mentality. We want people to view this as something that is more than a job. Standing out is demonstrated by someone taking ownership in their job. As far as full-time positions we do have a full stock employee equity plan in place. We want to make people who join us to be part owners in the company. Be responsible for failure, and enjoy success. We want them to be enticed by what it holds for their future. Rather than look at it as a day-to-day job.
Is there a general process that happens from position opening to hire?
It's typical to what most companies do. It might be a little slower in length of time from open to hire. We spend a lot of time looking for someone who is the right fit. A perfect fit is critical in the start-up phase.
What can job seekers do, in the short or long-term, to increase the chance of employment with your company?
Illustrate ahead of time, with creative thought, what it is that you do that can add value to what we are doing. Some of the best people can create their own job; show us what can be done.
Keep at it. Since the timeline is longer with us. And there are a lot of things that are going on where people are wearing multiple hats it doesn't hurt at all to keep banging on the door.
---