Back to News
NOMIS
October 1, 2006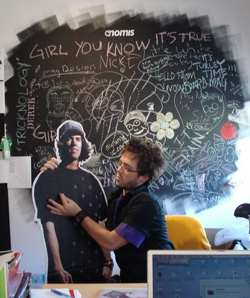 Nomis
Nomis is a relatively new company lead by relatively young people. However, if you were to look at the company's product, team, advertising, and tradeshow presence it would be very tough to see the difference between Nomis, which officially started late in 2004, and a company that has been around for a decade. Nomis is also unique in that the company produces lifestyle clothing for snowboarders, when usual entry into the snowboard market starts with hardgoods, technical outerwear or an accessory driven line. Nomis is simply streetwear, and it's working. Nomis is growing. This success is not just from putting a name on apparel, putting together a team, and selling it. There's more to it. Mat Chamberlain, President of Nomis, shares the origin, philosophy, and progress of Nomis, along with the company's plans for staffing up in the future.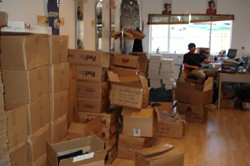 How did Nomis get started? (Pictured left, Nomis warehousing in Oct. 2005. Warehousing OPS have moved to a large facility)
NOMIS started with Family. Simon, Andre and I were in high school when we came up with the idea. We were among the few skaters and snowboarders in our area. Being core skate/snow meant we looked different in the way we acted and dressed. So it began with some basic screened tees that we gave to the crew and family of core skaters and snowboarders that we grew up with.
What's the root of your company name, why did it stick?
The name NOMIS is SIMON backwards. Its funny how it worked out, Simon Andre and I were just thinking whose name sounded better backwards and Simons won. At the time we were just starting to really have a passion for snowboarding. Then later, by the time we actually started creating our first NOMIS clothing, Simon was already pursuing his dream of being a pro Snowboarder. Simon himself is major representation for our brand, which is why the name NOMIS sticks. And besides, ERDNA or TAM doesn't sound so cool for a company name.
How many people are powering Nomis from behind the scenes?
Through out USA/Canada and Europe we have 9 full time employees.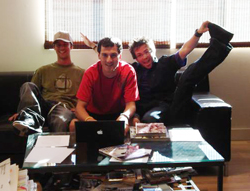 Do you consider Nomis a family operation? (Pictured left to right - Designer -Jordan Grace | International Sales/Logistics- Steve Green | Head Designer- Jeremy Osmond)
"NOMIS people are Family" this is what we follow corporately. Right from the company founders, sales reps, employees, riders and the end consumer. Everyone that has a piece of NOMIS becomes part of the NOMIS family. Simon, Andre and I grew up with a great family and understand the importance of feeling a part of something. We want that unity to show through our brand.
Describe the purpose of your company's theory of: listen, support and reflect.
We have used this theory since the start of the brand, when used properly it has proven to be a great tool in building lasting relationship, resulting in excellent product.
LISTEN- to your customers, employees, riders etc… wants and needs.
SUPPORT- Encourage and support the wants and needs.
REFLECT- Reflect the wants and needs in every aspect of our business.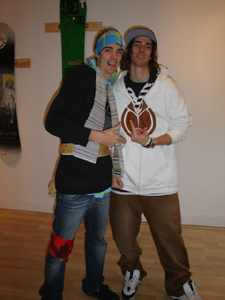 How did you make your decision on who to pick for your snow team? (Simon and his Twin Brother Andre)
Picking the snow team just kinda happened. Simon was the first and through Simon's relationships in the industry, Lauri and others came into play. Family orientation is very important in our team. They all have to be bros and love riding together. Some guys on our team like Jed Anderson will drive you crazy! Serious, he's nuts, in a hilarious way, but then again, so is Simon, Lauri and the others, so it all works out. Personality is very important, because that's what makes our riders so attractive. If you have a vibrant personality, that will show in your design.
It looks like you recently expanded your snow team – are their plans to establish a girls team?
Yes for sure, our next steps are expanding the Pro Team so that we have a female in the mix with Simon and Lauri. We are in conversations daily with a couple of prospects and plan to hammer it out soon.
As of right now we have a couple of female AM riders who are out there riding NOMIS Streetwear and are so excited on what the line has to offer to the Girls in the sport.
We are not rushing into anything, we need a female who fits NOMIS and we now have the support and infrastructure set up so that once we have that female rider, it's go time! And the world will know who she is and what NOMIS brings to the table for all the girls in the sport.
It's very exciting because the girls' line started so small and has already grown so much, with feedback from the Consumer, Riders, and from designers involved like Roberta Rodgers. With a female pro in the mix it will be a strong, diverse and fashionable line that makes a statement for the girls, supporting them in their day to day lifestyle.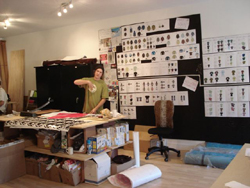 Is the company going to stay primarily focused on menswear or continue to expand the girl's line? (Sticker Boy- Mat Holdsworth, and next years Story Board , this side of the office is the CREATIVE mecca!!)
We are putting a lot of time and effort into our girls' line. This spring I asked Roberta Roger to design our 07 line. Roberta's great knowledge in the industry and fashion design experience was a great asset. Check out our spring catalogue.
Nomis is a street wear brand currently focused on the snow market, but where are you planning on taking the company and how?
Our roots lie deep in the snow, but what happens when the snow melts? Daily we are planning and strategizing to break into new markets. We are a lifestyle brand with an amazing personality; you can see this right through our brand.
Do you have plans to expand your product line to include outerwear?
Next fall we are coming out with some street fashion jackets. We currently have no urgent plans to include technical outerwear in our line; however the industry is always changing so you never know where we'll feel the need to expand in the future.
If you were to add outerwear to the line, do you think there are advantages or benefits to being an already established lifestyle brand within the snow industry?
Sure I think we could do it. But right now we need to be 100% efficient in making (dope) clothes, (shipping on time and) building lasting relationships with our retailers and customers.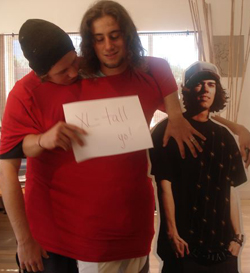 Who do you see as your target market? (RIDER DRIVEN, this photo is a tribute to SIMON , and his Signature T Custom fit! This size is offered in all NOMIS pieces!)
People that want to be "fresh to the death". Seriously, I could give you the 12 to 25 but that would be boring.
Your company has been described as growing 1000% per year since 2004, what do you think makes Nomis so successful (especially in the Midwest)?
Proper representation grew our brand quickly - from the riders to reps and staff. People can hold on to the relationships that we have built. A rep rider, customers buying our clothes or retailer have a direct connection with anyone at NOMIS, we are all about family and our brand brings everyone together.
Nomis has offices in Canada and Salt Lake, which came first and how did the decision for the second location evolve? How important is the physical location of your offices?
We started both offices at the same time. Early on the decision was made that we needed a physical location in the USA. I wanted Americans to deal with Americans, and Canadians to deal with Canadians. In the near future we are planning to open more positions in the USA, such as customer service, marketing and sales.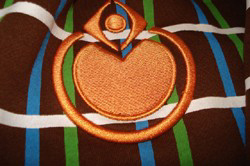 Does Nomis have a cornerstone product that you feel is the best representation of who you are and what you represent? (Simon Signature Print! New Colors for Fall '06)
The product that made us stand out was the Simon hoodie. (photos attached) Simon's bright and creative design really caught the eye of the buyers and customers; the hoodie is our best seller. Anything we put that print on sells out as soon as it hits the stores. Shortly after Simon designed his print, Lauri became part of the NOMIS family and brought the Trulie clan print, which is also selling like crazy. Whatever we make has to be "eye candy". One day I was stopped by someone and they said to me, "your shirt looks like a flavor". This made me laugh of course, but at that point I knew we were building a "captive audience", which is encouraging.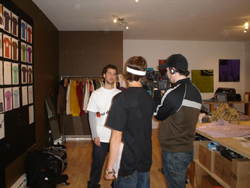 What sets Nomis apart from the other clothing companies? (Nomis Designer, Jordan, being interviewed about the up and coming Fall Line)
Everyone at NOMIS sees every point of contact as an opportunity to build a relationship. NOMIS makes an effort to connect on a personal level with its retailers and end consumers. Another point of difference is our philosophy: Listen, Support, Reflect. We listen to our riders, customers and staff, support their ideas and reflect them through out our brand. We give people a sense of belonging and make sure their ideas are heard. Simon told me once, "Mat, riders know what's going to sell" and if I didn't listen to him on that we would not be doing this interview today. Simon, Lauri and the other influential people in NOMIS are trendsetters and role models. Listen, Support, Reflect.
What are your plans for breaking into competitive U. S. markets?
Funny you ask that, after our success at SIA we decided to do a nation wide shop tour through all the East and West, 6 weeks total seeing current accounts and qualifying future accounts. It's been hectic, we are averaging 5 to 6 stores a day, speaking of seeing stores, my next appointment is in about 5 minutes, and I have 6 more today. This tour has been excellent for us, we care about our accounts and the accounts we want to open. A lot of our marketing dollars will go to our retailers; building our brand presence with in the store and helping the staff look fresh. The person selling NOMIS may be the only point of contact that our customers get, and I want to make sure that the customer is stoked. And to make sure that happens we have to be bros with the people selling the product.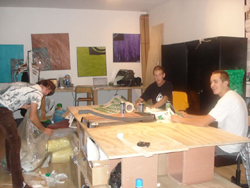 As Nomis continues to grow, what job opportunities will you be hiring for? (Pictured right, local skate crew who come in to help out with Mass-Sticker production. Nomis gives a big THANKS to LOUIS, DAVE, SKYLAR)
As our brand grows we will be looking for Sales, Marketing and Customer Service people. Building the design department will be essential.
Which job titles / categories are most likely to be filled by candidates with Action Sports industry experience?
Most if not all will need action sports industry experience.
What is going to make a candidate stand out to Nomis?
Being in line with our brand is Key, everyone at NOMIS lives by our brand charter, and the people that are out of line stand out pretty quickly.
Qualities that stand out are exceptional people skills, ability in relationship building, loyalty and dedication.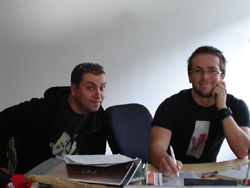 Is there a general process that happens from position opening to hire? (These two know, left: Colin MacDonald -NOMIS C.E.O and right: Jeremy Osmond - Head Designer)
Positions will be opening up very soon. When we decide what kind of people we need, things happen pretty fast. How we have worked in the past is, bring people on that we know are going to do a good job. But this time our up coming job openings will be posted on Malakye.com to see what kind of people we can find that are interested and available.
After reviewing the resumes and experience of the applicants we will either email or call to let them know we are interested, follow by an interview, and person to person is preferred.
Then you have to play POSER with Simon and you have to at lease get a letter on him or things wont work out. (jokes) Hanging out with us will be important so we can get to know who you really are out side the typical interview setting, that will give us a better understanding of your personality type. If we hit it off and we are stoked we will let you know when you start.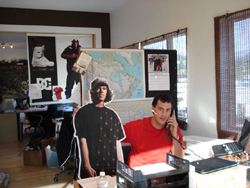 What can job seekers do, in the short or long-term, to increase the chance of employment with your company? (Pictured right is Steve Green, International Sales Manager, picutred with cardboard Simon body double!)
Send us a description or example of what you're really good at with an explanation of why and how it would benefit the company. Show us your passion and how it will fit in NOMIS.
I will be looking forward in meeting you all.
Take care
Mat

---