Back to News
Zoo York & New Era Team up to Commemorate Life of Fallen NYC Skateboarding Icon Harold Hunter
October 4, 2006
Zoo York & New Era Team up to Commemorate Life of Fallen NYC Skateboarding Icon Harold Hunter

The Zoo York Institute and New Era Cap today announced they have joined forces to launch two noteworthy projects in celebration of the unique life and times of NYC's fallen star, Harold Hunter.
This exclusive partnership will yield a limited-edition New Era 59FIFTY™ Harold Hunter commemorative cap, as well as the first-ever "Harold Hunter Day" which will bring together NYC's skateboarding community and surrounding scene on October 7th for a positive day of skating in honor of their beloved brother who passed away February 2006.
"Harold was a son to our brand and an ambassador to NYC and skateboarding as a whole. His charismatic 'Harold' antics helped him transcend the skateboarding world and gain a significant global following," said Zoo York Creative Director Mark Nardelli. "Harold was, and always will be, the epitome of New York. He's greatly missed, and we view these projects as an excellent way to not only pay our respects to a legend, but also keep his spirit strong for years to come."
Ironically, what ended up as a fitting tribute to Harold was not intended as such from the start. Roughly six months prior to Harold's untimely death, Zoo York, New Era and Harold began work on his signature 59FIFTY cap – part of New Era's renowned Capture The Flag™ program where elite artists, musicians, athletes and business moguls design their own limited-edition cap with all proceeds donated to charity. New Era's highly-exclusive Capture The Flag program features a short list of hand-picked celebrities including Spike Lee, Jake Burton, Roger Clemens, The Game, and others. Being recognized alongside such an impressive roster of global superstars was a huge honor for Harold, one that showed he had truly arrived.
"Harold was an extraordinary personality on par with the other icons we've teamed up with to date," said New Era Marketing Manager Braden Dahl. "From his skating and acting career to his eccentric demeanor, Harold was New York and New York was Harold."
"Harold put a ton of time and effort into designing his signature cap," continued Dahl. "He was so proud of what he'd created that, after he passed, we knew we absolutely had to finish what he'd started. Zoo York's Mark Nardelli, New Era's Michael Raychel, designer Greg Lucci, and Harold's family were all instrumental in the success of this project which not only honors his memory, but also allows him to leave a lasting mark on the skateboarding world and beyond."
Twenty-two painstaking steps were required to make each of the 288 caps that will sell for $125 when they hit select global retailers on October 14th, with a special pre-release of twenty caps set for October 7th at New Era's flagship store in Manhattan.
Standout design highlights include a posh black-on-black cashmere shell and visor, embossed Old English "HH" logo with faux diamond studs that is a throw-back to one of Harold's early Zoo graphics, silver pinstripe front panels, Harold quote embroidered on the interior band, argyle "HH/NY" embroidery under the brim, and "cab yellow" satin lining with a map of Harold's favorite NYC skate spots. Plus, to add to the exclusivity, each cap comes packaged in a satin-lined box.
In celebration of the global launch of Harold's highly-anticipated New Era 59FIFTY cap, and to commemorate a life well lived, the first-annual "Harold Hunter Day" will go down on Saturday, October 7th in the Big Apple. From Noon – 5 PM an all-ages "Skate for H Jam" will take place at the new Chinatown Skatepark located under the Manhattan Bridge, with music provided by legendary DJ's Premier and Evil Dee. Then from 8 PM – Midnight, KCDC Skateshop in Williamsburg, Brooklyn, will host a premier party for R.B. Umali's new film about Harold entitled "Legends Never Die."
"Harold Hunter Day" is made possible with generous support from all the companies that played an integral role in Harold's life including Shut Skates, 5boro Skateboards, Rockstar Bearings, UXA, Verte, Frank151, Official, Anything, Dave's Quality Meats, Rival, Supreme, Autumn, KCDC, and Red Bull.
All proceeds from the inaugural "Harold Hunter Day" and the sale of Harold's New Era 59FIFTY cap will be donated to Stoked Mentoring – a New York-based charitable organization close to Harold's heart that utilizes action sports to positively impact the lives of at-risk inner-city youths.
"Harold was New York and his spirit will always be New York," concludes Nardelli. "He wanted this project to unite his crew and give back to the city he loved so much, and we are following through to ensure that happens."
Find out more at: www.zooyork.com/ www.neweracap.com/ www.stokedmentoring.org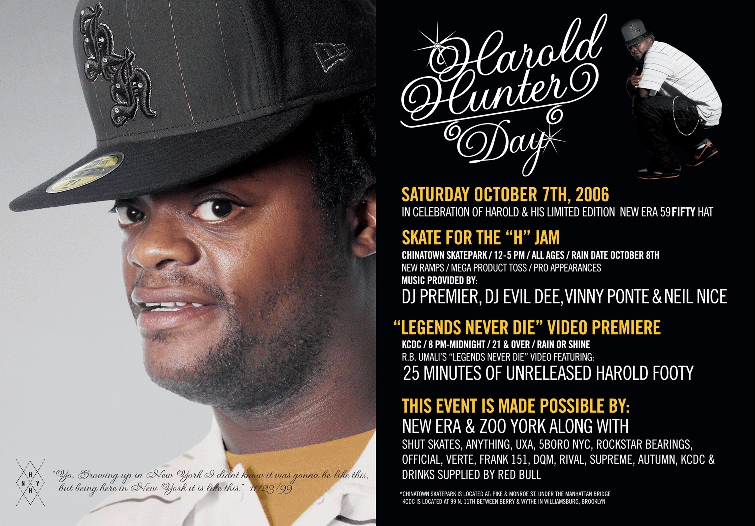 ---